Who doesn't love a good rimfire?
Not only are these guns inexpensive, but so is the ammo (usually). This means you can spend more time shooting before you have to start worrying about the state of your wallet, which is a huge bonus given the current ammo prices.
Which caliber gives you the best options? What are some of the ballistics data for each? How do you know which to choose?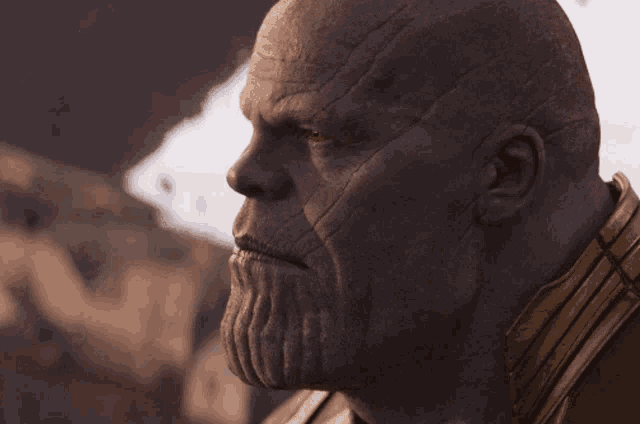 If these are the questions you find yourself asking, we got you covered.
Table of Contents
Loading…
Range and Trajectory
Keep in mind that there are a host of variables to consider with any of these tests — specific gun, wind speed, caliber, and others.
Both the .17 HMR and the .22 Mag will tackle 100 yards virtually flat, but as a whole, the .17 HMR is going to be your best bet for hitting something way out there when it comes to these rimfires.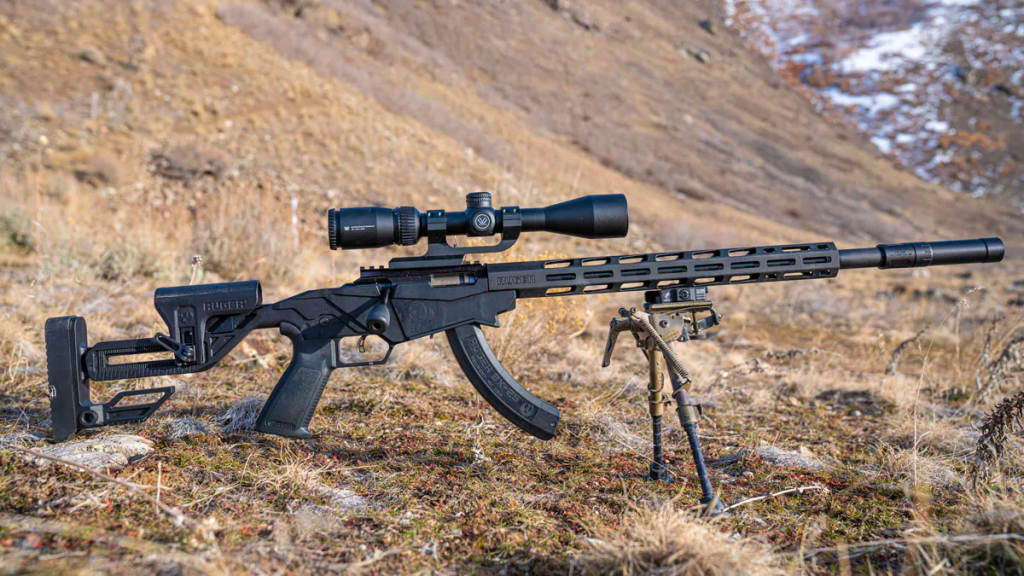 The .22 Mag comes in second place here, with an effective range usually about 50 yards less than what is capable with .17 HMR. The humble .22 LR sadly takes its seat in the back row on this one. You'll see a drop with the .22 LR after only 75 yards, with that drop increasing significantly at the 100-yard mark.
Research done over at MCarbo.com echoes this sentiment. After pitting CCI .17 HMR TNT against CCI .22 LR Stingers, they found that at a range of 100 yards, the .17 HMR could hit dead on target. Meanwhile, the .22 LR had dropped 2.3 inches.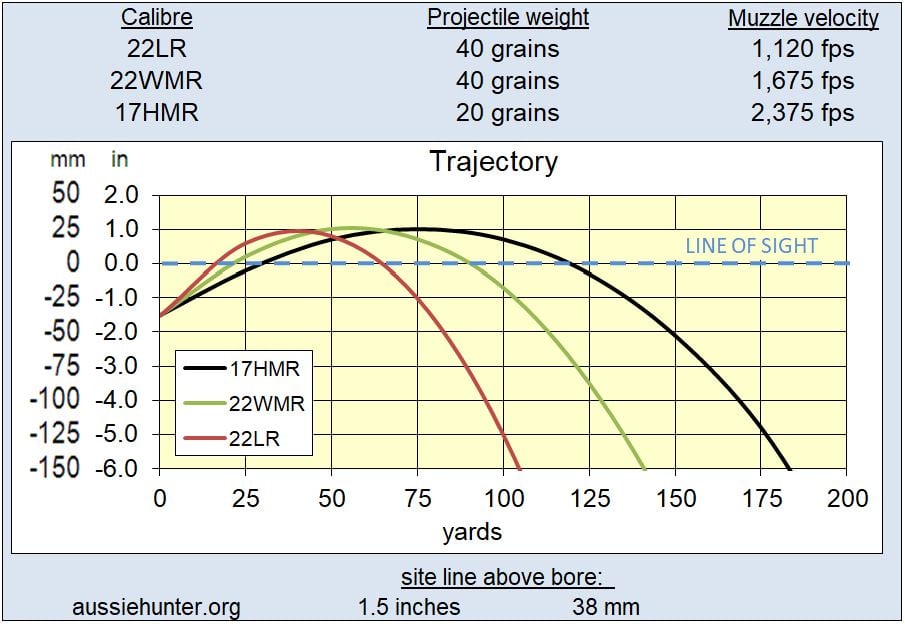 So, when you talk to most people out there, they'll tell you that the .17 HMR is great up to around 250 yards, .22 Mag till roughly 200 yards, and the .22 LR till about 150 yards.
Again though, these numbers depend on a lot of different variables, but that being said, I don't think anyone would argue against .17 HMR being the range king here.
Winner — .17HMR
Accuracy
Of these three calibers, you will most likely see the best results with the .17 HMR. This ties into the trajectory discussion we had above, but there are other factors to take into consideration as well.
Take wind, for example.
With just a 10 mph crosswind, you can see significant problems with .22 LR rounds. At 125 yards, the wind drift for a .22 LR can be around 8 inches with that wind — that's a lot. You'll miss your target big-time if you don't compensate for that.
Meanwhile, .22 Mag will see similar wind problems, with .17 HMR being the least affected of the trio.
Out to 125 yards, both .22 Mag and .17 HMR will be comparable, but once you go further, you'll see a gradual improvement with the .17 HMR round.
If I were having a shooting competition with some buddies with the winner getting free lunch that afternoon, I'd pick the .17 HMR.
Winner — .17 HMR
The Oomph Factor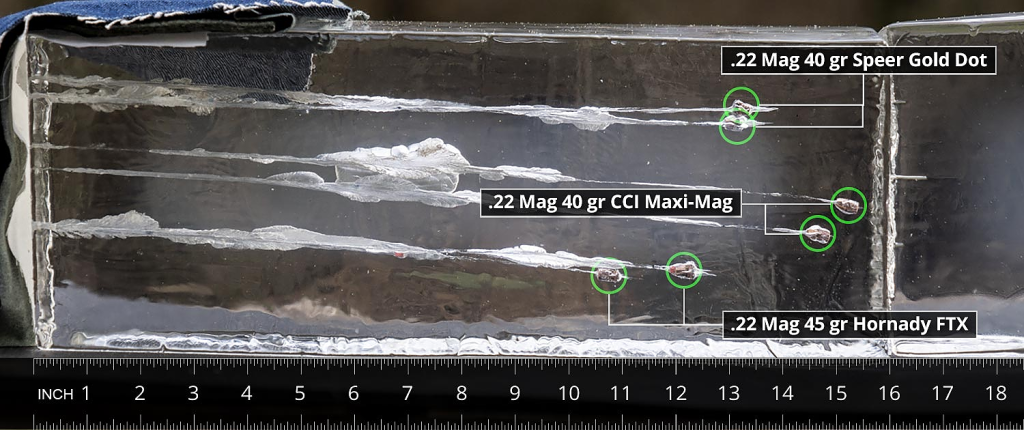 When it comes to impact force, things are measured in foot-pounds in the firearm world. The higher the foot-pounds, the more muzzle energy the bullet will put on the target. These are three common datasets regarding muzzle energy for these calibers.
If we look further out to 100 yards, here is what we'll see:
Again, these numbers will depend on various factors, so consider the above a rough average.
Whether we're checking out energy at the muzzle or looking at things 100 yards down the field — it is clear that .22 Mag is a powerful little booger as far as rimfires go. While .17 HMR isn't that far behind it in foot-pounds, the clear and present winner here is the .22 Mag.
Winner — .22 Mag
Sound
Generally, when talking about the sound a gun makes, the quieter it is, the happier the shooter is. Not only does this mean there's less risk of permanent ear damage, but you're not going to be broadcasting to the entire county that you're out target shooting or hunting.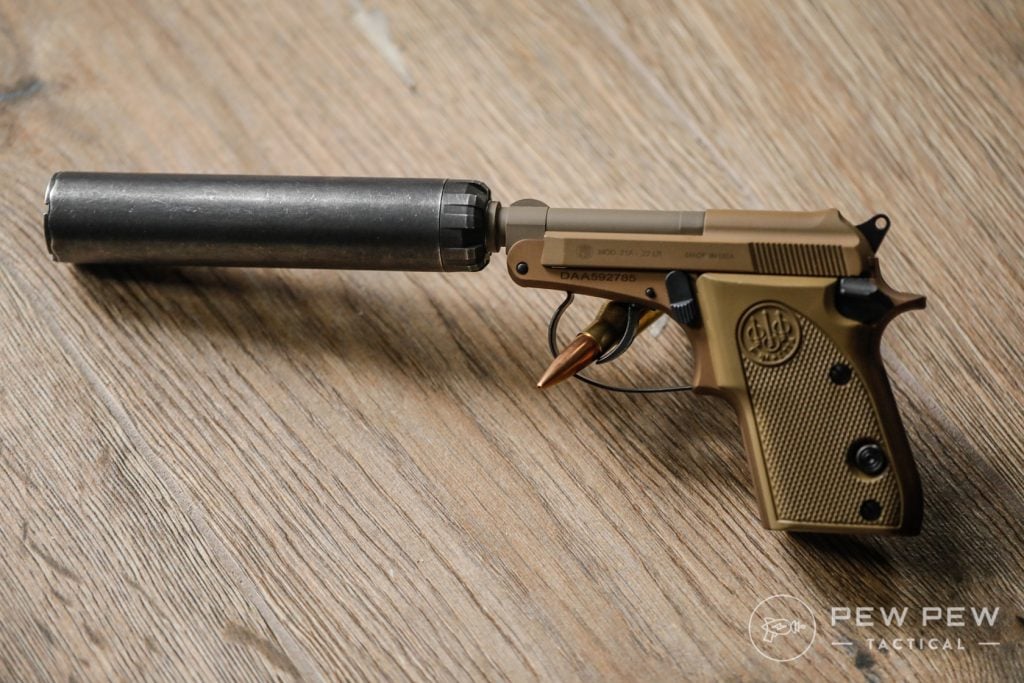 Discretion is sometimes the better part of valor, especially if you have nosy neighbors.
It's not even a contest between these three cartridges in this department. If you're looking for as quiet of a round as possible here, the .22 LR is the clear winner.
The ability for most .22 LR guns to chamber .22 Short and .22 CB Short only adds to its versatility as a quiet cartridge.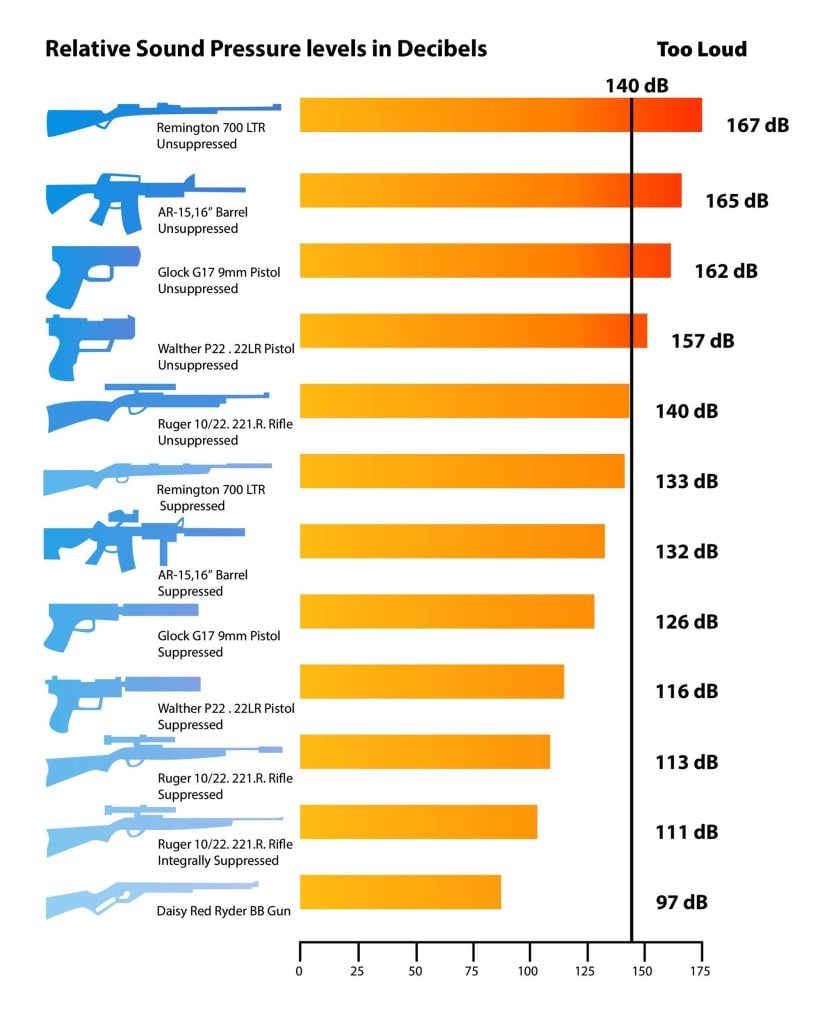 When it comes to quiet, .22 LR takes the cake.
Winner — .22 LR
Hunting
One of the most common uses for rimfires is to shoot squirrels, rabbits, muskrat, and just about any other nuisance varmint you can think of.
When this is the case, people typically have one of two goals — they want to eat the meat, or they just want it dead.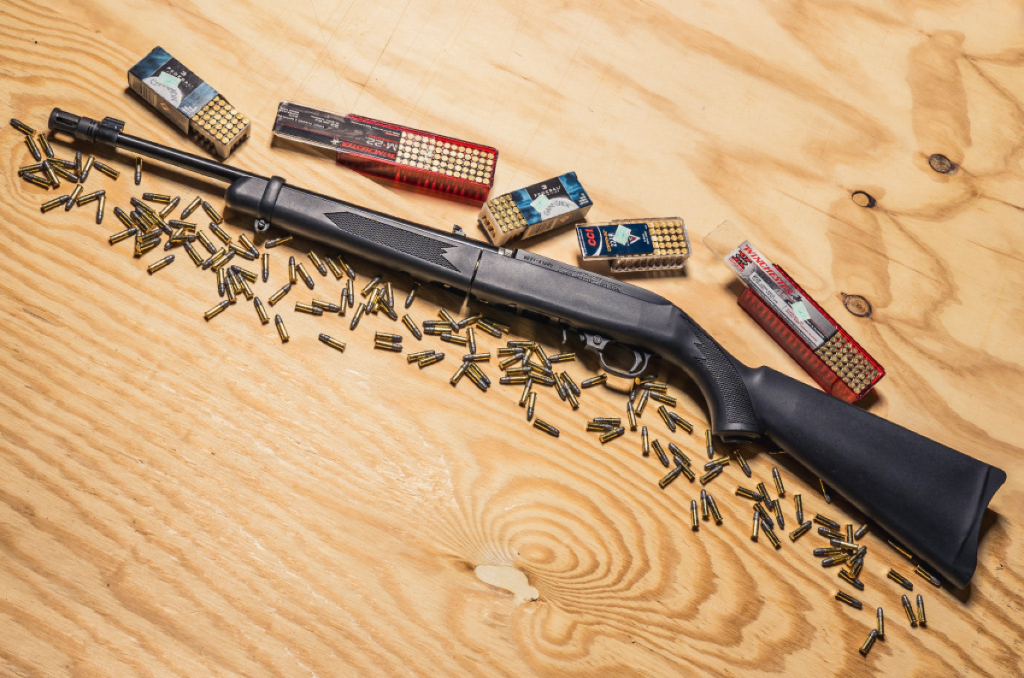 If you're looking to make yourself a Brunswick stew, you want the lower energy that the .22 LR provides, so you don't damage the meat. Both .17 HMR and .22 Mag tend to blow up smaller woodland creatures, meaning there won't be much left to pick from.
However, if you have zero interest in making possum pot pie and you just want the thing to quit eating all your chickens, then .17 HMR and .22 Mag are both excellent choices.
Regarding which is the best here,  it just depends on what you're looking to do.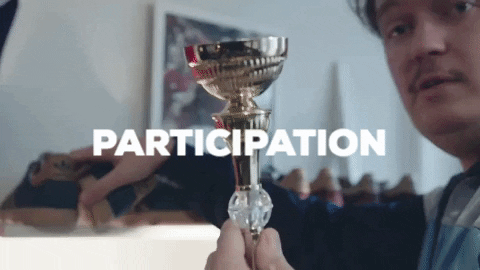 There are no winners — plastic participation trophy for all.
Penetration
Quick! Zombies are coming! And not Walking Dead style; we're talking 28 Days Later here! Pick a rimfire, and let's go!
Which of these three should you pick?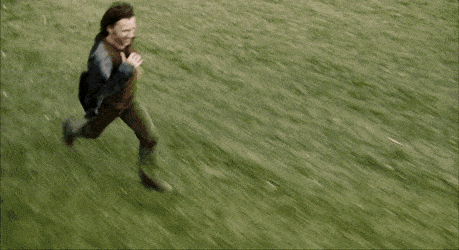 If penetration is all that you're looking at here, it can actually be kind of hard to find consistent results amongst the testing I've seen.
Over at AmmoMan.com, they tested two rimfire handguns 10 feet away from ballistic gel blocks, shooting five rounds from each pistol in .22 Mag and .22 LR, respectively.
They found the .22 LR penetrated an average of 5.6 inches while the .22 Mag went an average of 15.3 inches. I can't find ballistic gel data for a .17 HMR pistol, but I would think it's safe to assume it would surpass the .22 LR.
Buffalo's Outdoors did a pretty good analysis of these three different calibers through a rifle — finding that .22 Mag will give you the best penetration overall.
However, his .17 HMR round splintered, so it's reasonable to assume .17 HMR may have a better level of penetration assuming the round stays together.
Winner — .22 Mag (?)
Versatility
I think many would agree with me that .22 LR has the most versatility.
The reasons are simple: you can easily harvest meat with it, you can kill varmints effectively at reasonable ranges, you can target practice without blowing a hole through your wallet, and you have a host of loads and bullet types to choose from while you do so.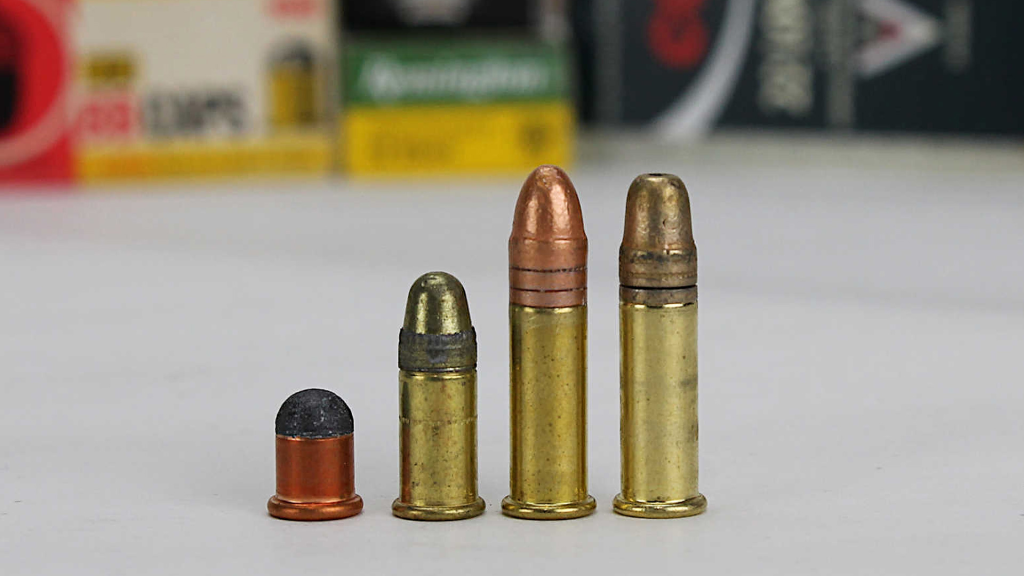 The other two cartridges can't say the same. If you're looking for a cartridge that can do as much as possible around the farm, .22 LR is the clear winner.
Winner — .22 LR
Weapon Availability
I don't think there's any debate here that .22 LR rifles and handguns are much more prevalent than guns in any other rimfire cartridge. Just about every gun cabinet in America is going to have a .22 LR of some sort or another in it.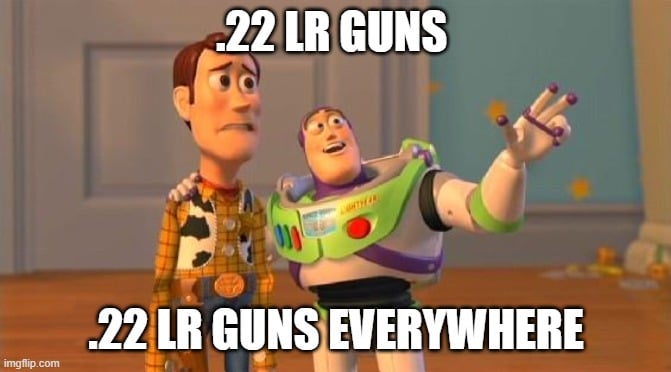 The main reason is that .22 LR has been around since the 1800s. It's had much longer to take root in American soil.
You can find something chambered in .22 LR at just about any flea market, online sales forums, or gun store in the country – something that can't be said for either .22 Mag or .17 HMR.
This widespread prevalence also means that .22 LR guns tend to be much more inexpensive compared to other rimfire calibers. Just take a little snoop around Palmetto State Armory, and I think you'll come to the same conclusion as I here.
Winner — .22 LR
Cost of Ammunition
Currently, you can get .22 LR for about $0.07-0.10/round. Coming in second place is .22 Mag at around $0.20-0.25/round. Meanwhile, .17 HMR can be found for $0.30 to 0.40/round, making it the most expensive option.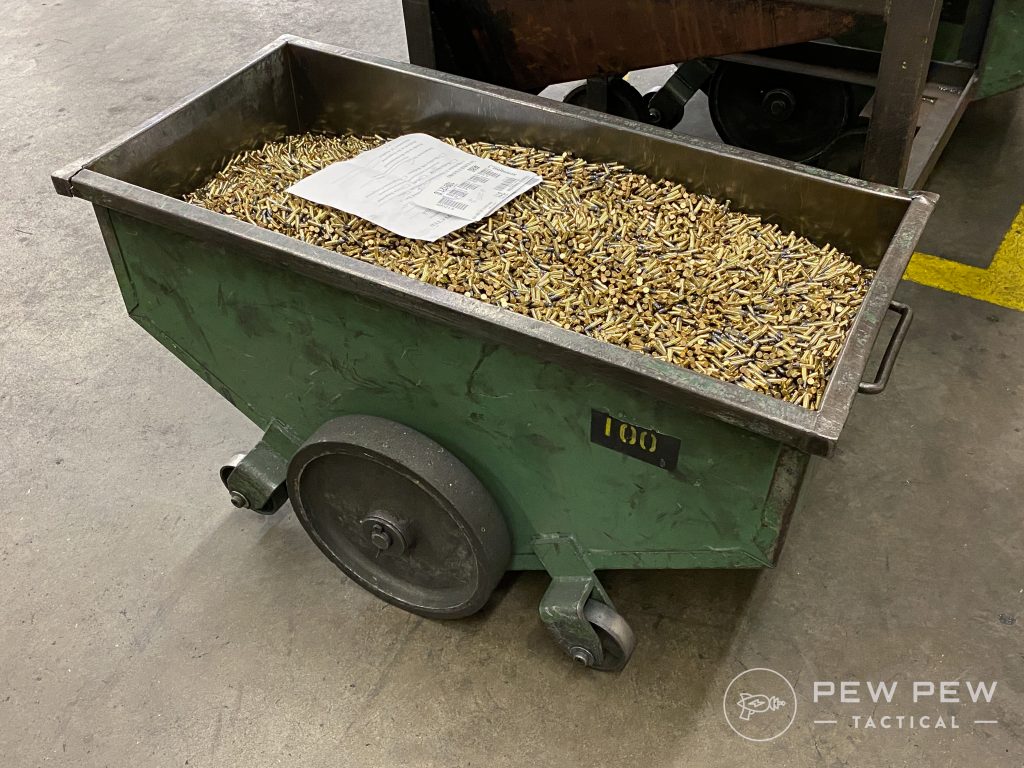 So, if you're looking for a cartridge just to target practice out in your backyard for an evening, .22 LR will be the most economical. Whether it is rimfire or centerfire, nothing can compete with the low cost of .22 LR.
Winner — .22 LR
Final Thoughts
So which caliber is the best?
I'm of the notion you should separate .22 LR from both .17 HMR and .22 Mag if you're going to ask such a question. Otherwise, it's kind of like asking which tool is best — a hammer or a screwdriver. It just depends on what we're looking for; you can't judge a tool based on something it wasn't designed to do.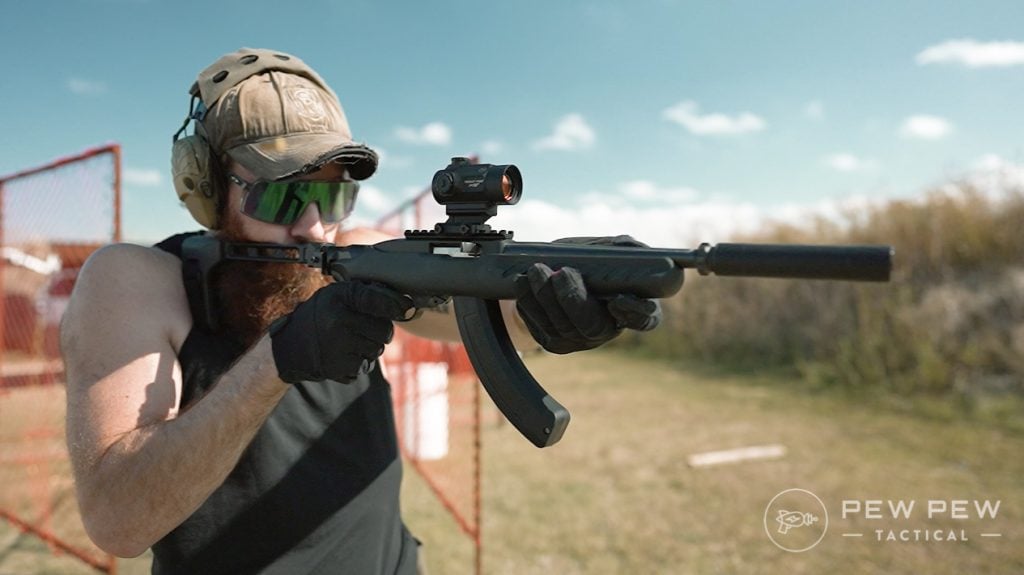 If you want something cheap and relatively quiet to shoot, .22 LR is hard to beat. If you want power in a rimfire, .22 Mag is your ticket. And if you are looking for that extra range, .17 HMR is the play.
What are your thoughts? Let us know in the comments below! If you want to take the rimfire fun factor to the next level, check out our article on the 4 Best .22 Rimfire Suppressors!
Credit: Source link