Looking to upgrade your carbine's ergonomics without breaking the bank? Here are some of the best AR charging handles on the market.
One of the easiest, most cost-effective and most common AR-15 upgrades is the charging handle. But if the mil-spec version has worked just fine for so long, why would you want to? There are a lot of good reasons, as a matter of fact. 
So first let's talk about the potential benefits of upgrading your AR charging handle and then go over some great models that fit a number of price points. 
Why Upgrade Your AR Charging Handle? 
There are several aspects where the mil-spec charging handle falls short. There are many aspects of the original M16/AR-15 design that actually hold up very well, but the charging handle generally isn't one of them. 
First, a lot of the mil-spec units on the market are made of flimsy metal. They break (especially the latch and the latch pivot pin) and bend easily. 
Second, the latch mechanism is on the left side, making it a little difficult, though not impossible, for ambidextrous use (shoulder transitions are a thing!) or for left-handed shooters. 
Third, the actual latch lever itself is small and easy to miss if you're trying to run the charging handle fast. Aftermarket units often have enlarged, ambidextrous and even latchless designs. 
Fourth, a lot of shooters today use a suppressor. A standard charging handle will vent gas from blowback out the back of the gun and into the shooter's face. A bevy of aftermarket AR charging handles are designed to bleed blowback gas before it hits you. 
Fifth, the wings of the mil-spec handle are rather narrow in width. A lot of people find them difficult to use with some kinds of scopes. In this era of LPVOs and people putting 3×9-40mm scopes on ARs…that's rather important. 
So, prone to breakage, not the most user-friendly, and they don't play well with suppressors and some optics. Those are the biggest reasons to ditch the mil-spec version and upgrade. 
Or, maybe, you just want to put together that Gucci rifle you saw on Instagram because you think it looks cool. There's nothing wrong with that either! 
With all that in mind, here are some really good aftermarket AR charging handles worth upgrading to. 
The Magnificent 7: The Best AR Charging Handles
Radian Raptor
The Radian Raptor is pretty much the upgrade to get as far as AR charging handles are concerned. They're lightweight, rugged, made from quality materials and are about as proven as aftermarket rifle widgets get. 
The Raptor is made from 7075-T6 aluminum, with an anodized finish in multiple colors. It has an ambidextrous latch design, which is part of what makes it a mainstay of AR-15 upgrades. The standard model goes for about $80ish to $100, which is a bit steep, but you get quality. 
There are also the LT and SD models. The LT uses polymer latch handles and goes for about $20 less, and the SD is designed for use with suppressors. 
Breek Arms Warhammer
The Breek Arms Warhammer has a lot of premium features at a very attainable price point. In fact, it was selected as part of InRangeTV's "What Would Stoner Do 2020" rifle, available now from Brownells. 
The handles are wider than mil-spec (2.78 inches wide) so it's easier to use with optics, and it has an ambidextrous latch design. The Warhammer also includes relief cuts to channel blowback through the side of the handle and a raised rear lip to deflect any gas from going in your face. 
It's made of 7075-T6 aluminum and comes in a number of hard anodized coatings for your choice of color. Street prices are typically $40 to $55. 
Strike Industries Phantom Latchless Charging Handle
The Strike Industries Phantom uses a U-shaped spring to capture the charging handle in the locking area of the receiver, eliminating the need for a latch system. As a result, it's fully ambidextrous, and with the standard handle wings, low-profile. 
The Phantom is, like practically all AR charging handles on the market, made from 7075-T6 aluminum forgings with an anodized coating. You have your choice of multiple colors. It has gas vents, but isn't designed for use with suppressors. If you're going to run a can, you'll have to look elsewhere. Strike Industries also offers handle extensions if you want a wider handle. 
It ticks a lot of good boxes, and prices are generally just under $40. 
BCM Gunfighter Charging Handle
Another of the mainstays of aftermarket AR charging handles is the Bravo Company Manufacturing Gunfighter series. There are a number of versions, so we'll treat them as a whole product line. 
The Gunfighter is designed to be low-profile but still deliver performance, with your choice of latch size. Mod 3 handles are the large profile and the Mod 4 is the medium profile. The Mod 4 is still slightly wider than mil-spec, however. 
The Gunfighter uses an exclusive latch system to reduce the stress load on the pivot pin of the latch for smoother use and greater durability. You have your choice of ambidextrous models (which are about $10 extra, give or take) or not. MSRP is $75  to $90, but street prices can be as low as $50. 
Presma Ambidextrous Charging Handle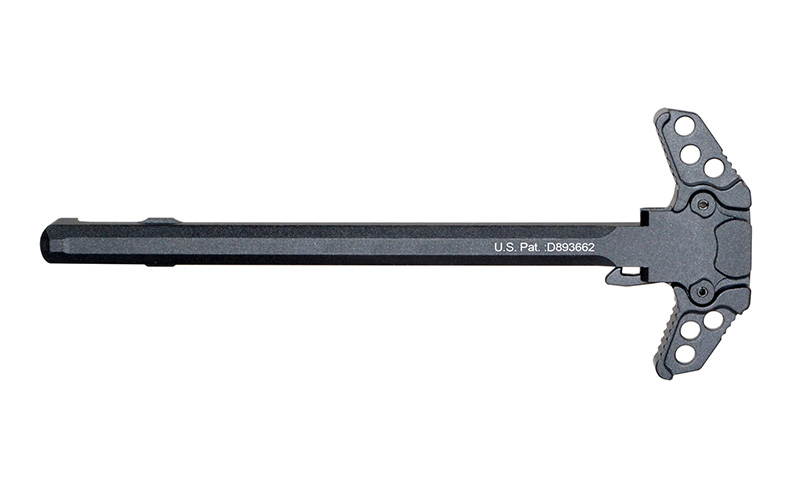 Another affordable upgrade is the aptly named Ambidextrous Charging Handle by Presma. Street prices are usually under $30, and they are, wait for it, designed for ambidextrous use by virtue of the pivoting wings which engage the latch from either side. 
It includes a rear lip to redirect gases, wider wings than mil-spec and includes textured handle wings for a secure grip whether gloved or not. 
It's ambi, a bit wider than mil-spec and a little friendlier for a gun with a can…that's a lot of features for less than $30. You also have your choice of several colors of anodized finish, in case basic black is not your thing. 
NBS Billet Extended Latch Charging Handle
If you otherwise like the mil-spec design but just wanted it to be a little easier to use and a little less flimsy, check out the NBS Billet Extended Latch model. NBS is the house brand of AR15discounts.com, the one-stop shop for all things AR-15 (and more) on the web, and their products are generally good value for the money. 
The handle is made from 6061-T6 forged billet aluminum for a bit more rigidity, and has an extended charging handle latch on the left side with about an extra .25 inches of material. It's a little easier to grab quickly, and will be easier to use with a scope too. 
It's not the most dramatic upgrade in the world, but it improves the basic charging handle just enough to make a difference and it only costs $23. 
Geissele Super Charging Handle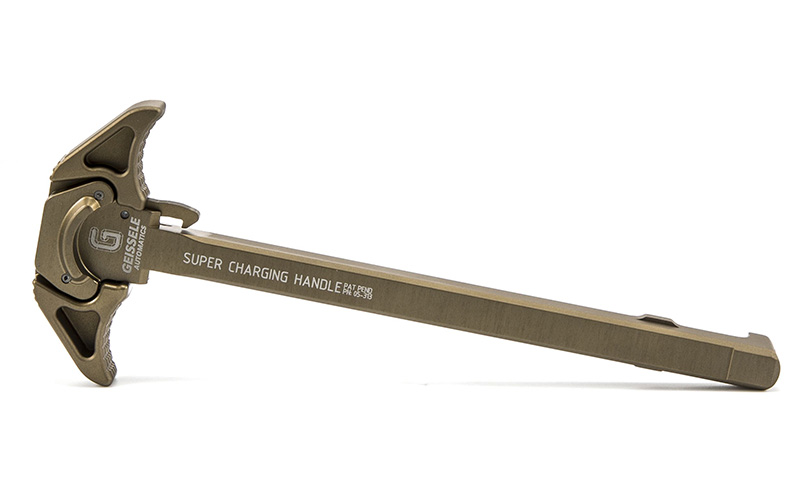 If nothing but the best will do, the Radian Raptor and the Geissele Super Charging Handle are about as good as it gets. 
The Super Charging handle has ambidextrous latch wings with checkering with X- and Y-axis radius cuts to make it low profile. It includes a rear lip to redirect gases when shooting suppressed, having been specifically designed for SBR and suppressed shooting. 
The Super Charging Handle is available in Black or DDC (Dirt Desert Color), and can be yours for $100 to $120 from most retailers. That's a bit steep, but Geissele makes some of the best parts (and rifles) money can buy, so it's a buy-once/cry-once proposition. 
Do You Actually Need To Upgrade The Charging Handle? 
On the one hand, a lot of serious work has been accomplished with mil-spec charging handles all over the world throughout the years. With training, they shouldn't give you any issues either.
On the other hand, the aftermarket exists for a reason. 
So, do you need to upgrade your charging handle? Honestly…need is rather relative. 
If you're a left-handed shooter or you spend a lot of time shooting from both shoulders, it's worth it to upgrade to an ambi AR charging handle to save you effort. It may also be very worth it to get a charging handle that works well with your suppressor, or one with wider latch handles to use with a scope. 
In other words, if you're going to actually benefit from it, it's going to be a worthy investment. If you mostly just plink with your rifle and don't run it hard, shoot suppressed, or shoot from odd positions…it's another $20, $40 or $100 you could have spent on training ammo for improving your skills
Consider what you do with your rifle first. That will tell you if it's a prudent investment. 
---
More AR Upgrades:
---
NEXT STEP: Download Your Free Storm Tactical Printable Target Pack
62 Printable MOA Targets with DOT Drills – Rifle Range in YARDS This impressive target pack from our friends at Storm Tactical contains 62 printable targets for rifle and handgun range use. Target grids and bullseye sizes are in MOA. Ideal for long-range shooting!
Subscribe to the Gun Digest email newsletter and we'll send your print-at-home target pack right away. Just enter your email address below.
---
Credit: Source link