Are PSA's low prices too good to be true?
For years I've heard of Palmetto State Armory and their ultra-affordable AR-15s. The only negative things were some finishing issues and shipping delays here and there.
But… for a long time, I was a little obsessed with name brands and scoffed at sub-$500 rifles.
I finally bit the bullet…
I got three of their uppers (16″ 5.56 with front sight block, 16″ 5.56 free-float rail, 18″ stainless .223 Wylde), one of their lowers, and shot a lot of rounds through them.
Best Complete AR-15 on a Budget
499
at PSA
Prices accurate at time of writing
Prices accurate at time of writing
By the end you'll know if a PSA rifle/upper is right for you…and the best model to get based on your use.
We have a full video review on PSA AR-15s too!
Table of Contents
Loading…
Who Is It For?
Budget-conscious buyers who want something that works and can overlook some details like perfect finishing and dead-on accuracy
Someone who wants a lot of options in terms of barrel length and handguard
People who can wait a while for something to go into stock or ship
Why Is It So Cheap?
PSA sent me these three uppers and one lower for testing.
But they are going through the same testing procedures I do for all my other guns.
And at a higher round count since reliability is key when I recommend more budget-friendly options.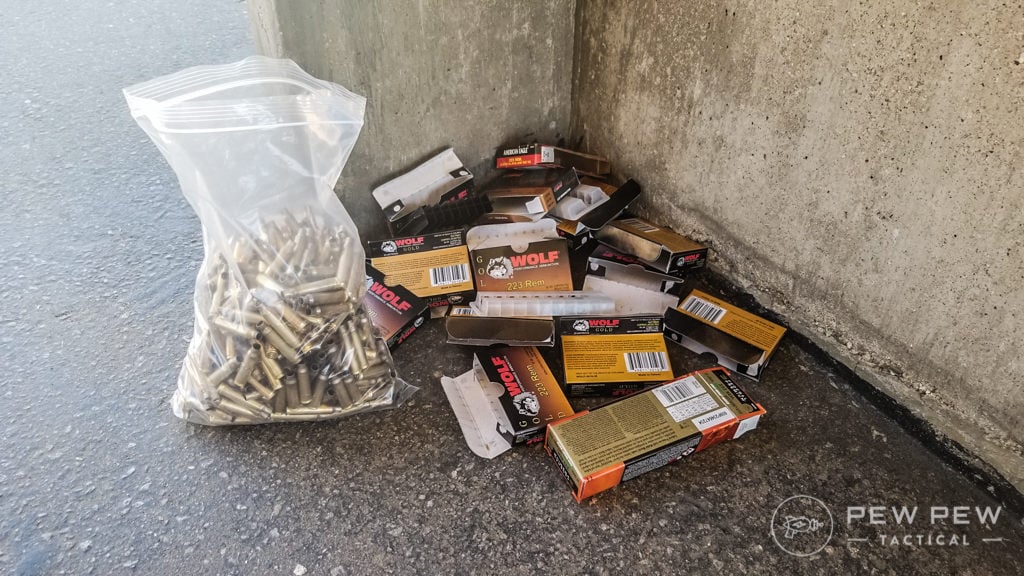 I spoke with PSA, and the reason their AR-15s are so affordable is due to full vertical integration. From raw metal to the finished product…they do it themselves.
And now…we've hands-on tested almost all their models…from their AR-15s to AR-10s and AK series. Check out all our PSA reviews here.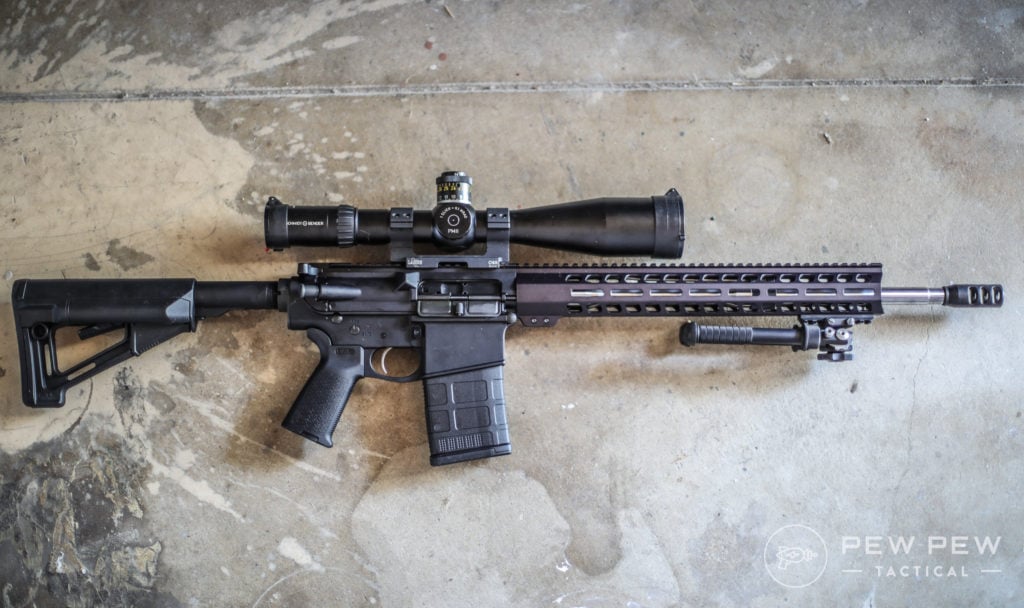 Fit, Feel, & Finish
PSA has their Freedom line, which is their most affordable and is pretty much mil-spec (meets military specifications).
499
at PSA
Prices accurate at time of writing
Prices accurate at time of writing
However, as I outlined in our AR-15 Buyer's Guide…I like a mid-length gas system way better than the standard carbine-length.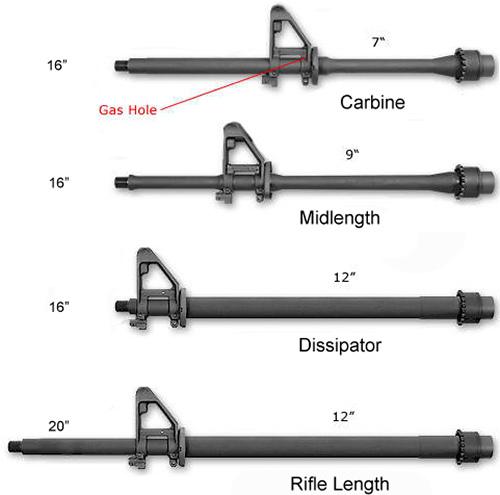 It gives you more rail space and a softer shooting impulse since the gas tube is longer and gas block is more forward.
Unless you're going for the pure M4 look…I'd opt for something in the mid-length arena. Or at least their Magpul MOE furniture models, so you can add some rails in the future.
Barrels & Gas Systems
For my upper with an FSB (front sight block…that triangle thing you see above), I went with a 16″ mid-length Magpul model and Nitride-coated barrel.
339
at PSA
Prices accurate at time of writing
Prices accurate at time of writing
This gives me a longer handguard (with M-LOK), ability to add rails, Magpul rear flip sight, and a nicer barrel finish compared to phosphate.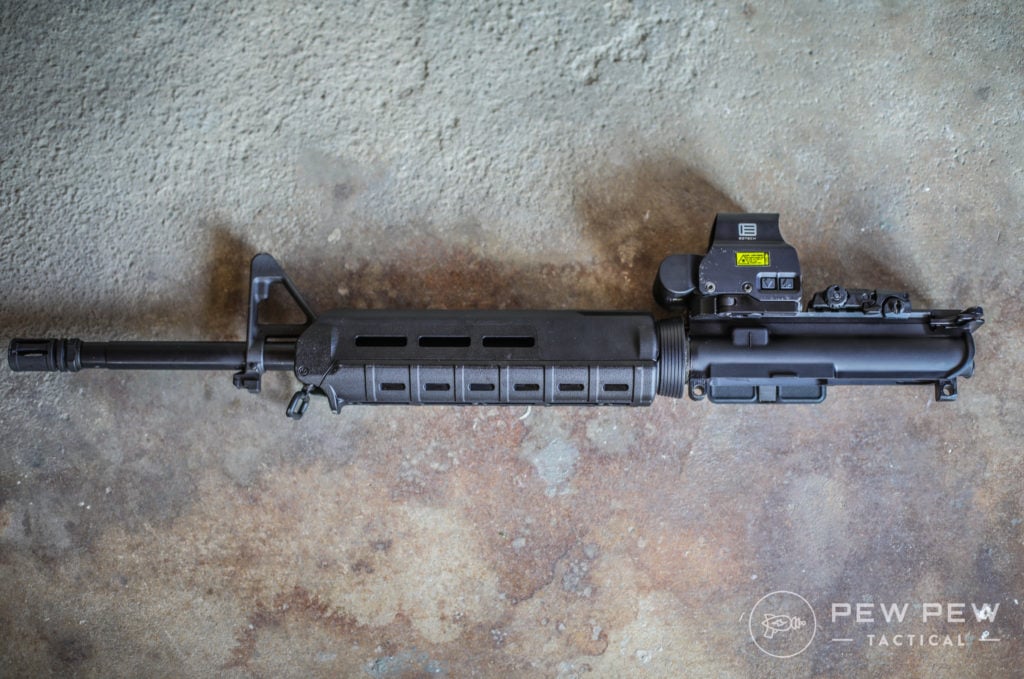 Since it has a pinned FSB…it's a little front-heavy….but that's the nature of the beast. The FSB is pinned well, and the handguard is really on there. You can see my segment of Picatinny I added to the handguard's M-LOK attachment points.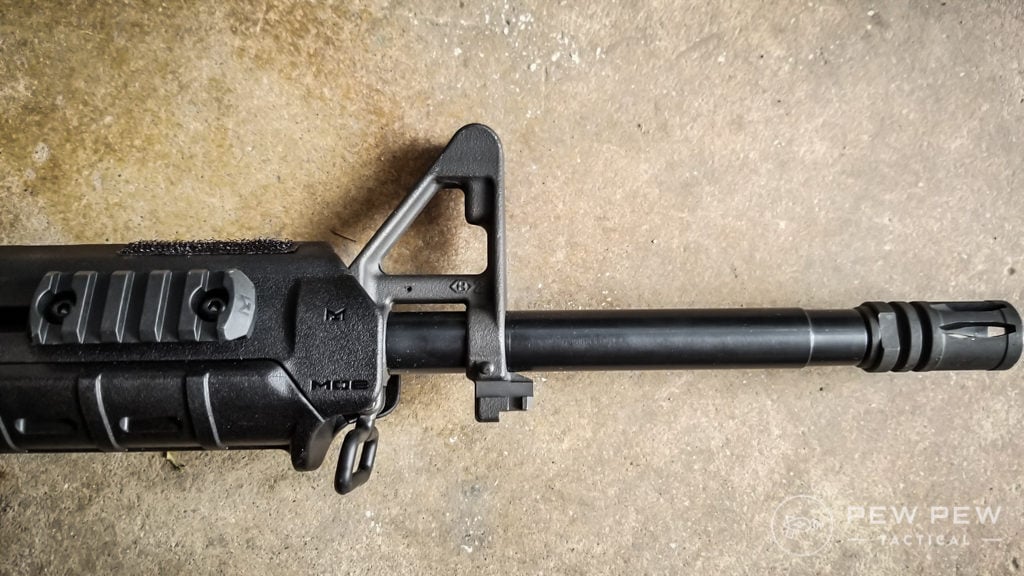 The next upper would be my favorite overall setup. 16″ mid-length with a 13.5″ M-LOK free-floating barrel and Nitride barrel.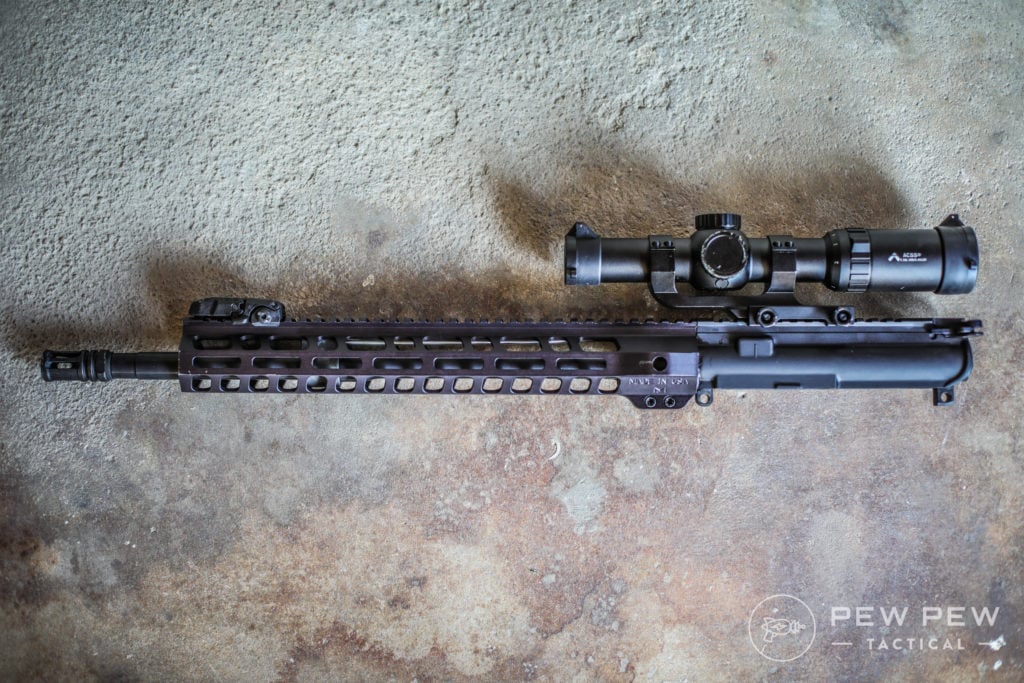 Now you get the benefit of not having an FSB which helps the weight balance, and also having a free-floating handguard that increases accuracy by taking away contact points on the barrel.
For absolute reliability, I'd still opt for the FSB model…but free-float ARs are now the standard; you can attach a lot of stuff, and the gas block is really on there.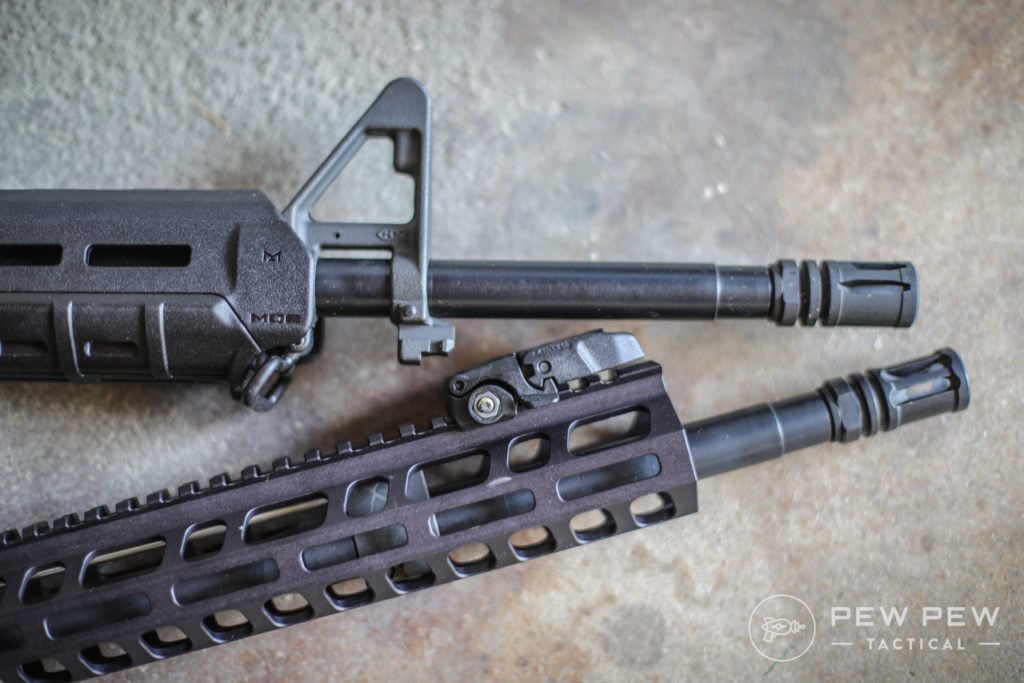 The last model is the 18″ .223 Wylde which is a relatively new chambering that will shoot BOTH 5.56 and .223 but offers a slight accuracy edge. Usually, you'll see the more accurate barrels in stainless, which is what we have here.
This comes in an even softer shooting rifle-length gas system and 15″ M-LOK free-floating rail.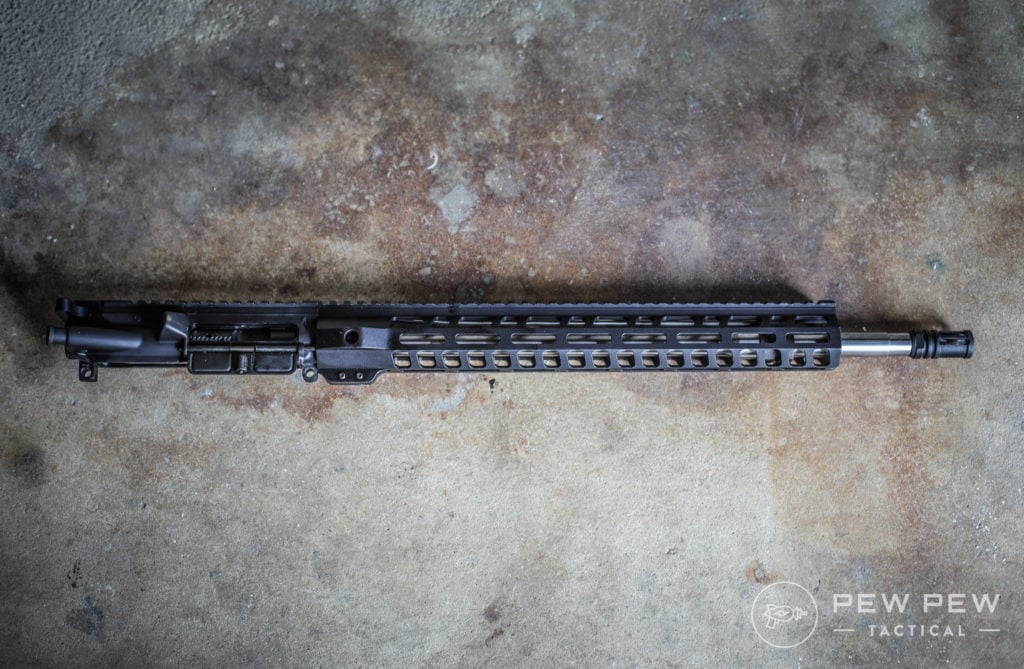 All came with mil-spec A2 bird-case flash-hiders that were installed correctly and didn't require superhuman strength to take off and switch for some compensators.
Barrels
PSA seems to have three tiers of barrels.
Premium: chrome-lined or CHF (cold hammer forged) that are made by FN
Standard: Nitride, Melonite, and stainless barrels
Basic: phosphate coated
The two 5.56 uppers I received were Nitride coated instead of regular phosphate…while the Wylde was stainless steel.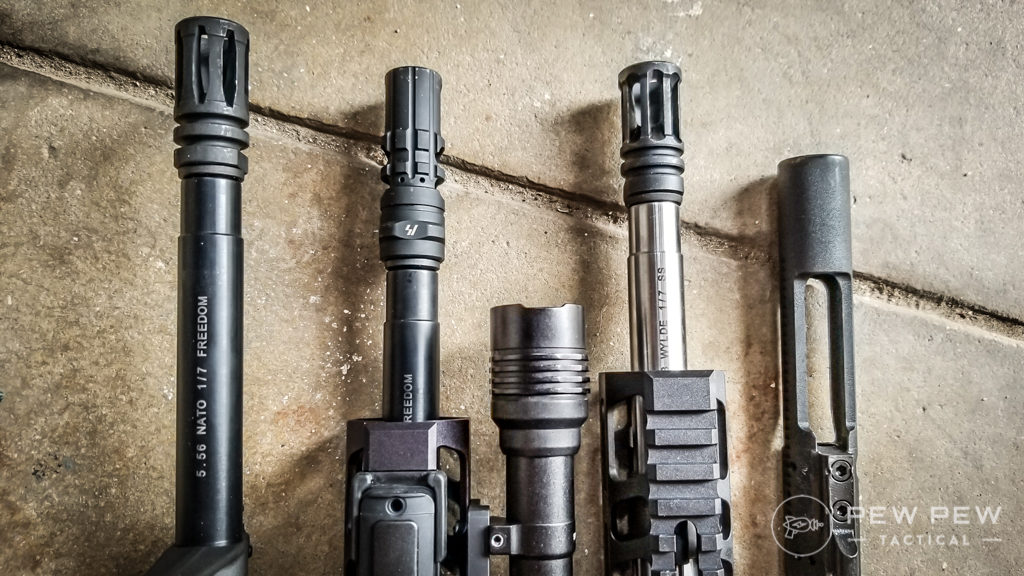 Nitride (two left black ones) is smooth while stainless is…stainless. The BCG on the right gives you a sense of what the rougher texture phosphate looks like. Nitride is supposed to be a little tougher and I like the smooth look.
I took apart the free-floating 5.56 and Wylde. Straight gas tubes…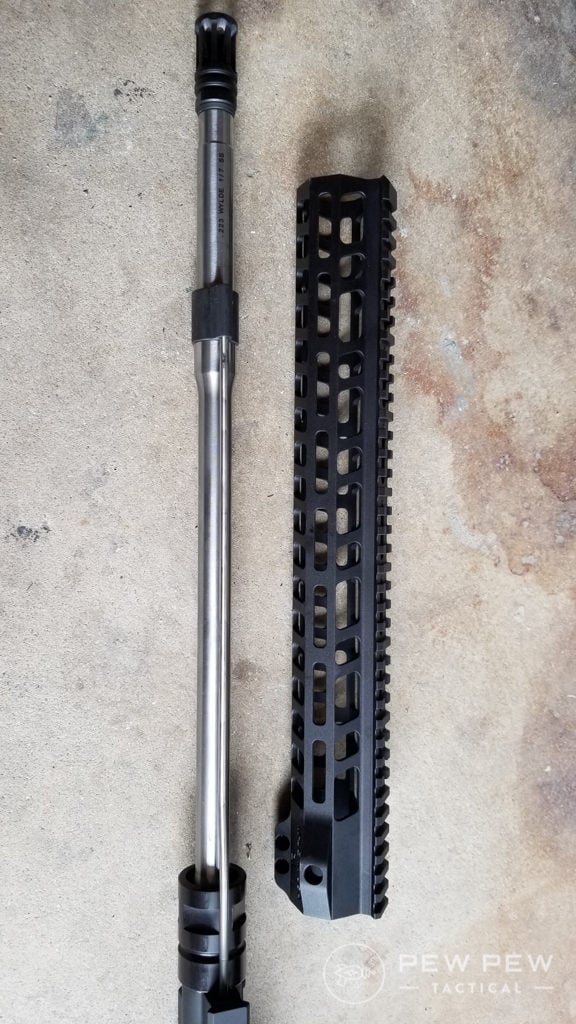 And at least 35 in-lb of torque on the gas block with some sort of weird spill on the 5.56.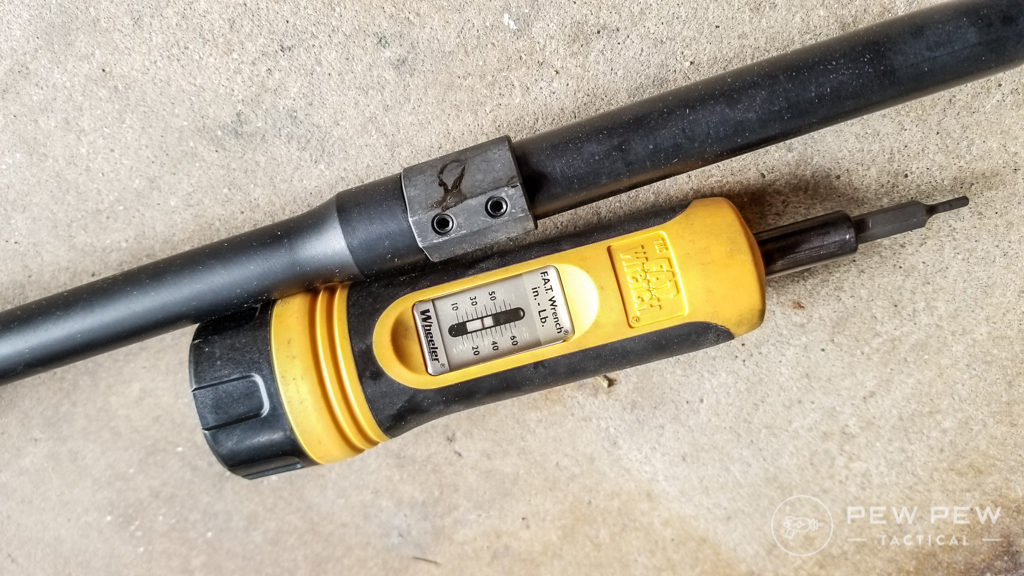 Upper Receivers
There's not too much to say here…everything is where it's supposed to be.
Ejection port door works
Forward assist works
Charging handle feels mil-spec and works
T-Markings present and easy to read
Evenly phosphate coated
If I had to nitpick… there are some super small machining marks on the forward assist for two of the uppers I had. Not even sure you can see them in the pics.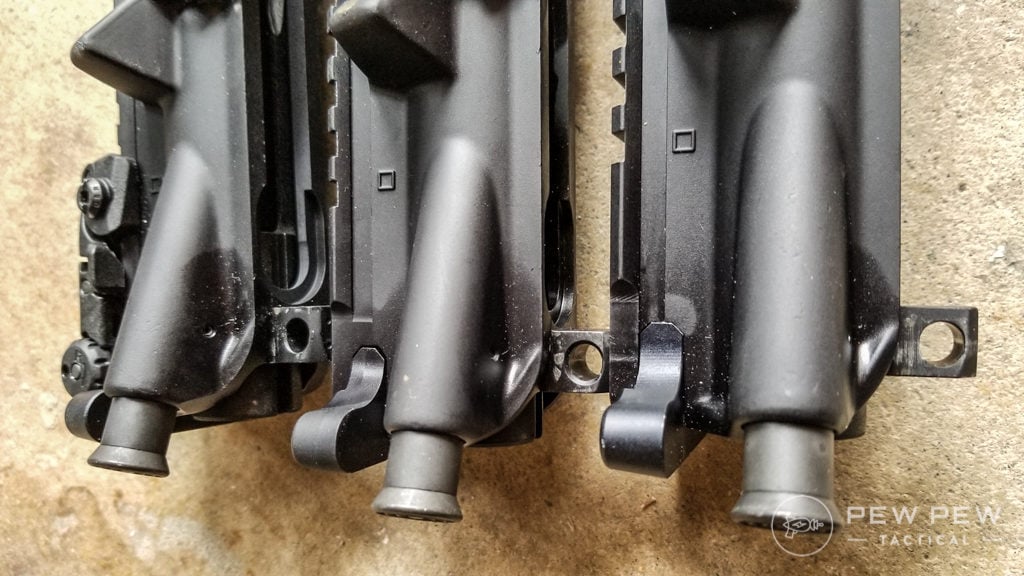 Handguards
The Magpul mid-length polymer handguard is what it is. A great update to the mil-spec plastic handguard that can't attach anything.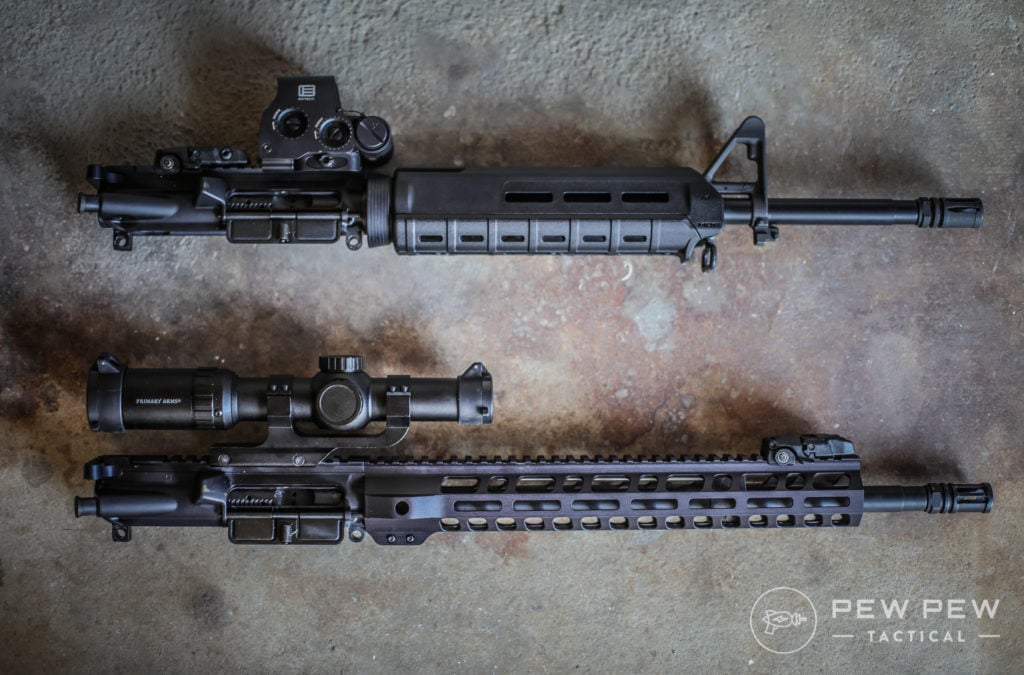 The free-floating M-LOK handguards work too. The thin profile feels great in the hand…but could use a little more TLC in the CNC to get rid of sharper edges.
Also, the 13.5″ is a little on the purple-ish side and a little off in orientation between receiver and handguard…but nothing an Allen wrench and a small turn didn't fix.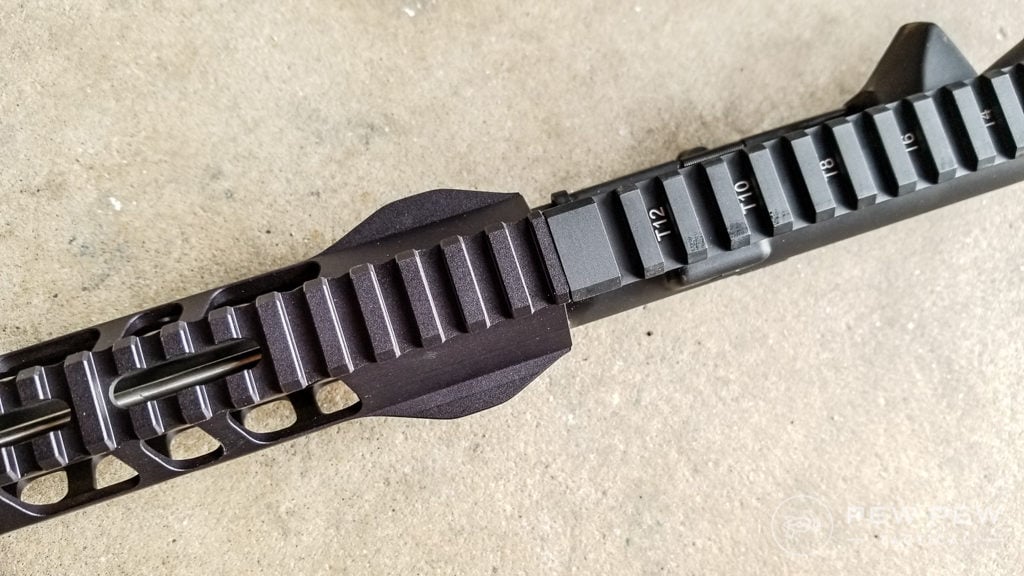 The more "premium" Wylde upper was properly aligned and colored.
BCG + Charging Handles
As mil-spec as they come. Everything is as it should be, and the gas keys are properly staked.
The 5.56 uppers had phosphate-coated BCGs (mil-spec), while the Wylde had a Nitride coated one.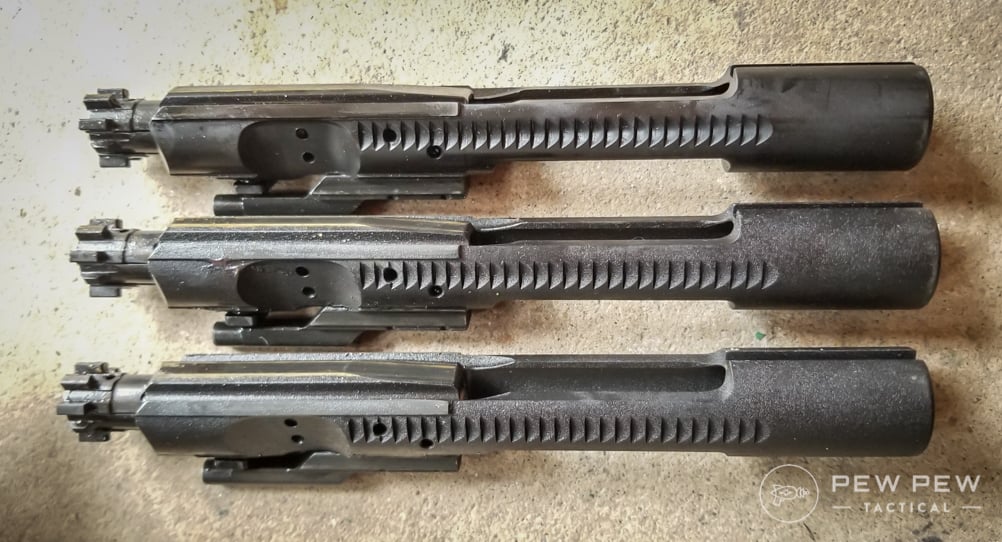 If I had to nitpick again…the coating is a little bumpier than other phosphates I've used, but since only the rails of the BCG contact anything…there's no real downside.
I found that the mil-spec phosphate BCGs were not MP marked (magnetic particle inspected) while the more premium .223 Wylde one was.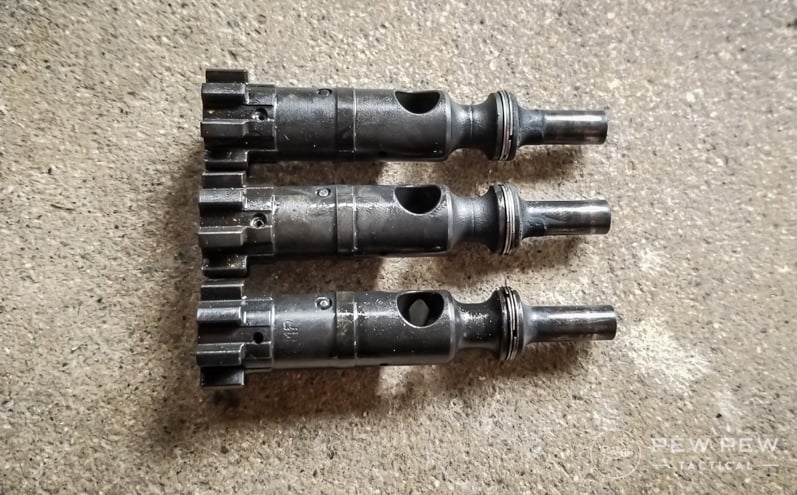 All the bolts were listed Carpenter 158 steel (mil-spec), but I've seen some PSA models where it is 9310 steel. Fine for civilian use, but if you really want mil-spec…go for the Carpenter 158. The carriers were all 8620 steel (mil-spec).
Charging handles were mil-spec as well.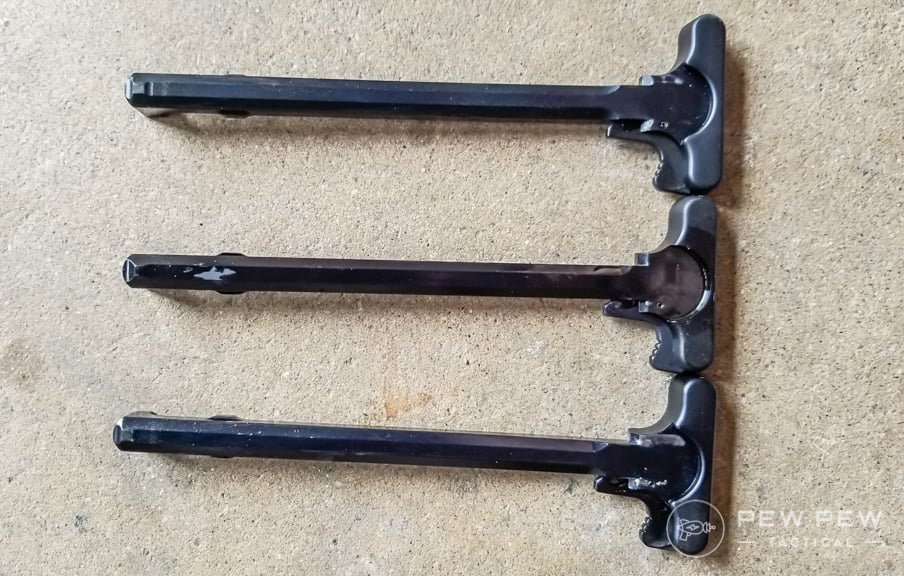 Since I've gone with aftermarket charging handles…I cannot go back (Best AR-15 Charging Handles).
Lower
I built the lower as a kit, so I added a few dings here and there (How to Build an AR-15 Lower). I got the Magpul kit which has its buttstock, grip, and trigger guard.
This one also comes with PSA's EPT trigger, which is silver compared to mil-spec phosphate black. Much less grit!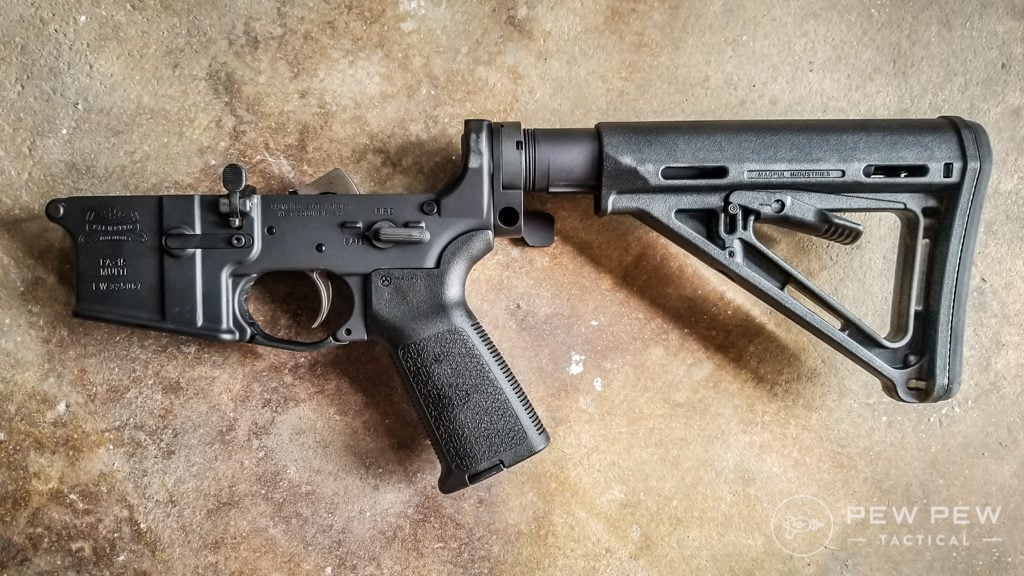 But for this one, I did have a little trouble threading the grip screw initially. I'm thinking the coating was a little thick since I had to muscle my way through the initial turns.
Otherwise, everything installed as it should.
How Does It Shoot?
What really matters…right?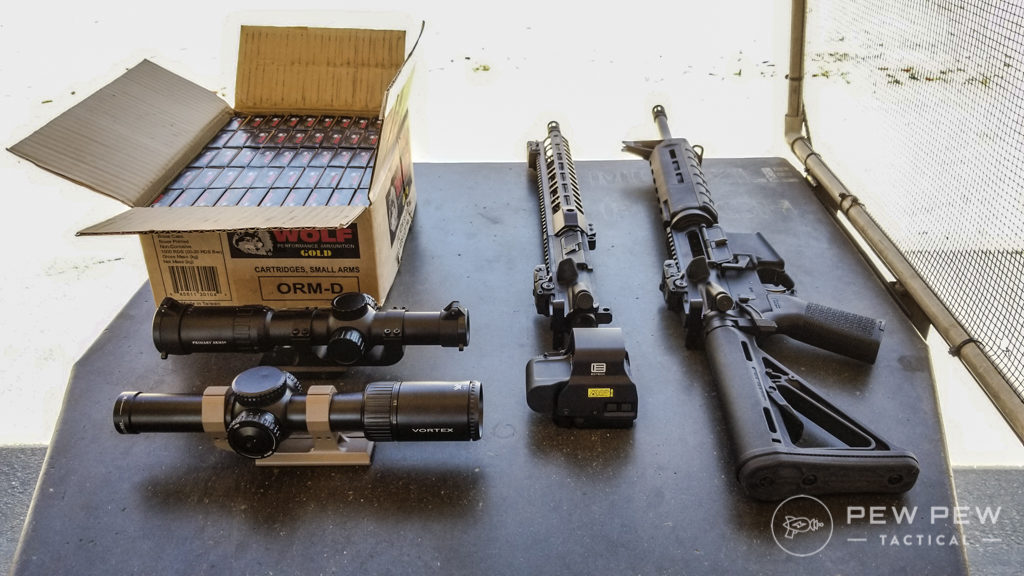 I took a bunch of ammo, a buddy, and the two 5.56 uppers to the range. With the goal of putting as many rounds downrange as possible.
I cleaned the barrels but otherwise did not do any break-in procedures. I started with ~300 rounds of Wolf Gold (Best AR-15 Ammo) through each one before the accuracy tests.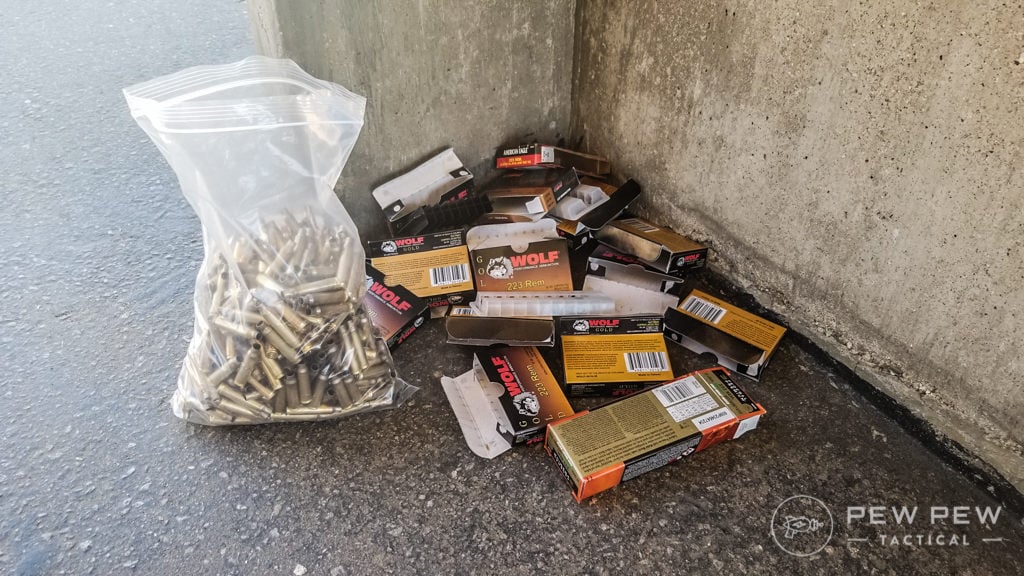 For the 16″ with FSB…there were two failures to load a new round after a magazine change in the first 40 rounds. However, after that, it shot without a hiccup.
For the M-LOK free-floating version, there was one failure to load on the first magazine change and no more problems afterward.
This is likely due to all the parts breaking in.
Recoil was standard and mild for both 5.56 uppers. After a few mags, I was easily hitting 12″ plates at 100 yards with my EOTech.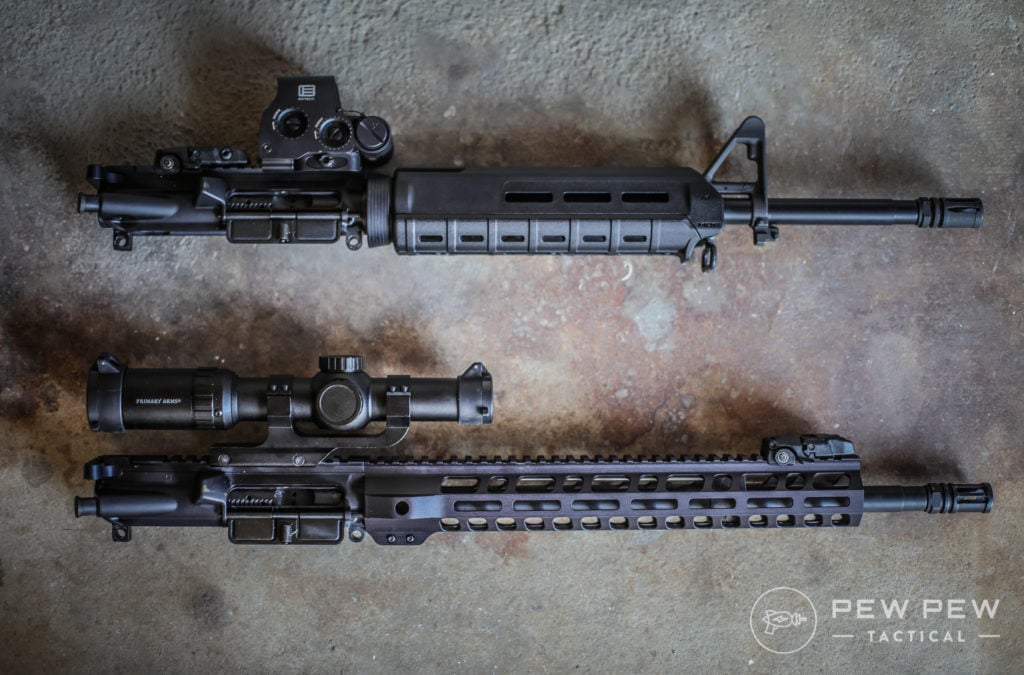 But still made me realize how spoiled I've been with adjustable gas blocks and compensators (Best AR-15 Upgrades).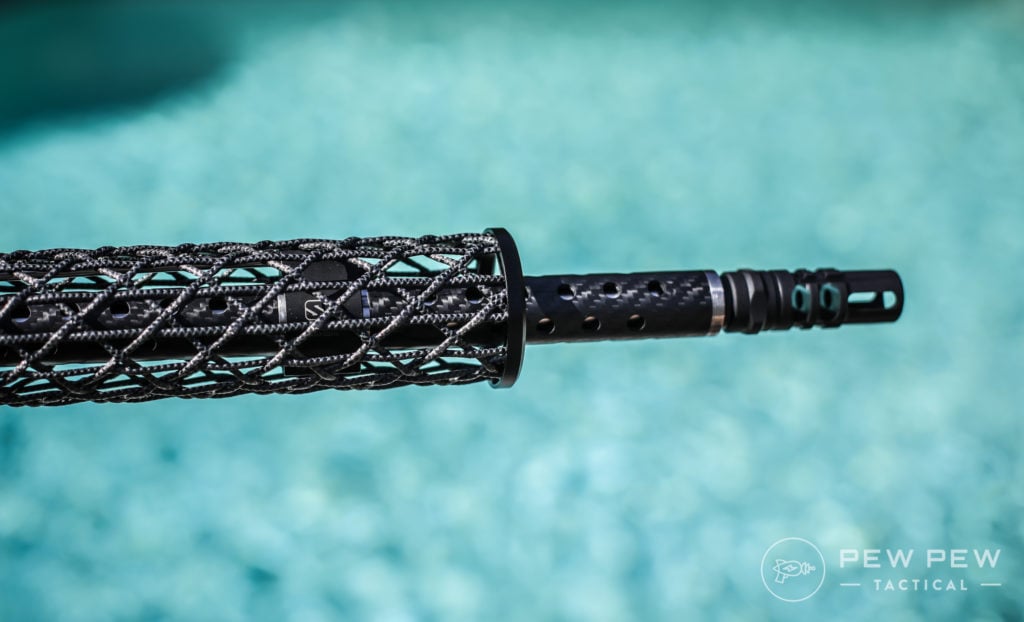 One thing…
For the free-floating version, if you grip around the gas block like I do…you'll feel a little heat when dumping rounds. Not enough to burn…but enough to have a red hand after 500 rounds.
Here's my buddy and me on our second range day. I'm running my competition lower with a much better trigger (Best AR-15 Triggers).
*Update* A newer (and prettier) video of the MLOK PSA AR-15…still running great after several thousand more rounds.
Compatibility
The uppers worked flawlessly after the initial break-in on the following lowers:
Aero Precision (x2)
Colt
Anderson
Daniel Defense
While the lower worked with the following uppers:
Aero Precision (x2)
Colt
Daniel Defense
Accuracy
The 5.56 barrels are the middle of the road for PSA. Let's see how they fare.
I let the barrels cool down and then ran through Wolf Gold, PMC Bronze, American Eagle, and Federal Gold Match.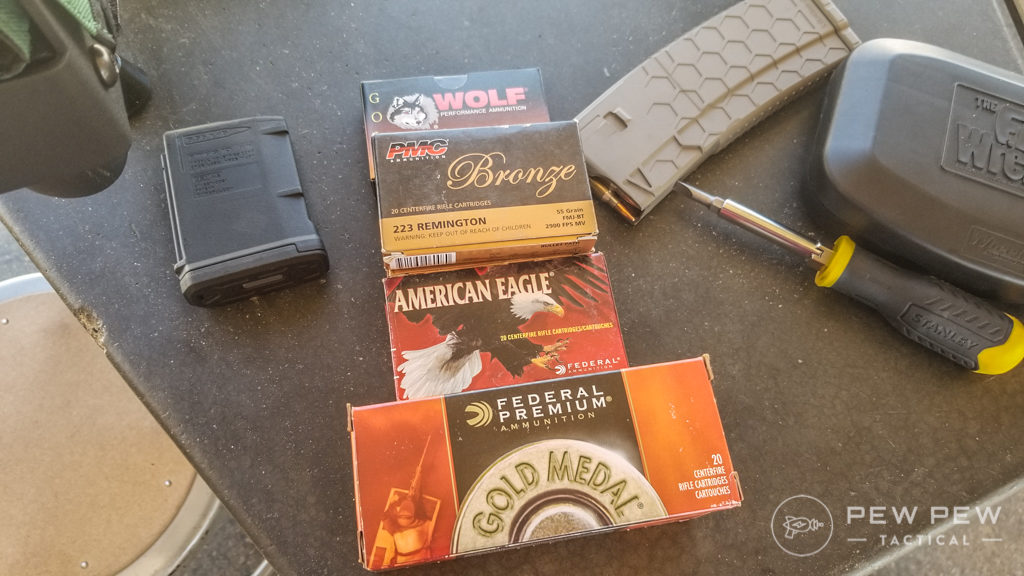 I used my standard testing platform for all my AR-15 stuff…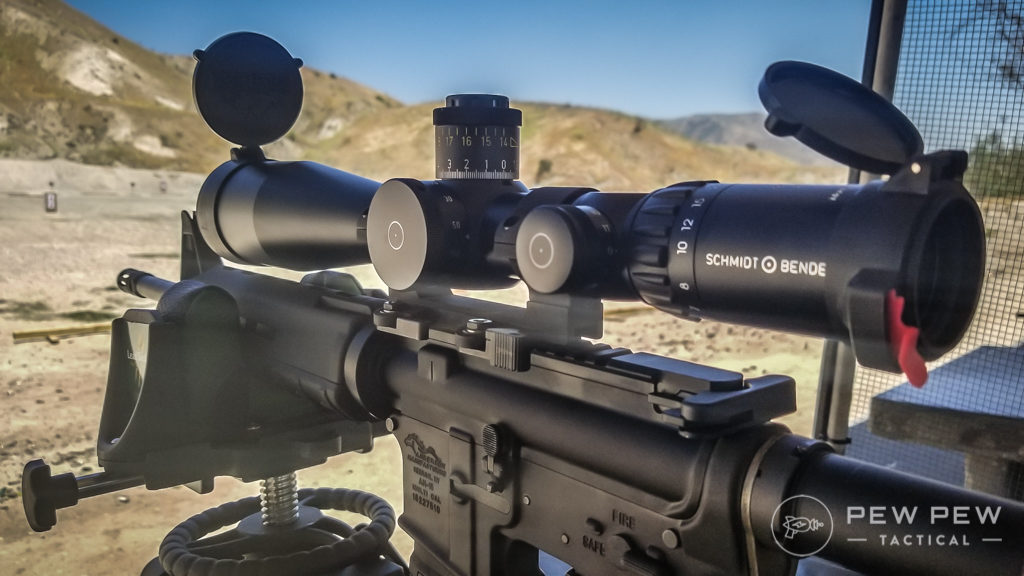 Targets were placed at 100 yards, and I shot at a pace of around 1 shot per 10 seconds. 10 shots each group.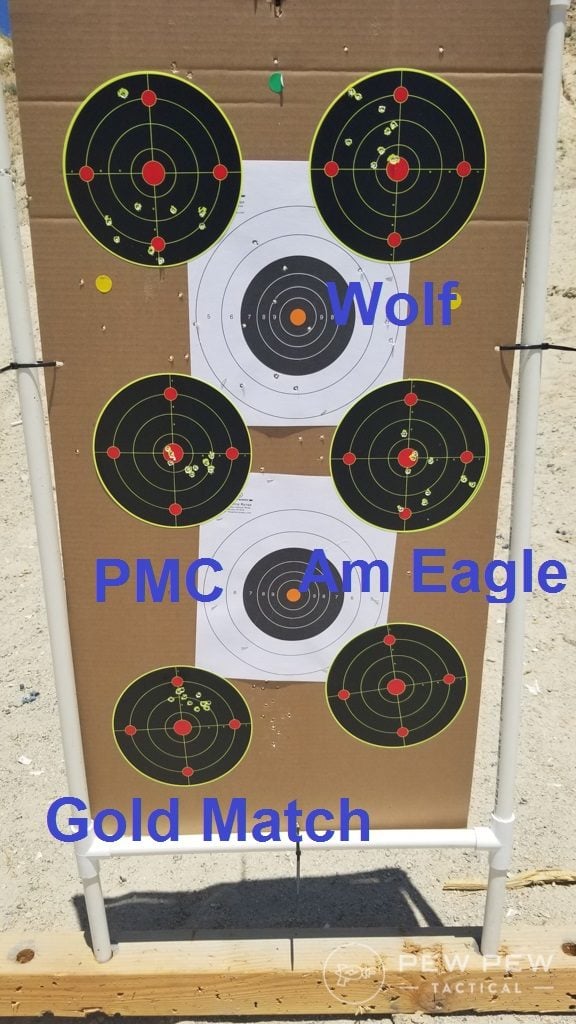 Mil-spec is 3-4 MOA which means 3-4 inch groups at 100 yards. The FSB version falls within that (targets are 8″). With PMC Bronze doing the best of the plinking rounds at around 3 MOA.
Gold Match does the best but keep in mind it's about $1 a shot. If you're shooting that on a regular basis you're probably looking at other rifles (Best AR-15s).
All in all…it's as I expected. When there's a front sight block, there's a whole lot of stuff touching the barrel, which doesn't help accuracy. Let's see the free-floating model.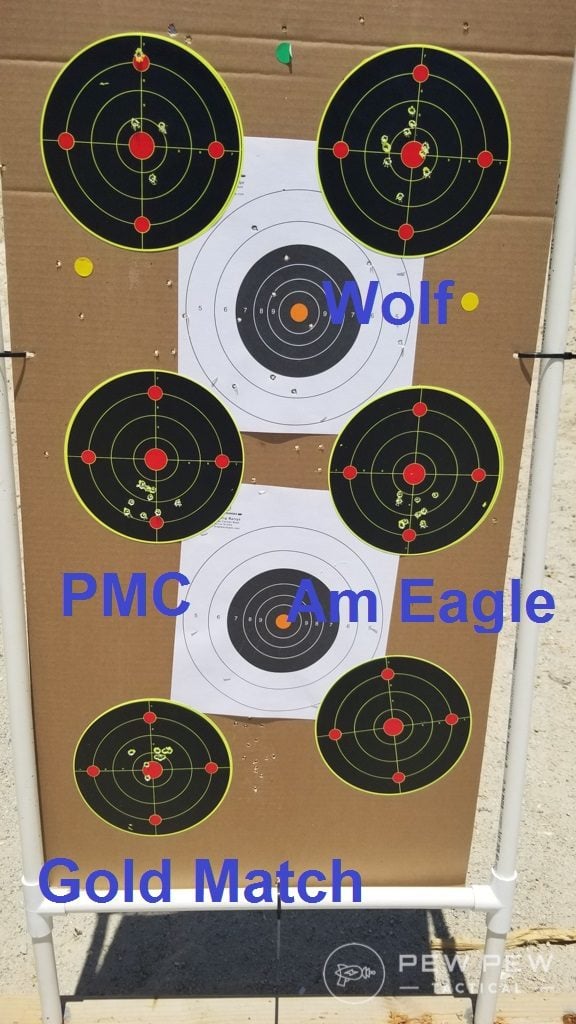 Much better! Looks like all the groups closed up. PMC Bronze and American Eagle are pretty even at what looks like 2 MOA. Gold Match is still the ultimate winner, but it's not THAT much off from PMC and AE.
When you have a free-floating handguard, there's less contact with the barrel, and the accuracy shows.
Now, how about the .223 Wylde we've forgotten?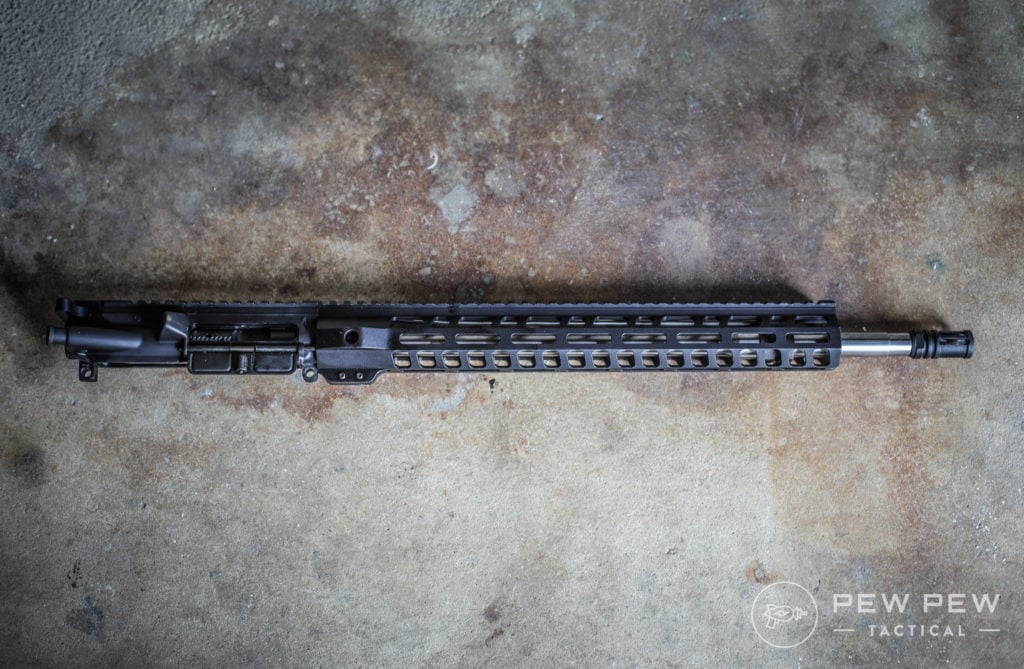 Since this is a more premium barrel and made for accuracy…I did a break-in procedure with it as well as with PSA's .224 Valkyrie (coming soon).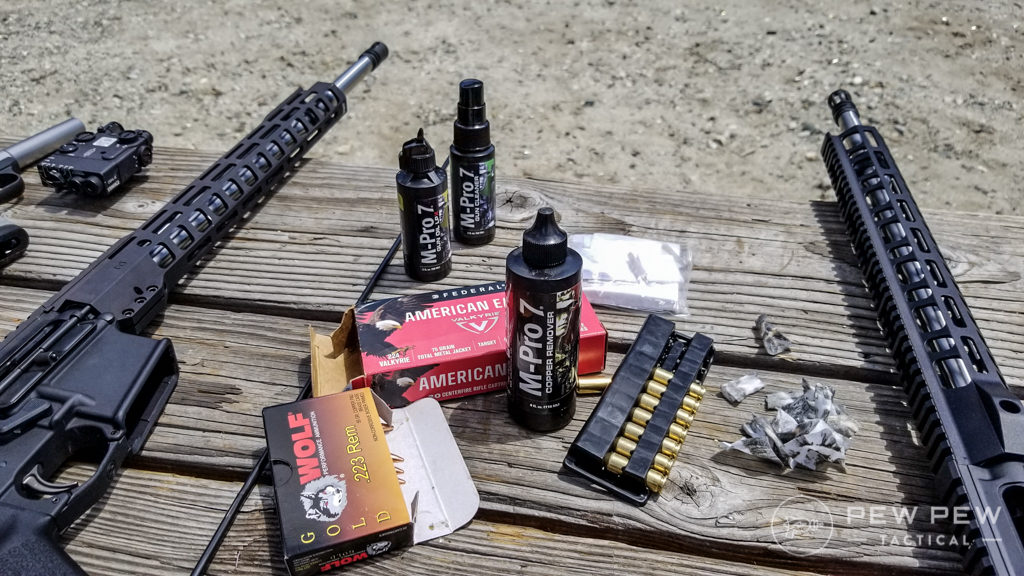 I cleaned the barrel and shot 1 round through before using copper solvent and a brush. Repeat the shoot and clean for 5x total. Then I changed it up to 5 shots before cleaning. Repeat 5x.
I then plinked ~200 rounds.
Finally, I was ready…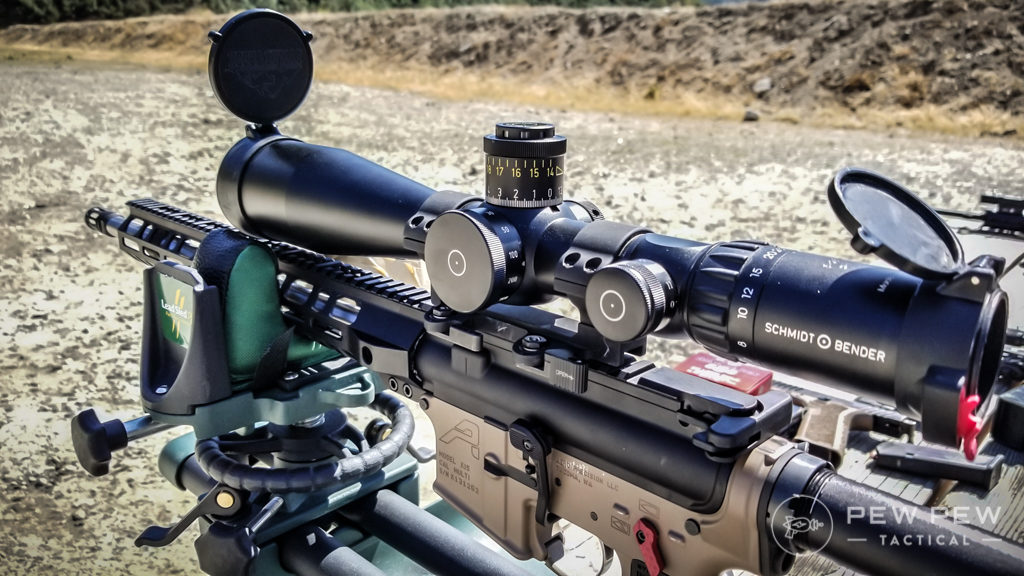 I used a different lower with a Triggertech trigger which I might actually like more than my Hiperfire (Best AR-15 Triggers). I started running low on Gold Medal, so the last group only has 4 rounds.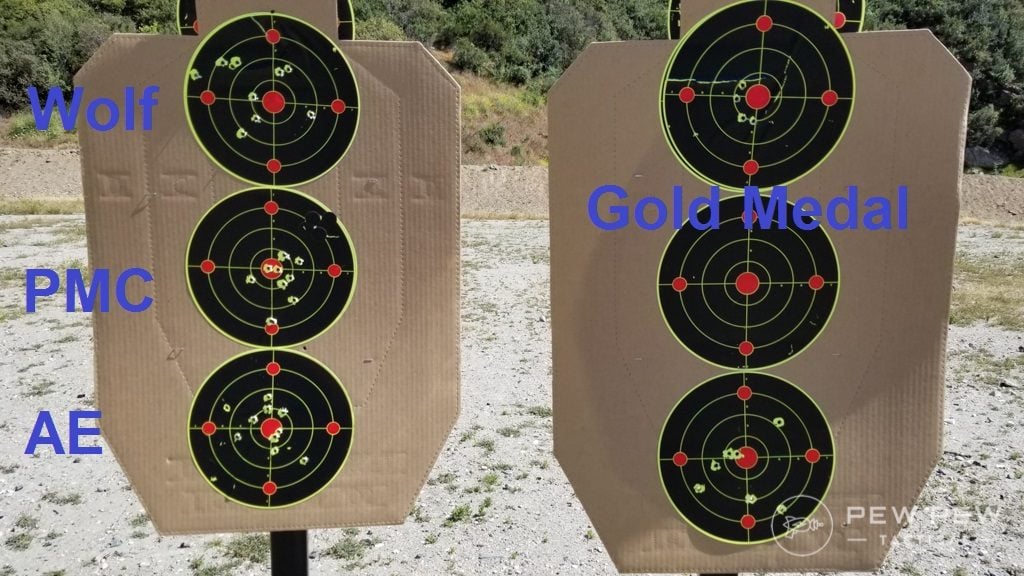 Disappointing…
It really looks like the FSB version instead of something that uses a tighter chamber and a free-floating handguard.
I'll continue testing, but right now looks like I would stick with PSA's regular 5.56 offerings (free-floating, of course).
Recommended Models
The thing with PSA is that they are always in and out of stock of everything. And they have almost every combination under the sun…which makes it nice but also a headache to find what you want.
Complete Rifles
No fuss of building anything…out of the box, ready to go.
Best Complete AR-15 on a Budget
499
at PSA
Prices accurate at time of writing
Prices accurate at time of writing
I again like mid-length gas systems, and it looks like their Nitride barrels are GTG. Their more premium selections (CHF) should be great as well if you have a little more to spend. I haven't spent time with their regular barrels (phosphate), but other reviews vouch for them.
I personally like free-floating M-LOK handguards since they give you added accuracy and lots of space to put stuff. Unless you really want the look of an FSB…go for free-floating!
Uppers
Already have a lower and want an affordable upper? There are a bazillion options again…so here's a search for 16″ mid-lengths to narrow it down a little:
339
at PSA
Prices accurate at time of writing
Prices accurate at time of writing
Remember to choose the options with BCG (bolt carrier group), CH (charging handle), and Magpul MBUS (flip backup sights) if you need them.
PSA's current generation of AR-15 uppers with some major changes:
Dimpled Stainless Steel Barrel
Toolcraft BCG
7075 T6 Charging Handle
Updated Gas Tube, Barrel Nuts, and Anti-rotation handguards!
Lowers
Looking at complete lowers? I prefer the Magpul editions…mil-spec buttstocks and pistol grips are not great.
129
at PSA
Prices accurate at time of writing
Prices accurate at time of writing
Rifle Kits
A little something I learned recently…retailers must add on an 11% tax for fully assembled firearms.
PSA has rifle kits which…if you're a little handy…will save you a bunch when you build your own lower.
329
at PSA
Prices accurate at time of writing
Prices accurate at time of writing
And be sure to get a stripped lower since the kit will contain everything except that.
39
at PSA
Prices accurate at time of writing
Prices accurate at time of writing
Follow our How to Build an AR-15 Lower guide to put it all together.
2023 Update
These uppers are still going strong several years and several thousand rounds after the original review!
I've even been running the 16″ Mid-Length on a full-auto lower.
And in 2023, they also released the more premium version of their AR-15s…the PSA Sabre Line.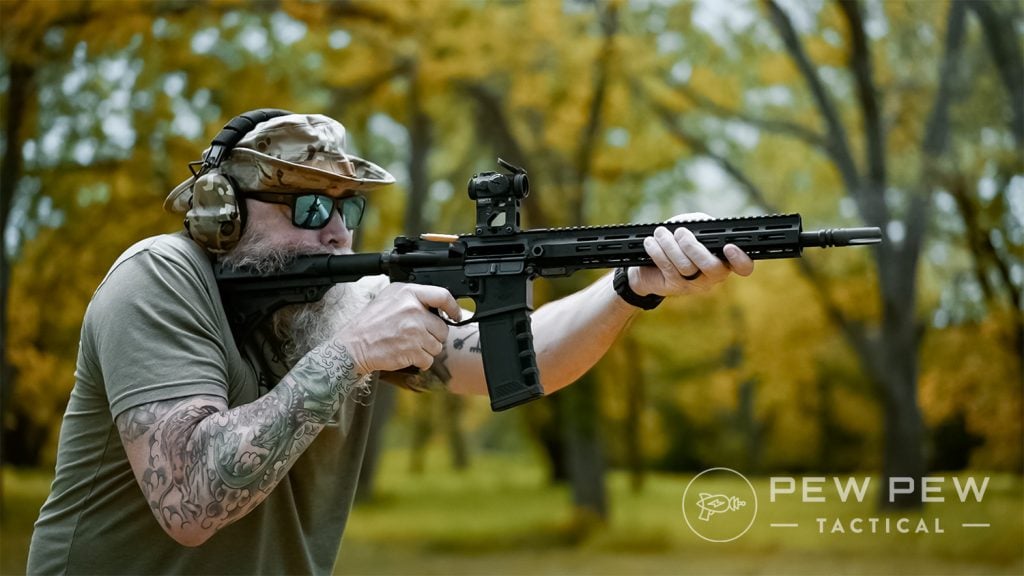 Check out our full review of the Sabre Line here.
By the Numbers
Reliability: 5/5
After some minor break-ins to loosen things up…my PSA uppers were fully reliable at my current round count of 1500 across all three.
Accuracy: 3/5
It'll do its job within mil-spec with regular plinking ammo and seems to like PMC Bronze overall the best (Best AR-15 Ammo). Little bummed out that the .223 Wylde didn't perform as well as it should.
Ergonomics: 4.5/5
Magpul kit makes it pretty good with the buttstock and pistol grip. Free-floating handguard is thin but a little too sharp around the edges.
Looks: 4/5
Pretty average here but could use more consistency in color.
Customization: 5/5
It's an AR-15 with M-Lok, so the sky's the limit. Check out my list of the Best AR-15 Upgrades & Best AR-15 Optics if you need help.
Bang for the Buck: 5/5
You can get a fully reliable AR for under $500…and even lower if you get the kits.
Overall Rating: 4.5/5
Final Thoughts
The PSA AR-15 offers spectacular value in an entry-level AR with utter reliability across three tested variants. Accuracy and looks are decent, with some slight variations in black anodizing. 
But with a price point of under $500 for a complete rifle with a lifetime warranty, it's a no-brainer.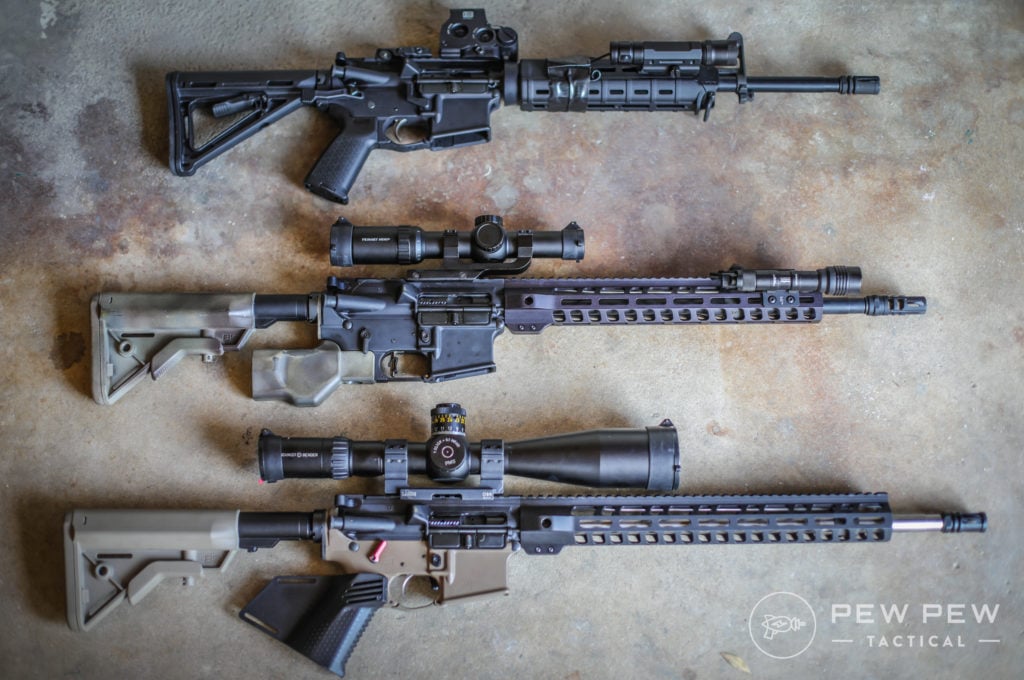 So…the online legends are true.
Based on my testing, I can totally recommend Palmetto State Armory for an affordable AR-15 that will go bang every time.
My favorite would still be their mid-length free-floating options…but their more M4-looking FSB ones also fit the bill.
Best Complete AR-15 on a Budget
499
at PSA
Prices accurate at time of writing
Prices accurate at time of writing
For now…stay away from their Wylde, and soon I'll have reports on even more PSA goodness. Plus, I'm going to put much more rounds in all three and update if anything changes.
And once you get one…check out our AR-15 Definitive Resource for everything AR.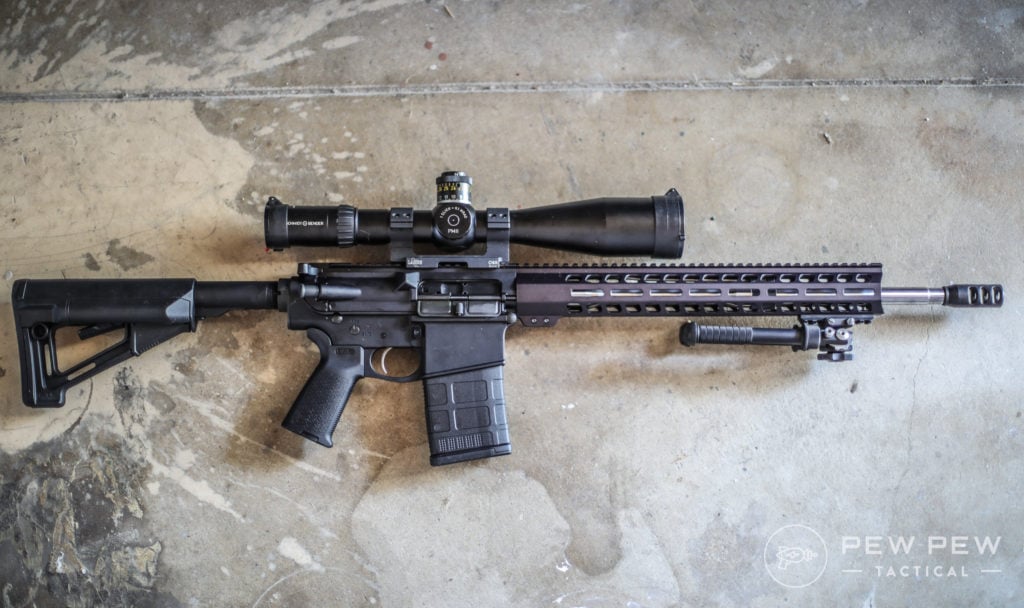 What do you think of the review? Is a PSA AR-15 on your horizon? Or if you already have one…how's it working out for you? Looking at other PSA stuff? We've hands-on reviewed almost ALL their guns.
Credit: Source link