---
The one bullpup to rule them all?
We check out Springfield Armory's new Hellion and take a look at the pros/cons of the bullpup design.
First, the bullpup style offers the same barrel length as an AR-15 with a decreased overall length.
Even with that strong advantage, the bullpup design is not without its flaws.
The Illinois-based firearms company struck at the opportunity to update the bullpup and make it even more palatable.
We can agree evolution of design ultimately benefits the shooting community, but did Springfield come up with a winning formula for the Hellion?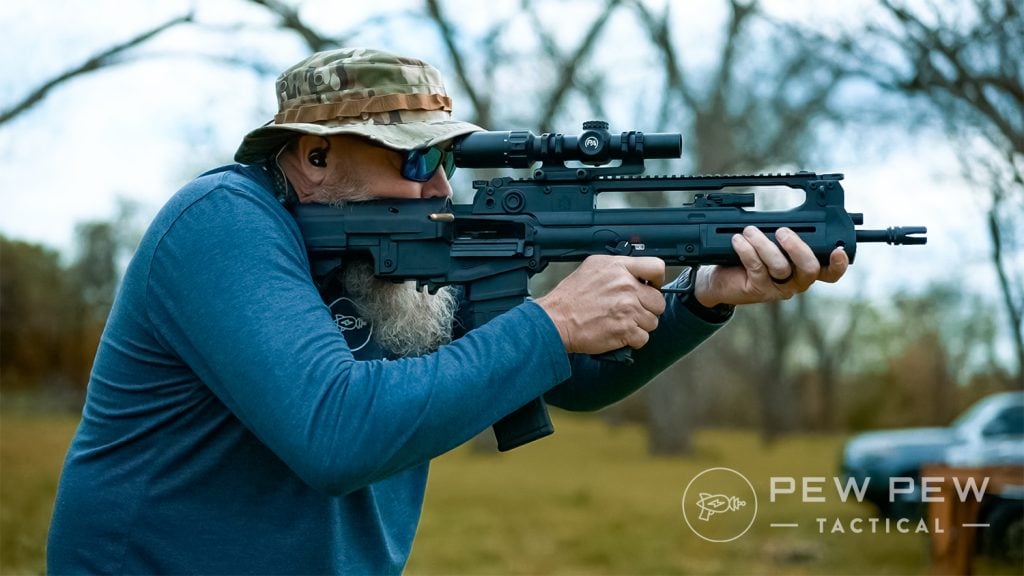 We took it out to the range to find out for ourselves! So keep reading as we dish out the specs, features, and how it ultimately handled while shooting.
Table of Contents
Loading…
Hellion Review at a Glance
Pros
Shorter overall length
Truly ambidextrous
Good accuracy
Cons
Heavy
Different manual of arms
The Bottom Line
The Hellion is a cool rifle with many good qualities — accurate, reliable, and truly ambidextrous to a degree many other platforms can't claim. While running, it takes some getting used to; but those who put in the effort will be well rewarded.
1599
at Brownells
Prices accurate at time of writing
Prices accurate at time of writing
Hellion Specs & Features
Specs
Caliber: 5.56mm
Action: Semi-auto
Width: 3"
Length: 28.25″ – 29.75″
Barrel Length: 16"
Height: 8.75"
Weight: 8 lbs.
Capacity: 30+1 (or by magazine)
Comes with: Padded, nylon, bag, 30-round PMAG, instructional manual, lock
Features
Reversible ejection port
Adjustable gas system
Integrated flip-up sights
Specification Source: Springfield Armory
Hellion Background
The Hellion is made by a Croatian manufacturer named HS Produkt — based on their VHS-2 bullpup, which has been fielded by the Croatian military. The Hellion claims a military lineage as a result.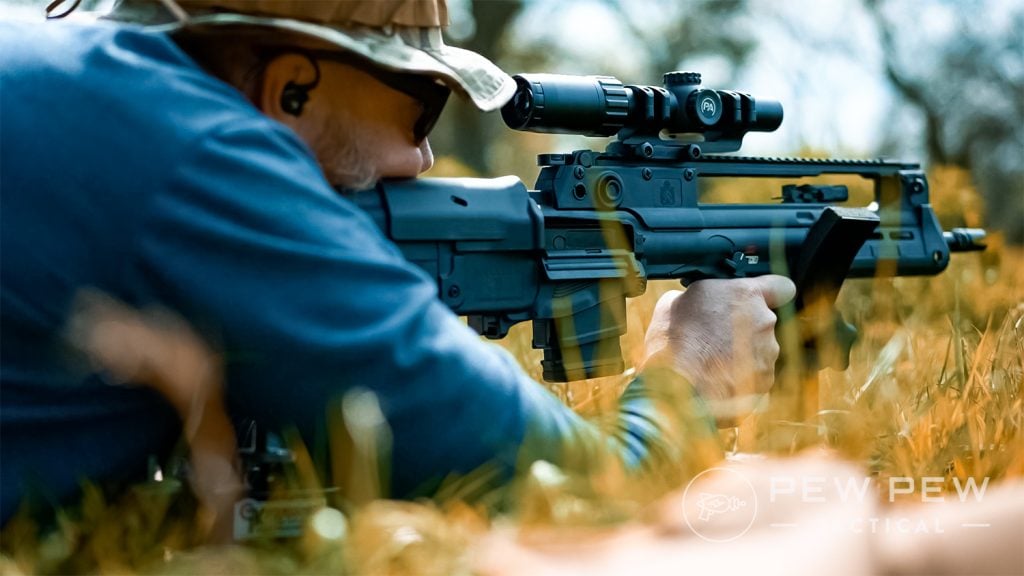 Essentially, the Hellion is a civilian version of the VHS-2 that is not capable of fully automatic fire. Springfield Armory imports the Hellion from Croatia.
Who Is It For?
This rifle, based on a military-grade bullpup, has a pretty wide range of users. The Hellion can serve all the roles of a standard AR-15 with the same barrel length at a slightly shorter overall length.
In addition, there are those among us who are bullpup-curious. Anyone interested in the platform and its differences would do well to pick up the Hellion because of refinements not seen in other bullpups, such as a better trigger and adjustable length of pull.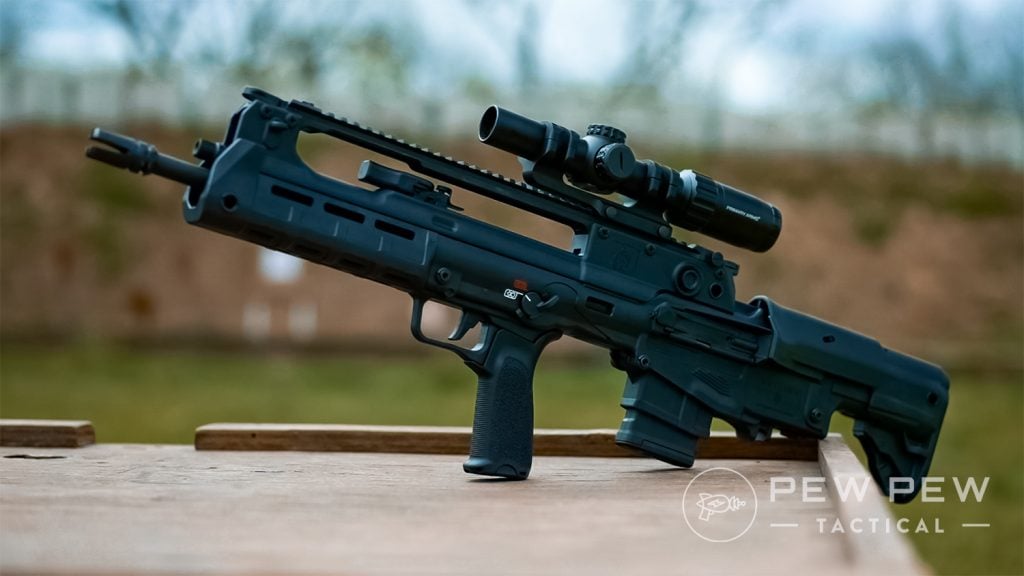 Fit & Feel
My experience was interesting because I haven't spent a lot of time on bullpups. It made my years of familiarity with the AR-15 stand out like a sore thumb.
First off, when I picked up and rested the rifle across my chest, my hand landed intuitively on the magazine. The grip is another 7 inches forward of the magazine, the trigger 9 inches.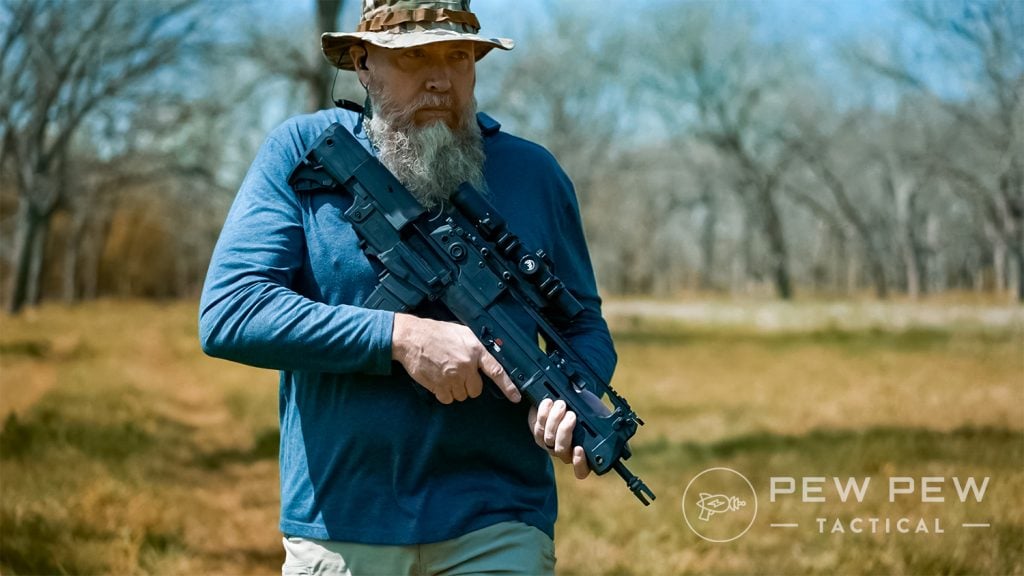 Once I got my hand on the grip, it felt a little more natural, though shouldering the Hellion, you feel your arm is more extended as a result of the design.
It's comfortable, though, and not as bound up as some AR grips can have you feeling.
The exterior is well laid out, and despite the heft of the Hellion (9 lbs. 10 oz. with LPVO) felt balanced. Key components must be metal, of course, but everything the shooter contacts is made of black plastic.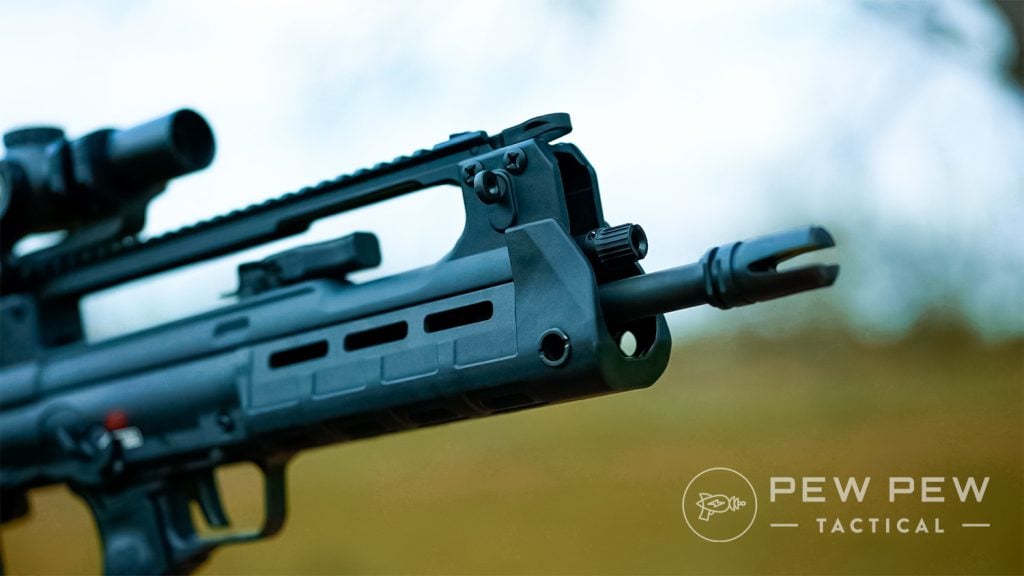 The accessory rail site is high atop the Hellion and features a Picatinny rail down its entire length. There are several M-LOK slots on the sides and bottom of the forend as well.
In addition, OQ wells adorn the forend near the muzzle on both sides, as well as the butt stock. There are two more QD located on the back of the receiver and HK-style eyelets near the front of the accessory rail.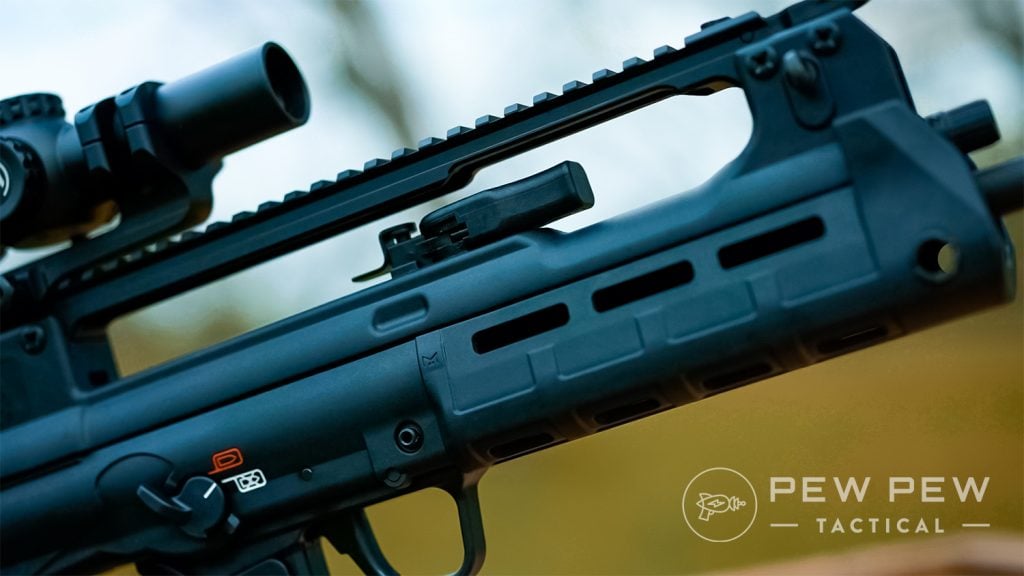 Underneath the rail and pointing toward the front lies a charging handle that can pull to either side.
Pulling it to the rear and releasing it, the handle returns to the front and obediently points forward again, tucked neatly out of the way.
The muzzle device is a 4-prong flash hider, and just above this, somewhat recessed in the forend, lies a two-position gas system adjustment knob. While I did not get the opportunity to test this out, the settings are for standard or shooting suppressed.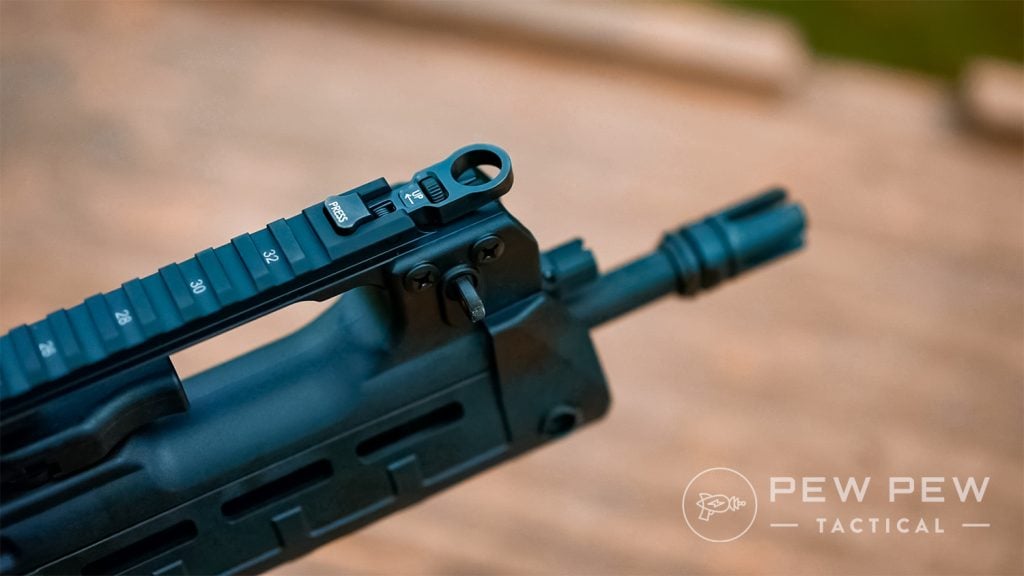 The grip is a BCM Gunfighter Mod 3 and has a fairly perpendicular angle that totally works in this application. Texture is pretty aggressive, and there is a storage compartment in the grip too.
Iron sights on the Hellion are well done. They are cut into wells in the rail and are recessed until you push a button, causing them to spring out. The rear features a series of five different apertures you can rotate through for different distances.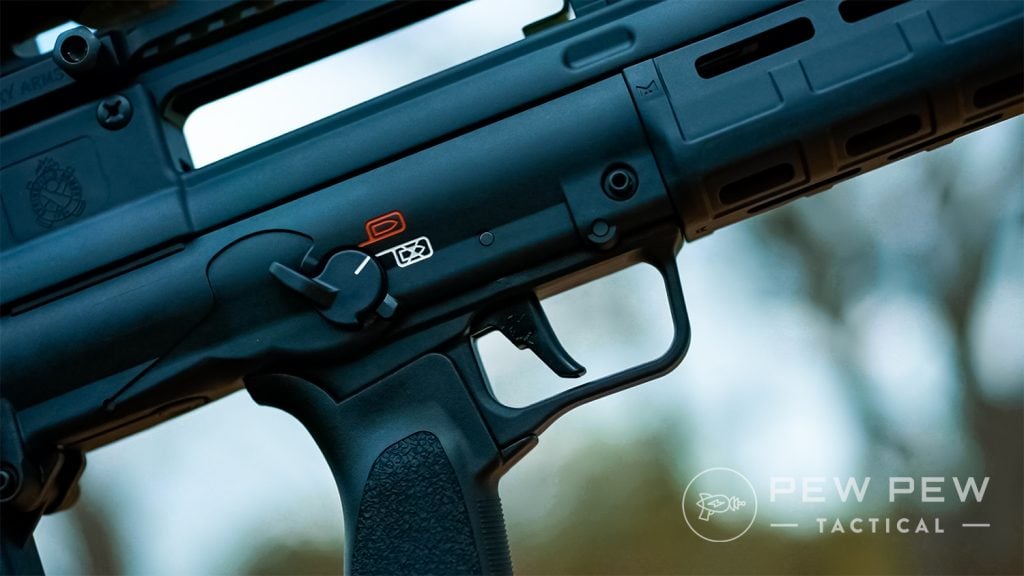 The trigger had some pre-travel before hitting a defined wall. However, when applying pressure, I noticed a small amount of creep before the actual break.
Reset occurred just over halfway back on the return and was both audile and tactile. Testing the trigger on a Lyman digital gauge, I found it averaged 4 pounds and 13 ounces.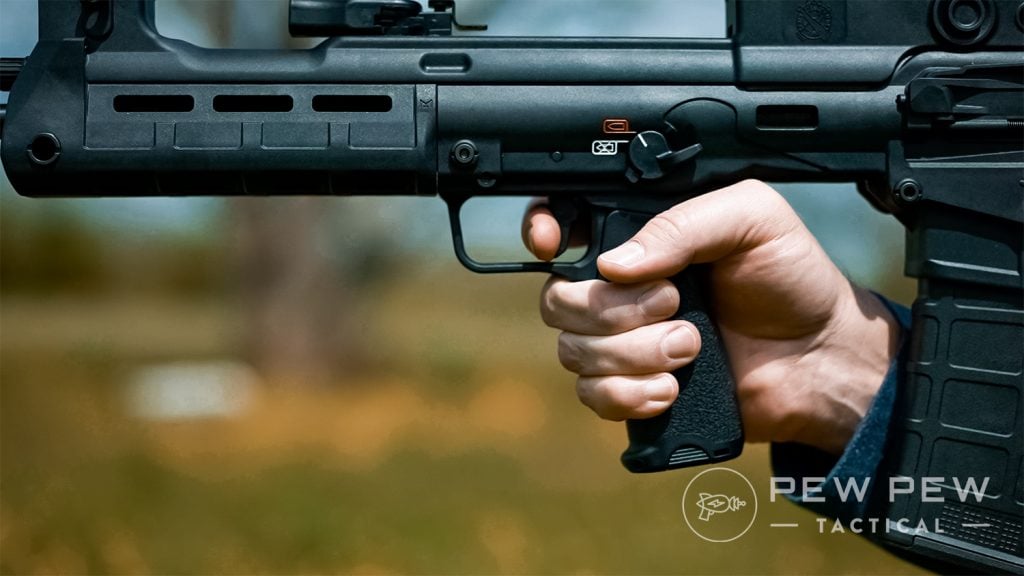 The Hellion comes with a single, 30-round PMAG and a nice, padded range bag that still accommodates the rifle with a mounted scope.
Additionally, size matters, and by comparison, a pinned and welded 14.5-inch barrel AR-15 still has an overall length of roughly 30+ inches. The Hellion comes in at a compact 28 inches with the butt stock tucked in.
How Does It Shoot?
Featuring a hammer-forged, 16-inch barrel with a 1:7 twist, we were curious how the Hellion would stack up with accuracy testing.
Utilizing Remington ammo, we shot groups at 100 yards with a Primary Arms Classic Series 1-6 LPVO mounted.
5.56 and .223 Ammo in Stock
It was here I noticed the trigger creep after the wall. It's not bad by any stretch, but that extra movement can enter into the equation when you've gone from a course to a fine sight picture and are ready to break the shot.
Given what I've heard and based upon my own limited experience with bullpups, the Hellion's trigger is very good by comparison. It is certainly better than a mil-spec AR-15 trigger.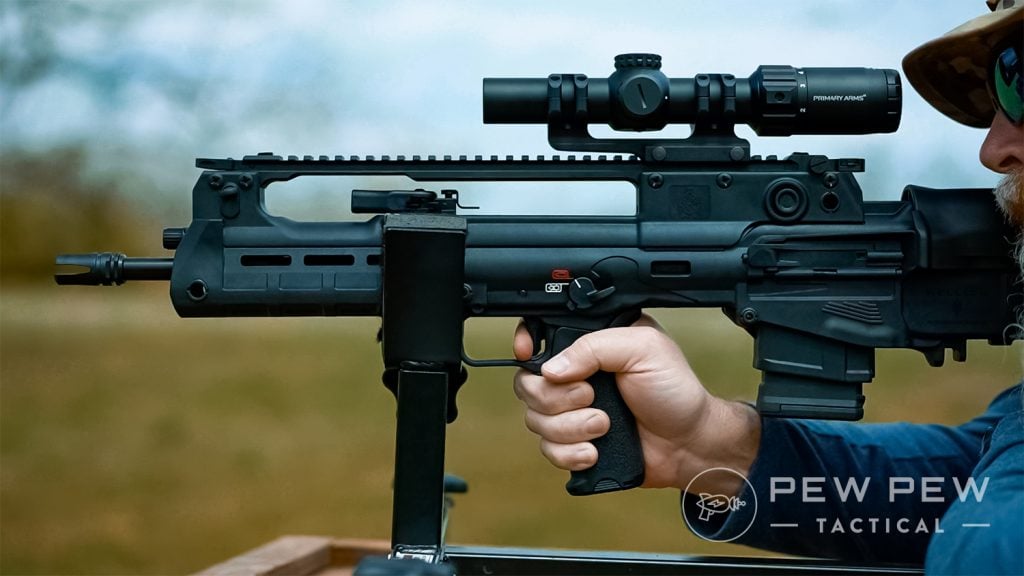 Using 55-grain Remington ammo, I was able to put together what averaged to be 2.5-inch groups at 100 yards. With Remington Premier Match at 69 grains, the groups tightened to an average of 2 inches.
At just over 500 rounds, we experienced no issues with performance. Reliability was perfect during the course of testing, and the Hellion fed, fired, and ejected flawlessly.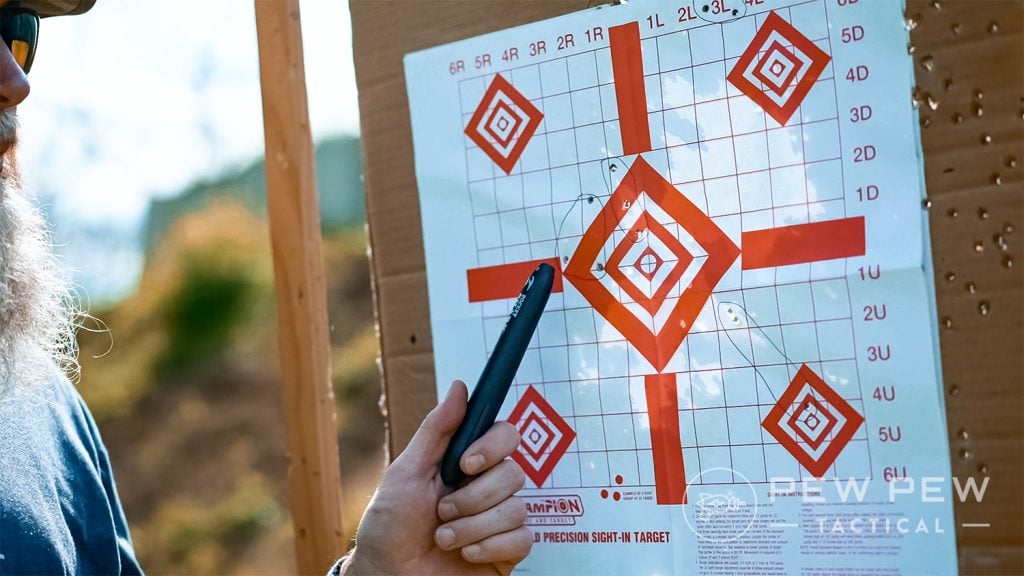 My performance, due to neural pathways mapped to a different rifle, was far less spectacular. I looked like a new driver trying out a clutch for the first time, lurching, jerking, and groaning.
Despite this, I found that with practice, the processes of loading and reloading became faster and smoother. The layout of the controls was just foreign enough to confuse me, especially when I put myself under pressure.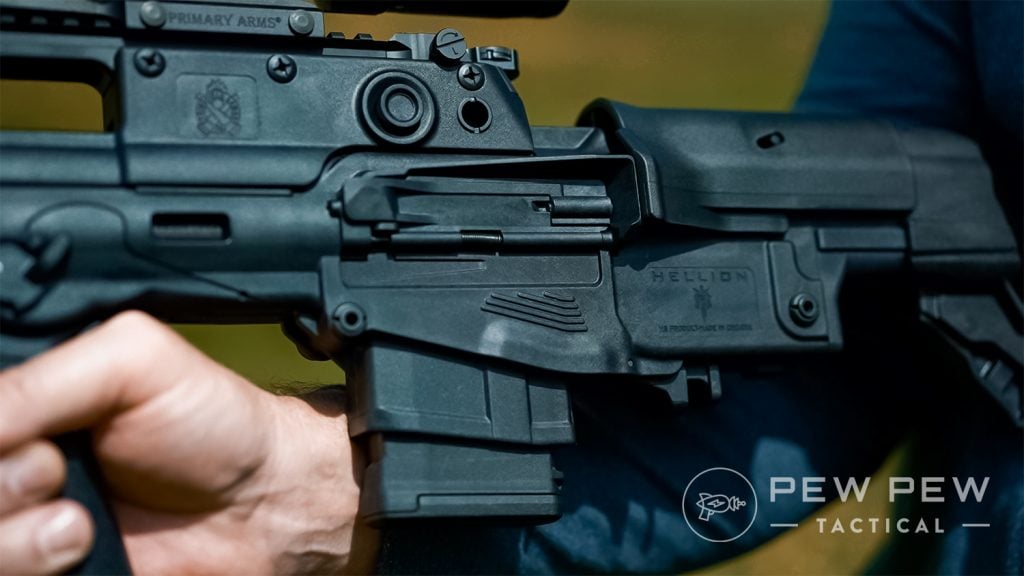 Eventually, I learned during reloads to drop the rifle to my side a bit, similar to how I work with a pistol in my "works space".
Pulling it back in closer to the body, I would release and strip the magazine, then toss it out of the way.
As my hand returned to my body, I would pick up another magazine and load it into the well. Then my hand would fall back toward the buttstock, where I would locate and activate the bolt release.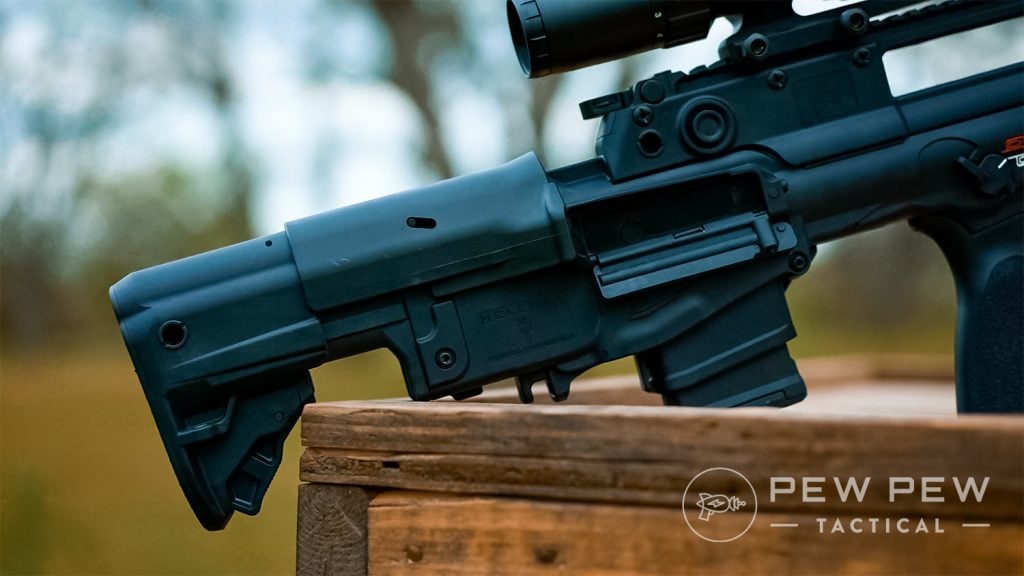 Finally, another noteworthy observation is that while I did not expect a great deal of recoil from a 5.56 gun, the Hellion's impulse is fairly muted.
I suspect it is due in part to the weight and balance of the design.
What Sets it Apart?
In my mind, the Hellion stands apart simply by design, being a bullpup in a world filled with AR-15s.
Further, the true ambidextrous nature of the rifle — being about to convert the ejection port and all the other controls — really stands out.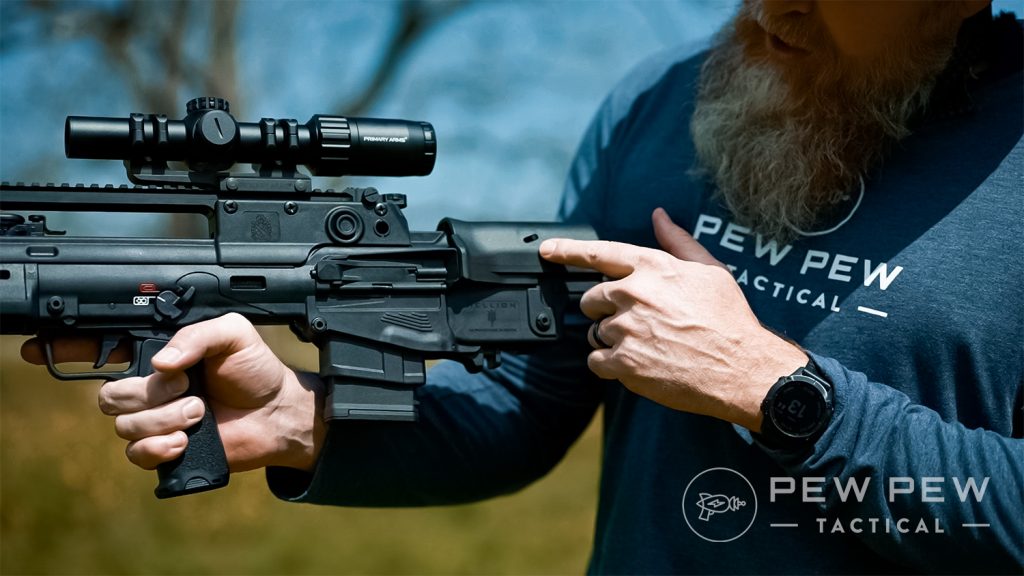 In addition, the efforts taken to improve the trigger and add comforts like adjustable length of pull make this a star in its own right.
By the Numbers
Reliability: 5/5
As mentioned, the Hellion was flawless in its performance. We tested it with multiple brands of magazines, and they all functioned as expected.
Ergonomics: 4/5
The Hellion has great overall ergonomics but loses some points due to the somewhat awkward fire controls. This is a feat considering the gun was designed to be capable of working for so many different-sized people.
Accuracy: 3/5
Groups were around 2 MOA on average.
Customization: 3/5
Due to its newness to the US market, there is little to no aftermarket support to be found for the Hellion. However, there are many options for attaching standard accessories via MLOK and Picatinny rail.
Value: 4/5
The Hellion has an MSRP of $1,999, but several online retailers have it listed for around $1,700. This is pricier than a comparable AR, but then again, you can't get a comparable AR-15; you can only get close.
Overall: 4/5
1599
at Brownells
Prices accurate at time of writing
Prices accurate at time of writing
Upgrades for Hellion
For this review, we mounted a Primary Arms Classic Series 1-6×24 LPVO on a cantilever mount.
This pairing helped take advantage of the Hellion's distance capability without adding a great deal of extra weight.
199
at Primary Arms
Prices accurate at time of writing
Prices accurate at time of writing
Someone dedicating this rifle to home defense or shorter distances could easily shed some ounces and use a red dot, but another key upgrade would be a light.
For this, I'd suggest a Cloud Defensive Rein since it's compact, lightweight, and provides ample illumination.
379
at Cloud Defensive
Prices accurate at time of writing
Prices accurate at time of writing
Final Verdict
There is a novelty that comes with the Hellion….some might even label it a cool factor. It's different enough to make you re-learn critical functions but also similar enough to not be a completely new experience.
The rifle performed well in accuracy and has ergonomics capable of fitting nearly everyone in the Croatian armed services.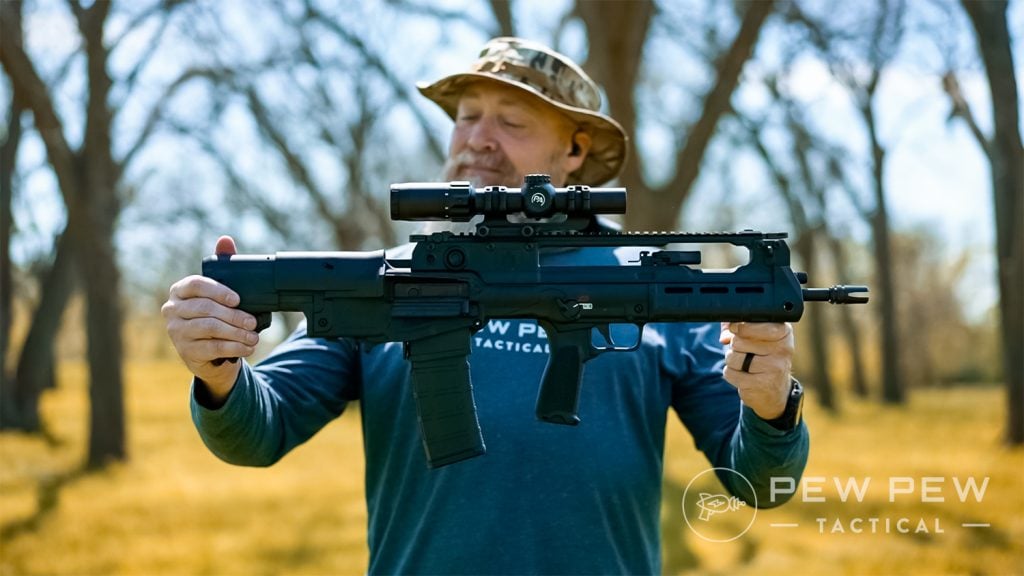 The reliability was totally solid through a few ammo types and multiple magazines. With practice, I was able to engage multiple targets at different distances and truly be effective with this rifle.
Despite a steep learning curve for me, the Hellion is a solid performer.
What are your thoughts on bullpups or the Hellion from Springfield Armory? Let us know in the comments below. Be sure to check out Best Bullpup Rifles & Shotguns: Break the Rules for more fun!
Credit: Source link