In our recent pandemic-fueled society, a lot of change can happen in a short amount of time.
In contrast, one thing that's remained constant is the performance of the Walther PDP.
I started shooting the PDP at an event with Walther back in September of 2020. I was so impressed, I started carrying it on duty.
Now with 5,000 rounds downrange, I have some thoughts about the Walther PDP and how it handles.
So, today, we're going to talk about the PDP in depth — what I like, what I don't, and why I think you might want to consider this as your next CCW.
At the very least, by the end of this review, you'll have a better idea of what the PDP is capable of and whether it deserves a spot in your holster.
If you want to see it in action, check out the full video below.
As always, make sure to head to Pew Pew Tactical on YouTube for more guns and gear!
Table of Contents
Loading…
Walther PDP: Performance Duty Pistol
The Walther PDP is a striker-fired polymer handgun chambered in 9mm.
It comes in a few variations with two basic frame sizes — full size and compact.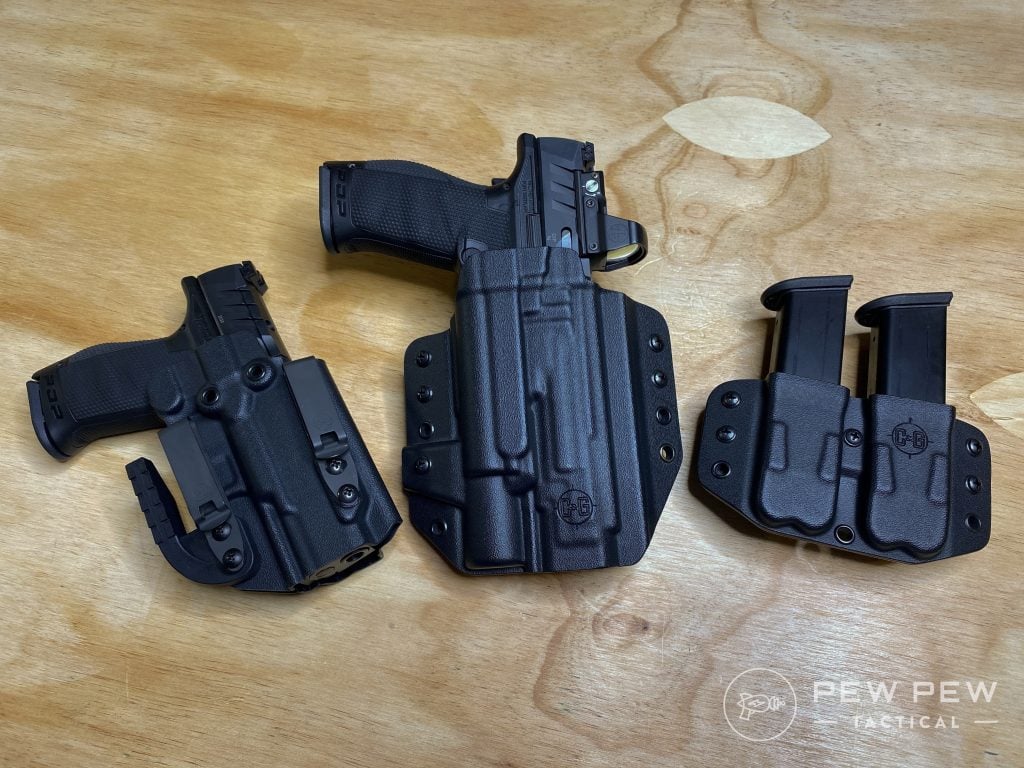 The full-size model features an 18+1 capacity with 4-, 4.5-, and 5-inch barreled versions. There's also a compact model with 15+1 capacity, that comes in 4-inch and 5-inch options.
The frames and slides all share modularity and can be swapped out to find the combo you like.
I have used the 4.5-inch full size and 4-inch compact extensively over the last 14 months — both well over 5,000 rounds each.
What's Different?
A number of features really stood out to me on the PDP. At the top of the list is the grip.
It felt amazing — like it was molded for my hand!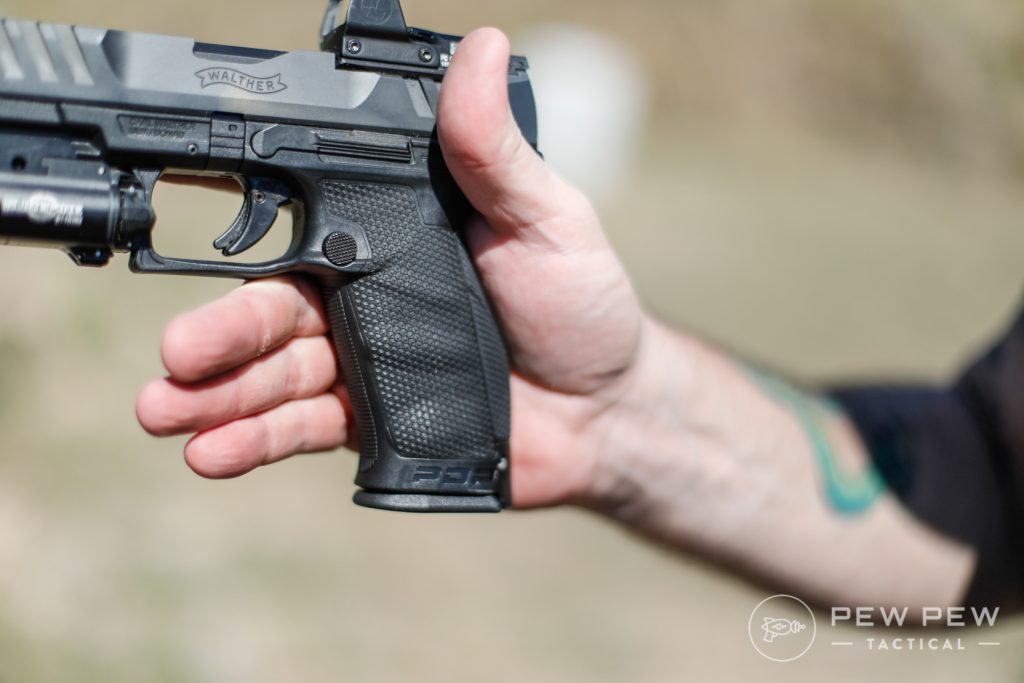 The angle seemed dead-on for intuitive pointing. Swells filled the palm of the hand and along the sides. Keep in mind, these aren't grooves — they're much more subtle.
My fingers settled into these spaces and did not move. The overall texture of the grip also gave it a secure feel. The texture itself is aggressive.
It's the type that can wear a hole in a long sleeve shirt over time (I know from experience). But it is also phenomenal for establishing and maintaining an excellent grip, even in wet conditions.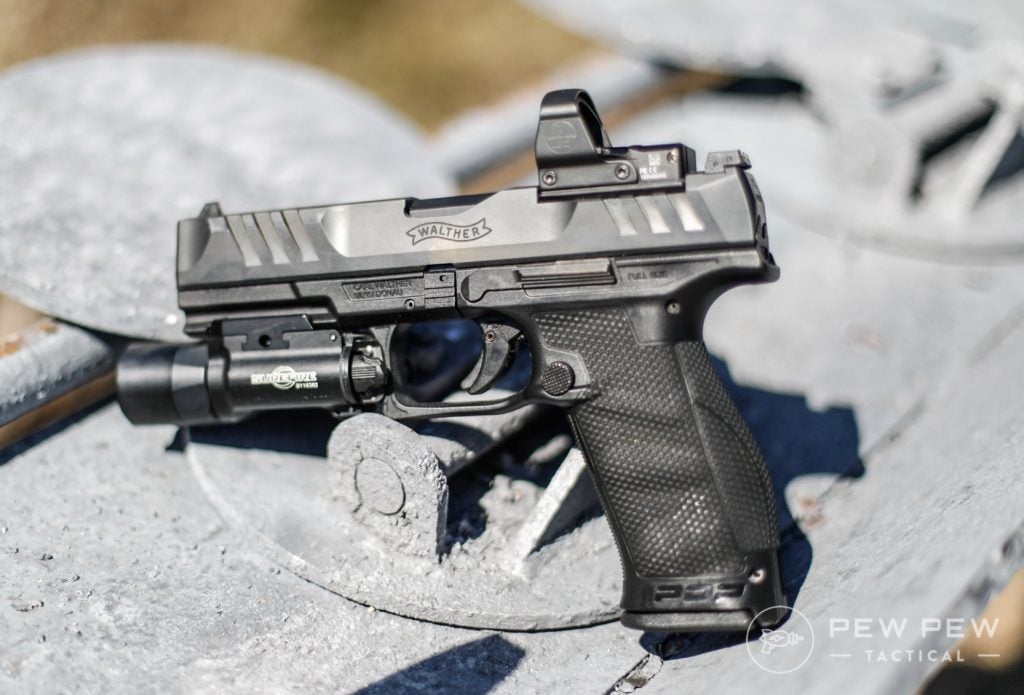 In general, the grip angle and texture lock in my hands so well that I don't have to adjust while firing an entire magazine. This also helps me tame what little muzzle flip there is.
The PDP shoots pretty flat as a result.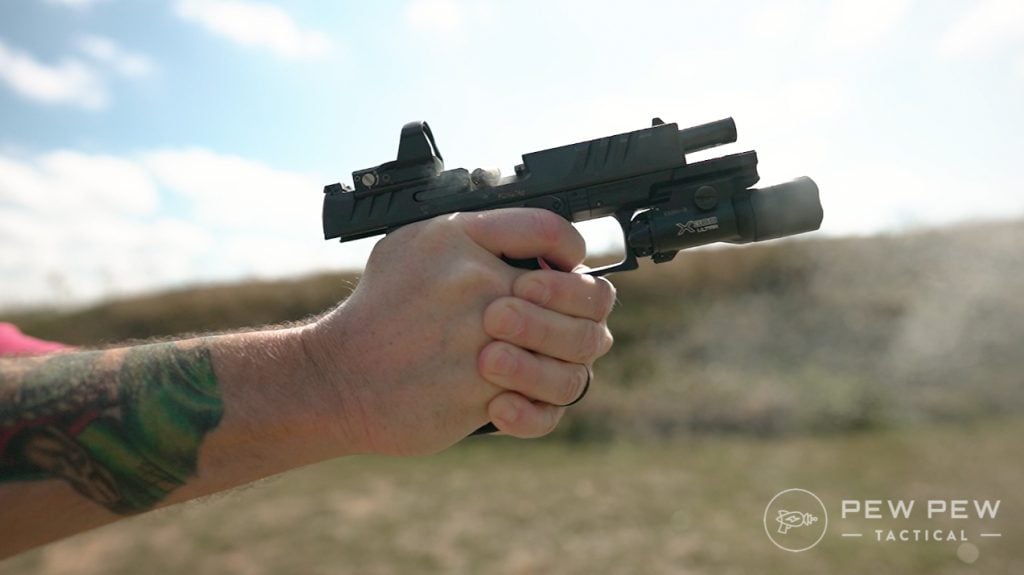 Trigger & Slide Cuts!
I also love the placement of the magazine release button. This was so well done because I don't have to change my grip to access it.
In addition, the trigger is wonderful for a striker-fired weapon, likely one of the best I've ever felt.
When I started running the gun, I noticed the cuts on the slide immediately. In comparison to other versions I've seen, I would label these belligerent.
Called Superterrain Serrations, these deeply grooved slots are cut in front of the ejection port and behind, in the traditional places you'd expect to find them.
The result is a strong interface with the hands when manipulating the slide.
Walther's serrations also hook up nicely on holsters, belts, pants, nearly anything firm enough to resist the recoil spring for one-handed reloads.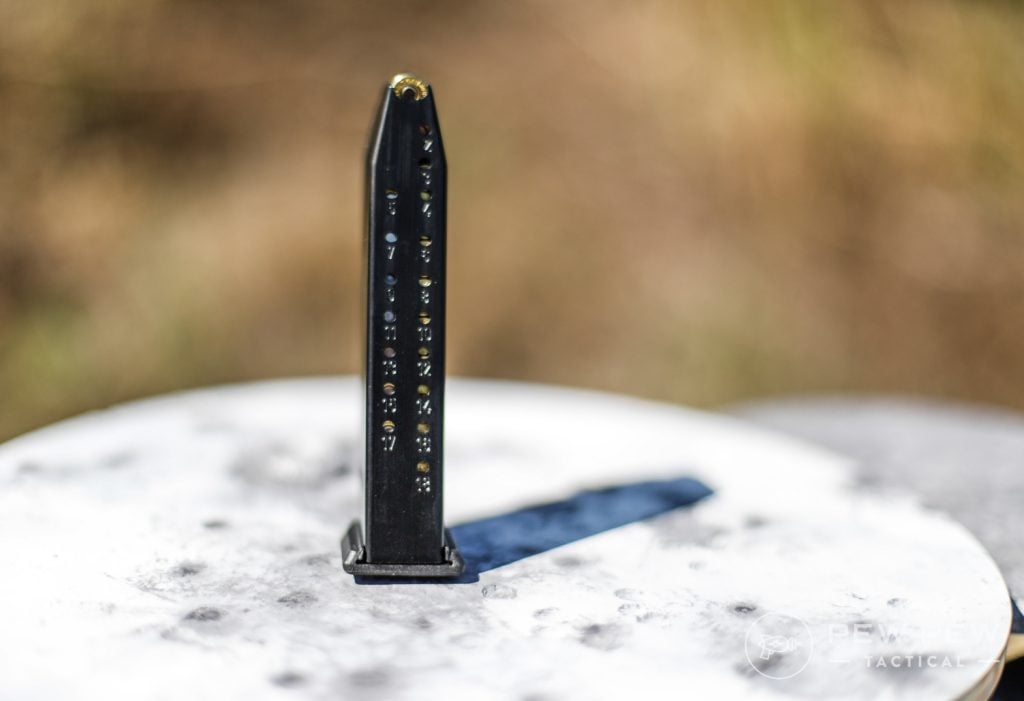 Mags & Sights
The magazine has great capacity respectively and ran very well in all my trips to the range. They always fed well and dropped reliably without sticking.
And while the PDP doesn't take Glock mags, you can literally buy and install whichever Glock sights you prefer.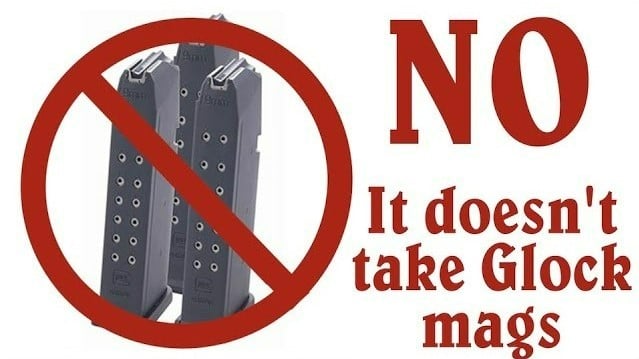 Additionally, the PDP comes red dot ready, accepting many manufacturers' footprints.
The recess laid pretty deep into the slide possibly allowing shooters to get by without suppressor height sights.
The 4.5-inch full-sized model I received sported a Leupold DeltaPoint Pro. This was a great option, serving me well through the rest of my career.
Interestingly, the PDP has a design feature dedicated to red dot service. At the bottom of the magwell, in the front, a small lip protrudes. This works as a lever for pinky pressure.
When people change over from shooting iron sights they often lose the dot because they hold the muzzle too high during presentation. Pinky pressure drops the muzzle and often brings the dot into view.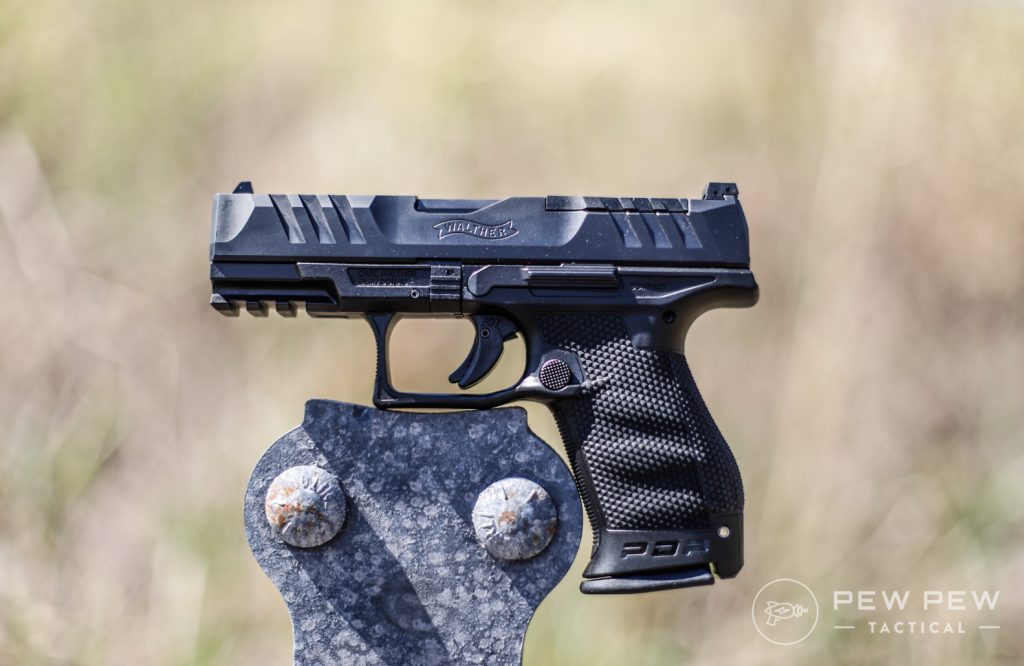 The lever aids this motion greatly.
Shooting the PDP: 5,000 Rounds In
The accuracy of the PDP has been solid.
When I first zeroed the DeltaPoint Pro at 10 yards, I shot a 3-round group at 1 inch.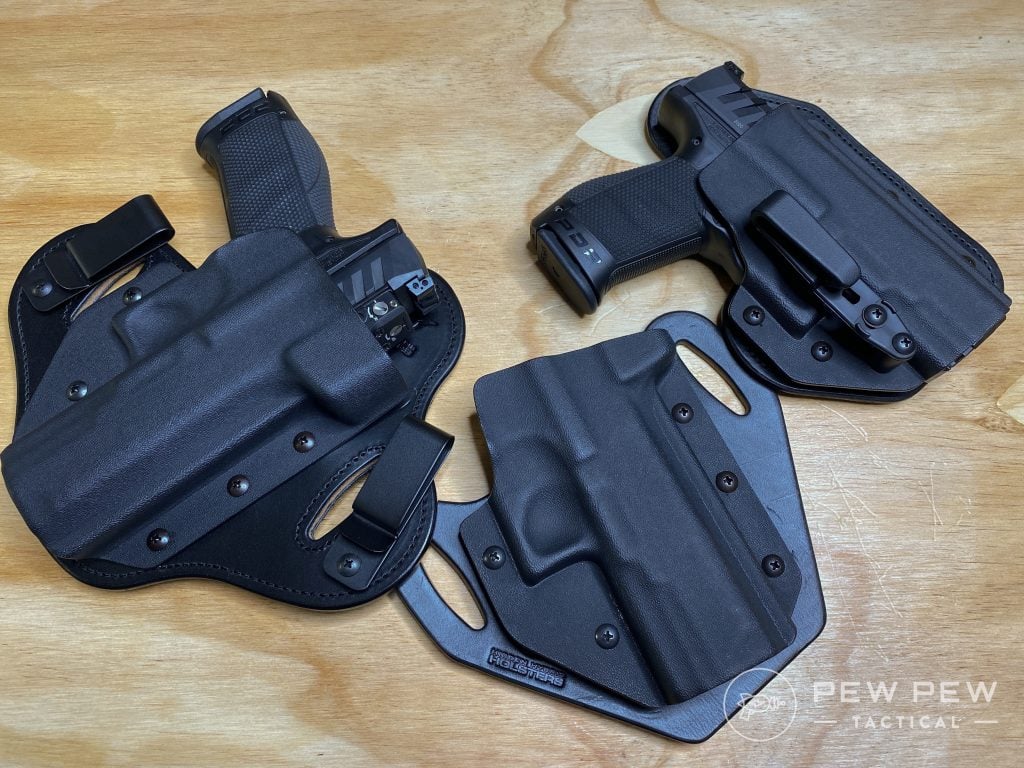 Any wild variations from this theme have been attributable to increased speed and general operator error on my part.
I still occasionally have to fight against jerking the trigger.
After the initial introduction and training on the PDP, I tested it extensively at my home range. I also began carrying it on duty using a C&G Kydex OWB holster and mag holder.
This combo served well to secure the gun and magazines through clicked-in retention, while simultaneously holding all in place at the ready.
The performance of the PDP did not change. It was a beast and continued to slog on, providing reliability and accuracy as long as I did my part.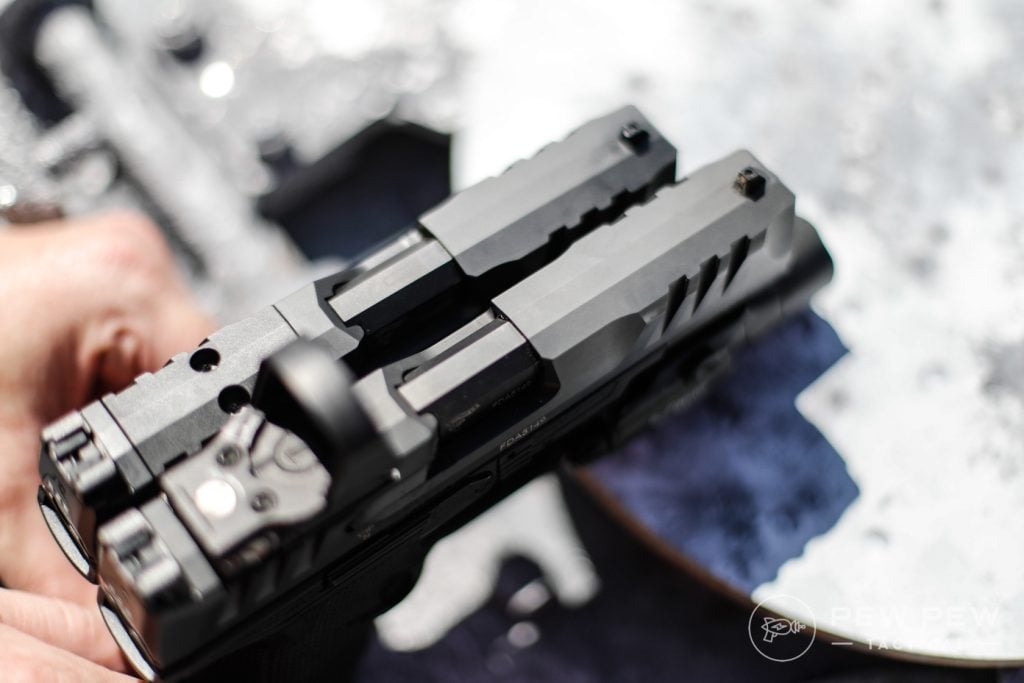 But Nothing Is Perfect…
That isn't to say the PDP is perfect.
There was one trip to the range where I ran the gun really dry and experienced a couple of stovepipes.
After a clean and lube, it didn't happen again.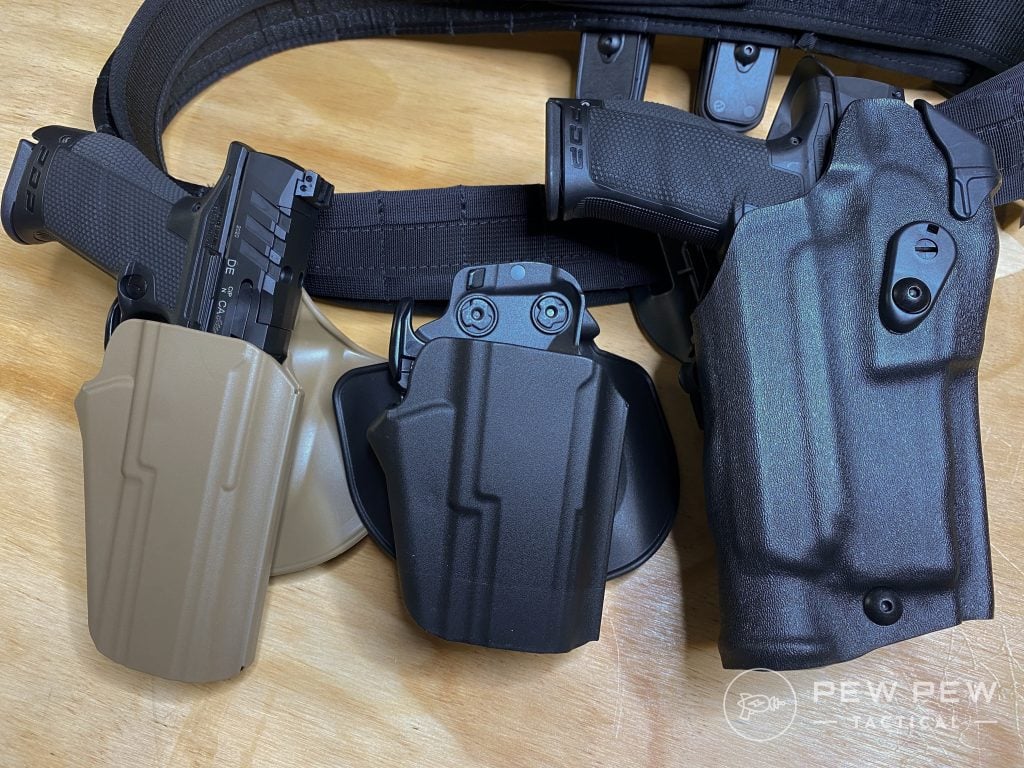 However, one issue I had repeatedly is a failure of the slide to lock back after the last round.
I eventually diagnosed this as my high grip and large hands riding the slide stop lever, occasionally preventing it from doing its job.
It's no fault of the gun and an issue I've had with other manufacturers.
Also, I tend to believe any weapon truly considering itself worthy of a duty rating should come with three magazines, not the two you receive with each PDP.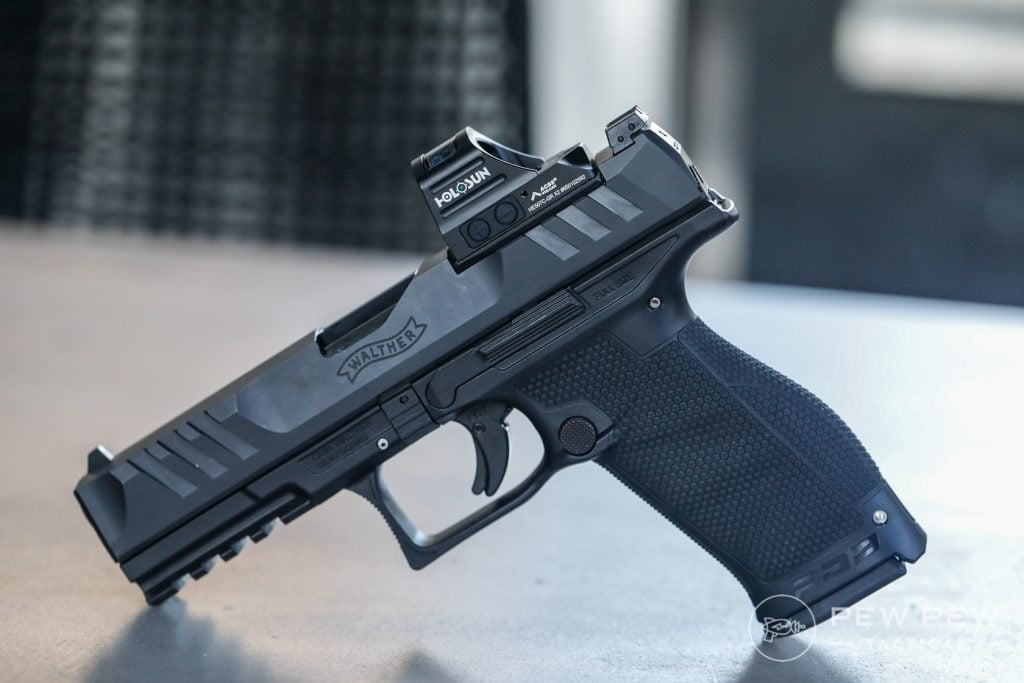 The initial rollout was well done. Walther paired with several holster companies to have options in inventory before the guns were released.
At the launch, we used C&G, Safariland, and PHLster holsters along with the Leupold DPP and a Surefire X300.
Unfortunately, as the year progressed and pandemic-related problems compiled, magazines, barrels, and even the guns themselves became difficult to locate.
By the Numbers
Accuracy: 4/5
The PDP is accurate if you do your part, the trigger and the barrel complement each other nicely.
Reliability: 4/5
I found it took abusive levels of dryness to cause any type of malfunction. Otherwise, they kept trucking.
Customization: 4/5
Walther has done a good job of offering several accessories if you want to further customize your PDP such as triggers, extended mag releases, baseplates, threaded barrels, and more.
Looks: 5/5
This gun looks like it was built to run hard, function dictating form. That alone is an aesthetic I appreciate.
Price: 4/5
Although the MSRP shows $699, several online retailers have the PDP listed at $599 which makes it competitive for the market and a good value at that price.
Overall: 5/5
Accurate, reliable, fun to run, and ergonomically very pleasing, the Walther PDP is a gun that has caused my appreciation to grow the longer I've owned and used it.
Conclusion
The Walther PDP is extremely well done. Whether you are a concealed carrier, home defender, or officer on the street, it is an excellent option.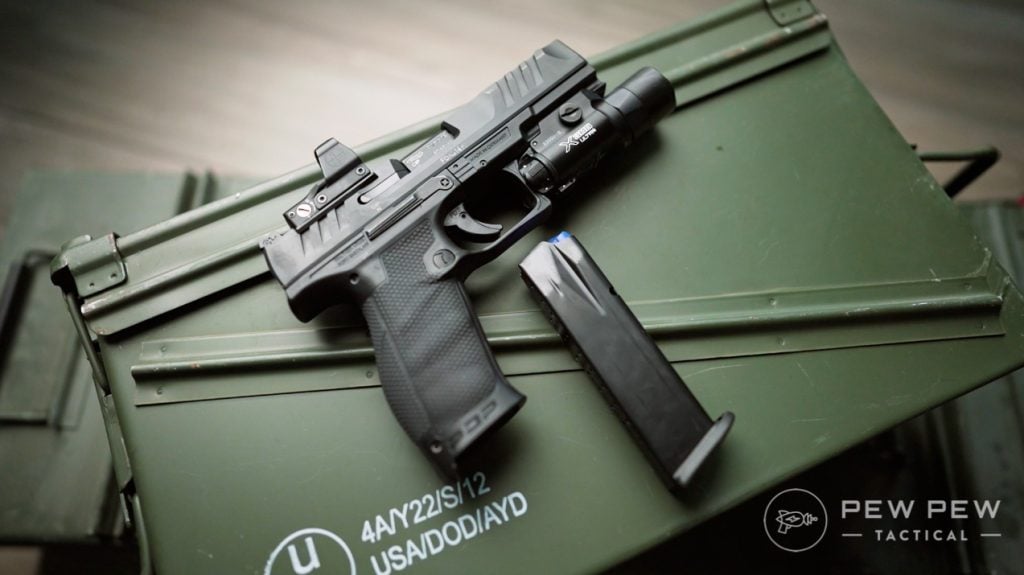 The grip is superlative, the accuracy is very good, and I've only experienced a couple of issues I likely caused. In short, the gun is highly reliable in my mind. The controls are well-placed and the trigger is superb for a striker-fired weapon.
To see the gun in action, check out the video below.
Have you had any experiences with Walther handguns? Let us know about your favorites in the comments below. We also added the PDP Compact to our 8 Best Compact 9mm Handguns, so be sure to see what else made that list.
Credit: Source link