Using a red dot or holographic sight…but sometimes need to reach out and touch something?
A flip-mounted 3x magnifier might just do the trick.
The big boys of Aimpoint and EOTech have their own magnifiers…but they are $300+ and sometimes don't sport a mount.
But if you're on a budget, we tested out a ton of magnifiers under $200 (and one that is over $500…) so you can get a real look at what you're paying for.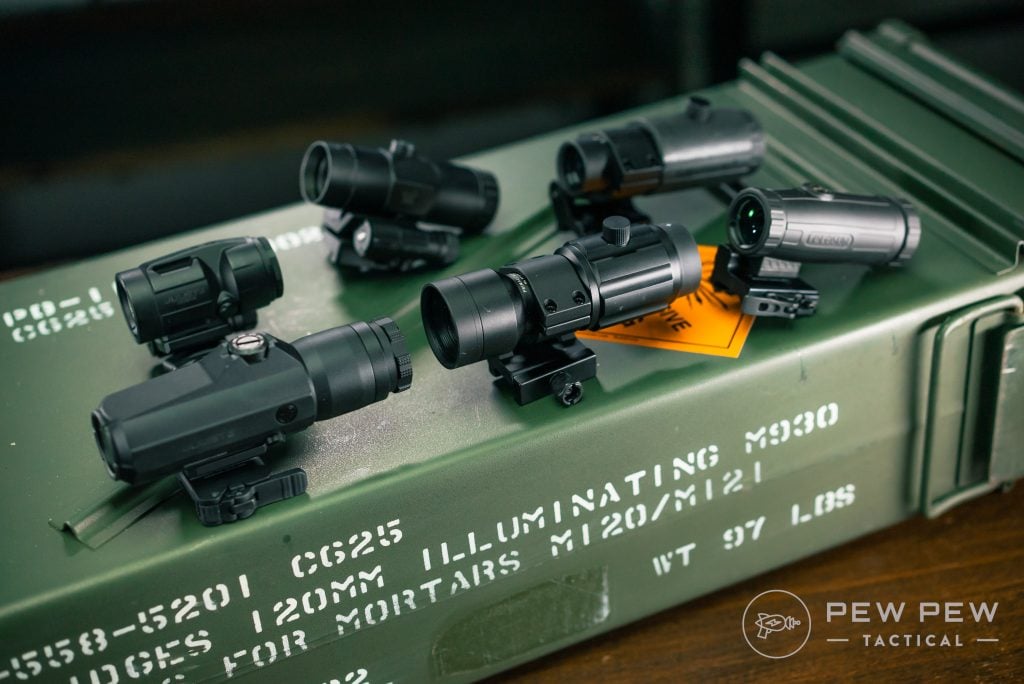 We put them to the test with real view-throughs of red dots, green dots, and holographic sights.
By the end, you'll know the best one for your budget!
Summary of Our Top Picks
Table of Contents
Loading…
Overview
This testing was the result of about two months of hard use and a lot of rounds downrange. We've used each of these magnifiers much longer and more than that, but the concentrated effort for this review was within that scope.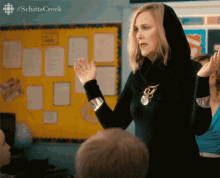 First things first, take the pictures with some forgiveness.
It's very hard to take good pictures using an optical camera looking through an optical device that is looking through an optical device that is pointed downrange at something.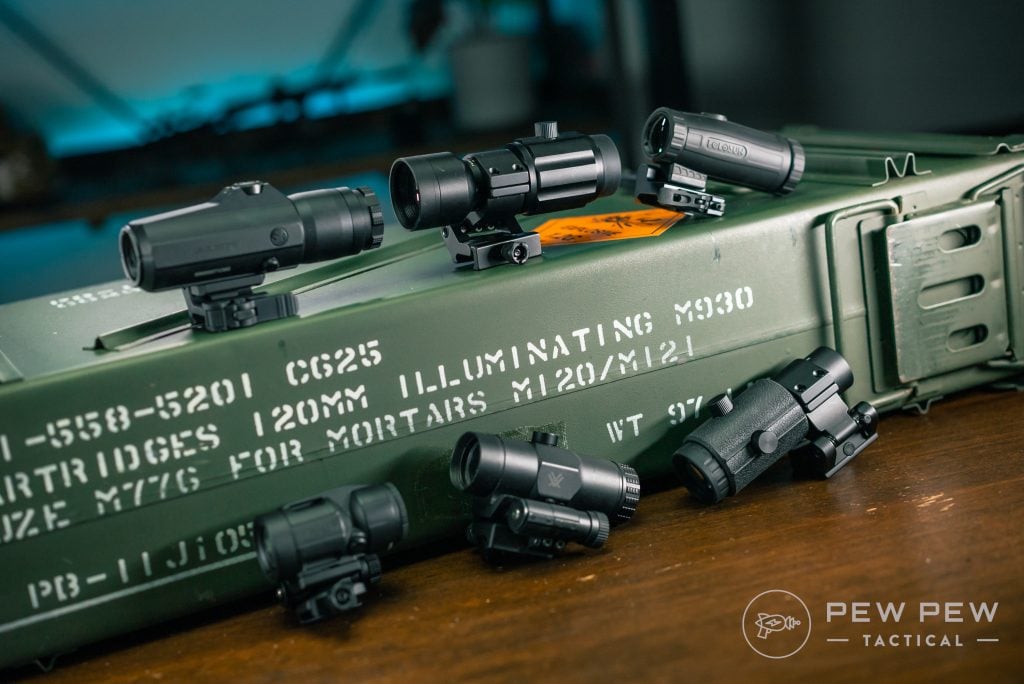 Then do that multiple times on a time limit so that lighting conditions don't change too much between pictures.
Overall, each magnifier is clearer and easier to see in real life than in the pictures. But the pictures give you a good idea of side-by-side expectations.
Here are the stats, though:
| | | | | | | |
| --- | --- | --- | --- | --- | --- | --- |
| Name | Price | Mount | Swing | Rating | FoV | Weight |
| Sig Juliet 3 | $199 | Screw | Push Button | IPX7 | 35.6ft @ 100 YD | 9.9 ounces |
| Sig Juliet 6 | $500 | QD | Tension | IPX8 | 21ft @ 100 YD | 14.7 ounces |
| PA 6x | $100 | Screw | Pull/Rotate | None | 31.7ft @ 100 YD | 9.2 ounces |
| PA 3x LER | $100 | Screw | Pull/Rotate | None | 37.8ft @ 100 YD | 7.9 ounces |
| Holosun 3x | $200 | QD | Tension | IP67 | 37ft @ 100 YD | 9.5 ounces |
| Vortex 3x | $180 | Screw | Push Button | None | 38.2 ft @ 100 YD | 11.9 ounces |
Red Dots, Green Dots, Holographics
If you don't already have a sight to pair your magnifier with, you should view them as a pair. While, on their own, they are good, it's really together that matters.
Also worth mentioning, red dots DO NOT increase in size with a magnifier. This is a piece of lore that just won't die. The claim is that a 2 MOA dot will cover 2 inches at 100 yards, 4 inches at 200 yards, etc.
But this is totally and completely false.
Magnifiers magnify the dot and the target. If your 2 MOA dot is covering their nipple at 100 yards, it will cover their nipple and no more at 400-yards.
With that out of the way, let's talk about red dots versus holographic. Really, there's not much difference between them. Technically, holographic sights are a little finer since their emitter is smaller…kind of.
It's science stuff, but practically speaking, it's not a huge difference.
Green dots, though…oh my. I'm a HUGE fan of green dots. But they can be a little strange with magnifiers. First off, every single one I've tried tear-dropped the dot a little. I have no idea why.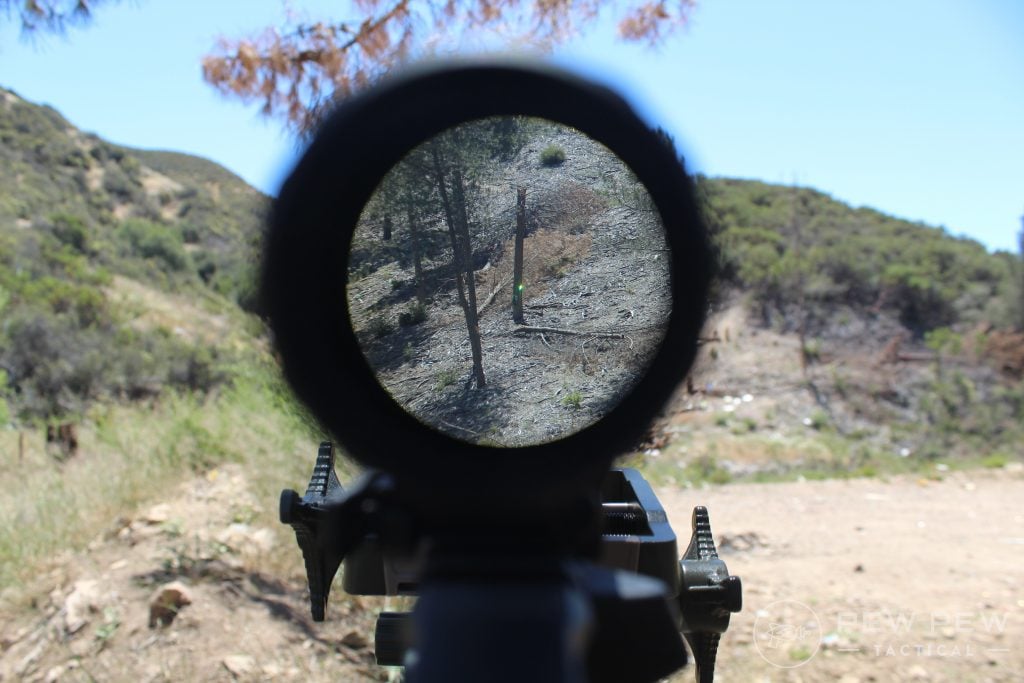 Second, green magnified is HARSH on your eyes. If you have it turned up all the way and throw a 6x on it, it hurts.
That said, it is the easiest to see for me, and green has a lot of biological advantages. Just be careful with it.
Side By Side
To help you get a better idea of how the magnifiers we tested stacked up against one another, we took some pictures. Feel free to zoom in or open in a new tab, as the source image is decently large.
Optics used included the Holosun 510C HR, Aimpoint Comp M5, and EOTech 512.
And just for context, we aimed at a tree with a target on it at about 200-yards.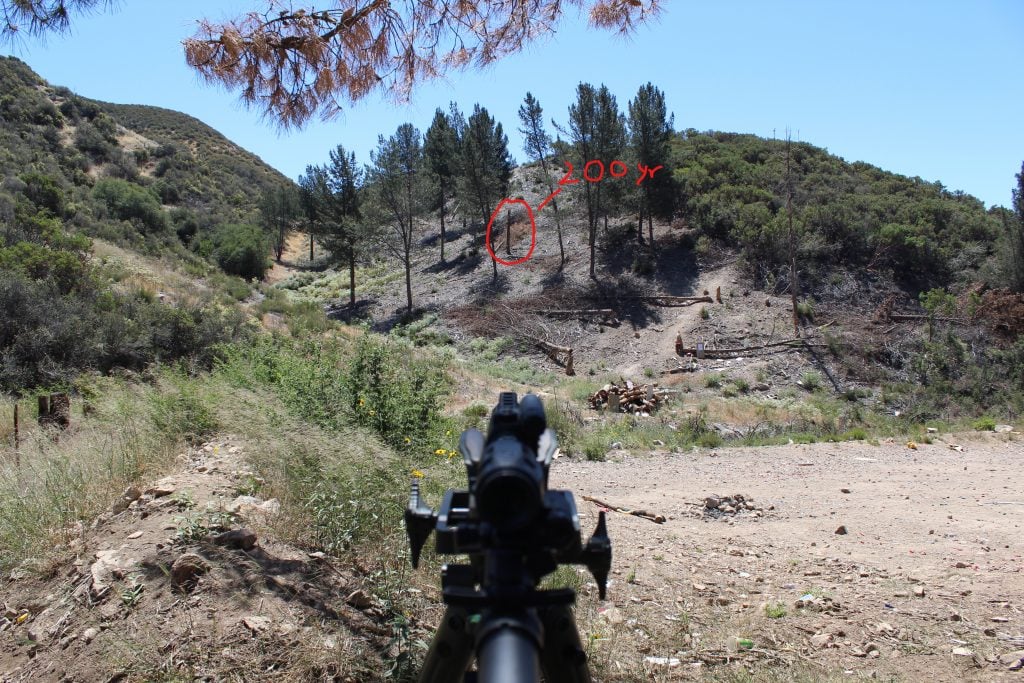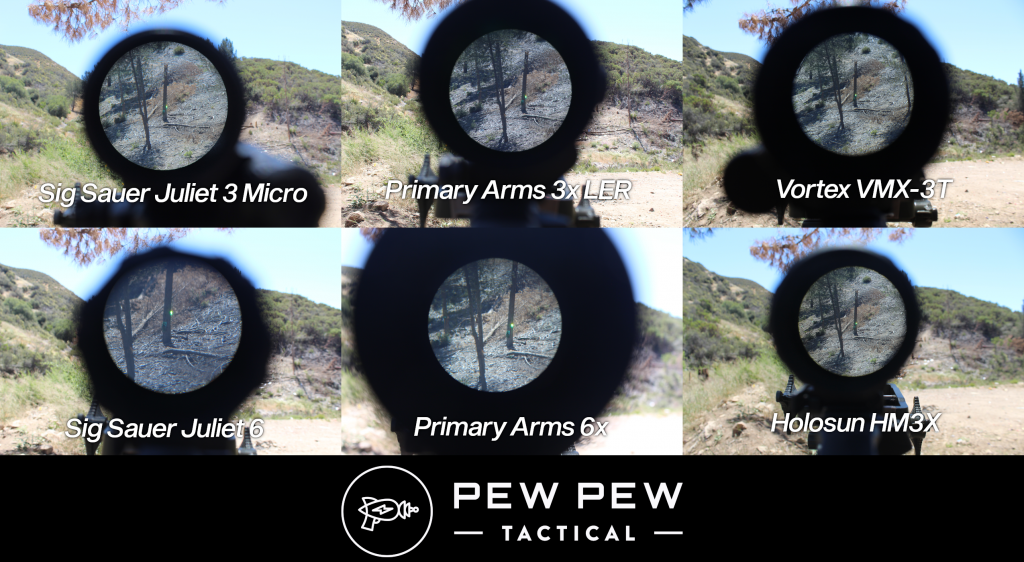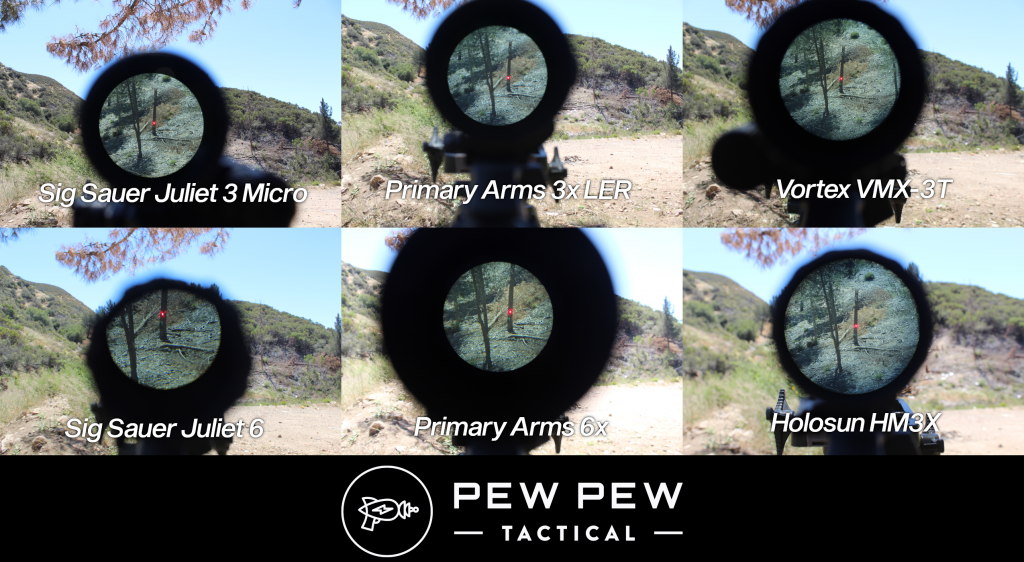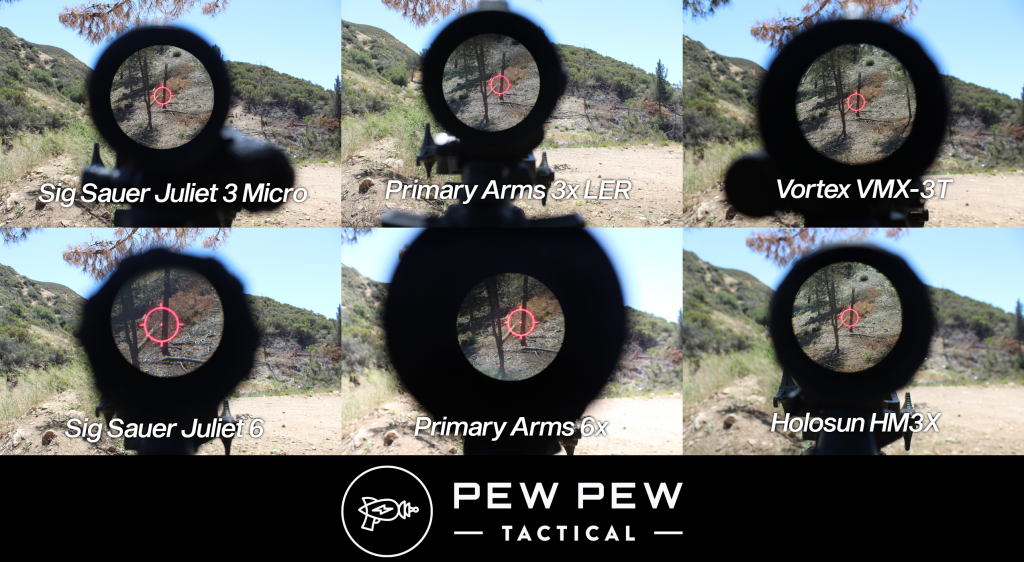 And with that, let's jump into some magnifiers we recommend…all without breaking the bank!
Best 3x Red Dot Magnifiers
1. Holosun 3x HM3X
Holosun basically did everything right with their magnifier. After using all of these a lot, I have to say that this is my go-to.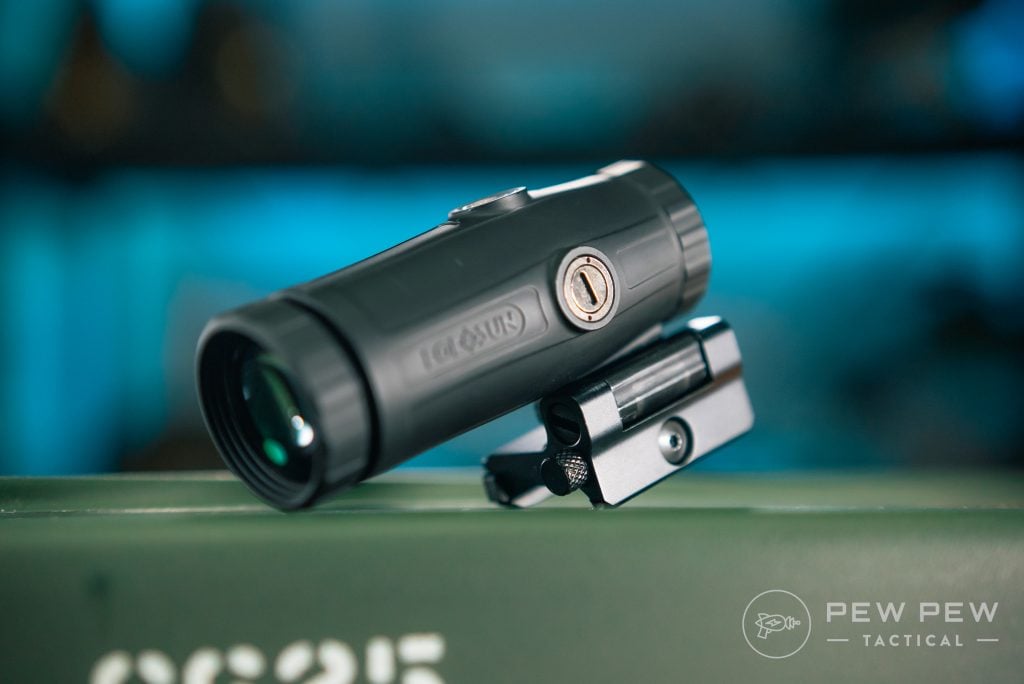 It features a QD mount and an IP67 rating — the only option we reviewed that was BOTH dust and water-rated. It also boasts a 37-foot field of view at 100-yards and weighs 9.5-ounces.
The flip-to-side mechanism is simple tension, no buttons to push.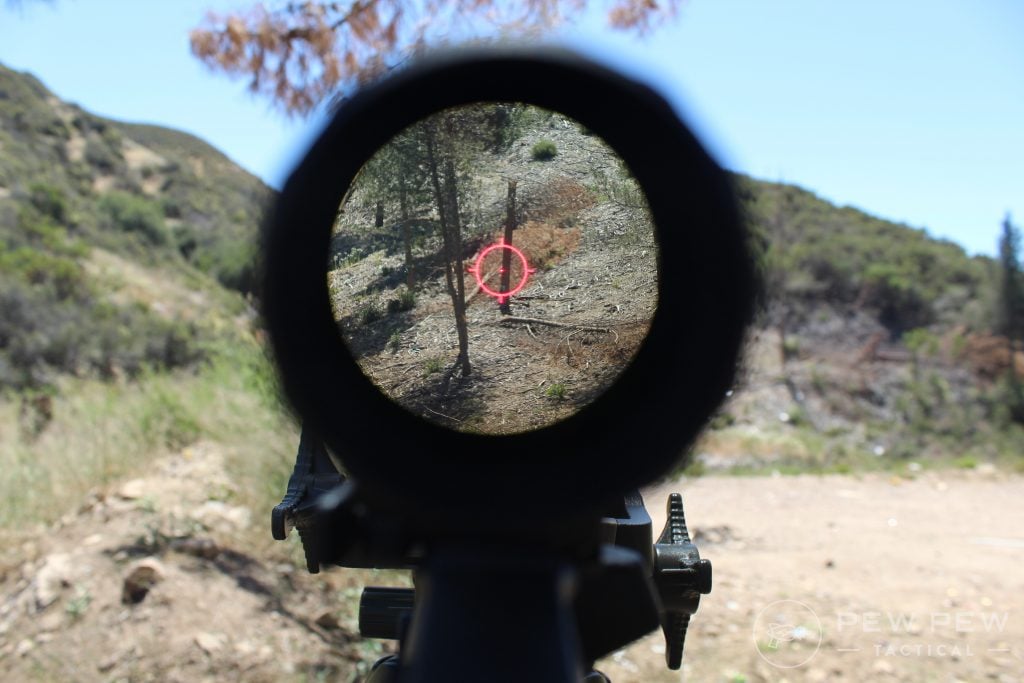 Edge-to-edge clarity and color are also really good — far better than most of the others I tried.
If you want my recommendation, Holosun wins.
Have you tested the Holosun? If so, rate it below.
2. Vortex 3x VMX-3T
I think the part I like best about the Vortex is that the Vortex warranty always has my back. Outside of that, it felt a little dated.
And that's not surprising since it's been around quite a while now.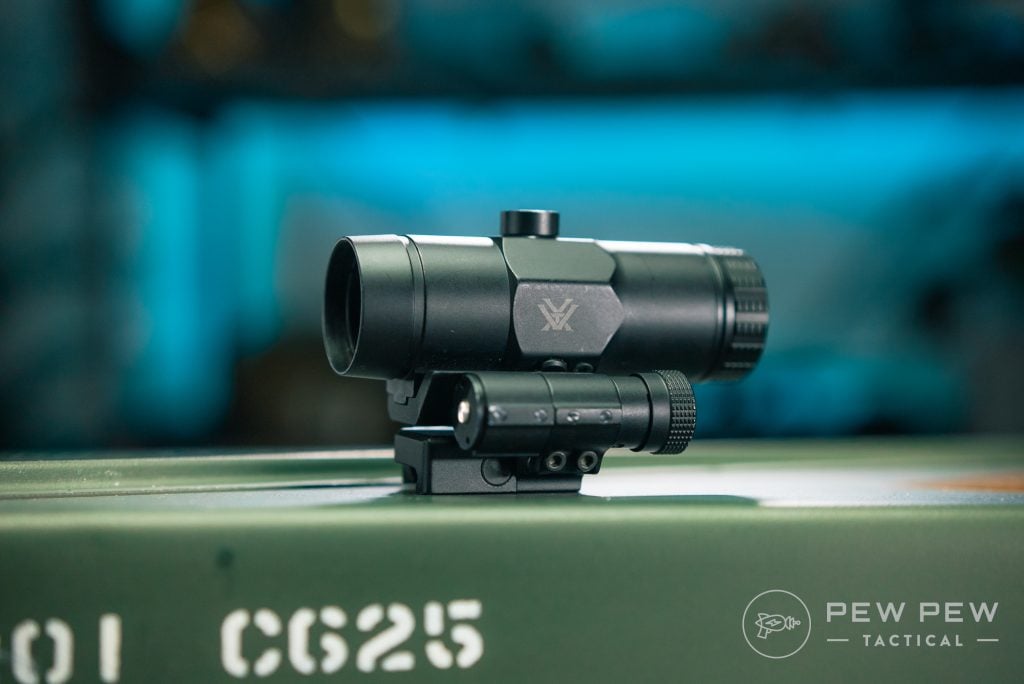 Don't get me wrong, the Vortex is still a great unit, but it didn't stand out. Glass clarity was on par, price is average, weight is a little heavy, eye relief is average, field of view is good but only by a foot, and there was no IP rating.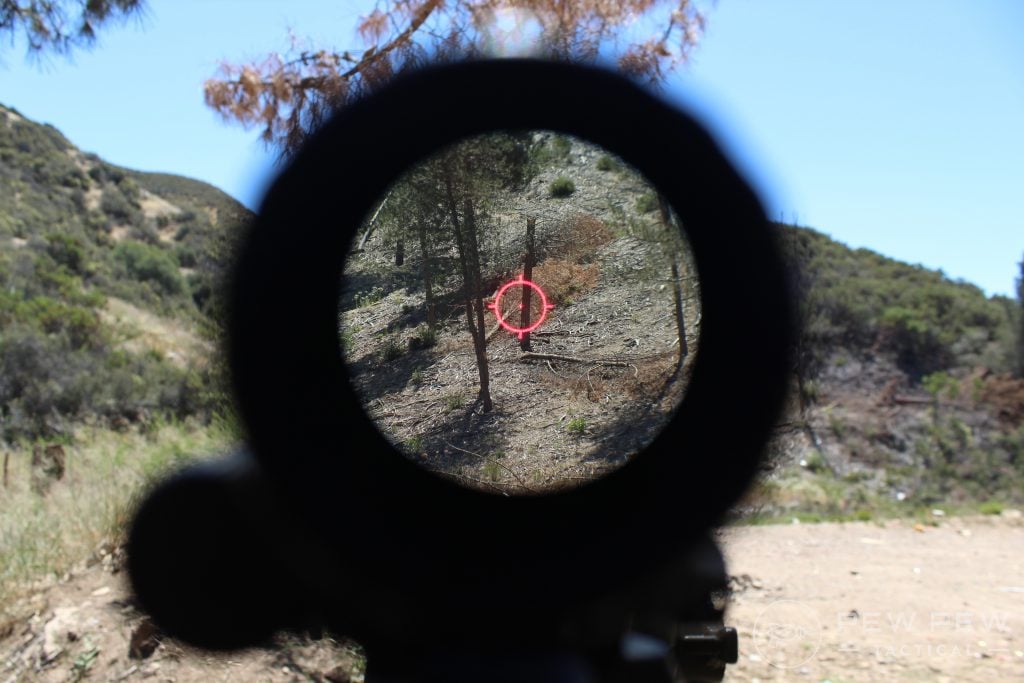 Plus, I really dislike the push-button style of mount. It's not the worst, but it's not great, either.
Bottom line, it's average. It's a good choice if you're already a Vortex fan, but I don't think it wins any prizes, either.
3. Primary Arms 3x LER Gen 4
LER stands for Long Eye Relief, and it's true, the PA 3x has a lot of freedom — mostly because it's very long.
For someone like me with a really long length of pull, I dig it a lot.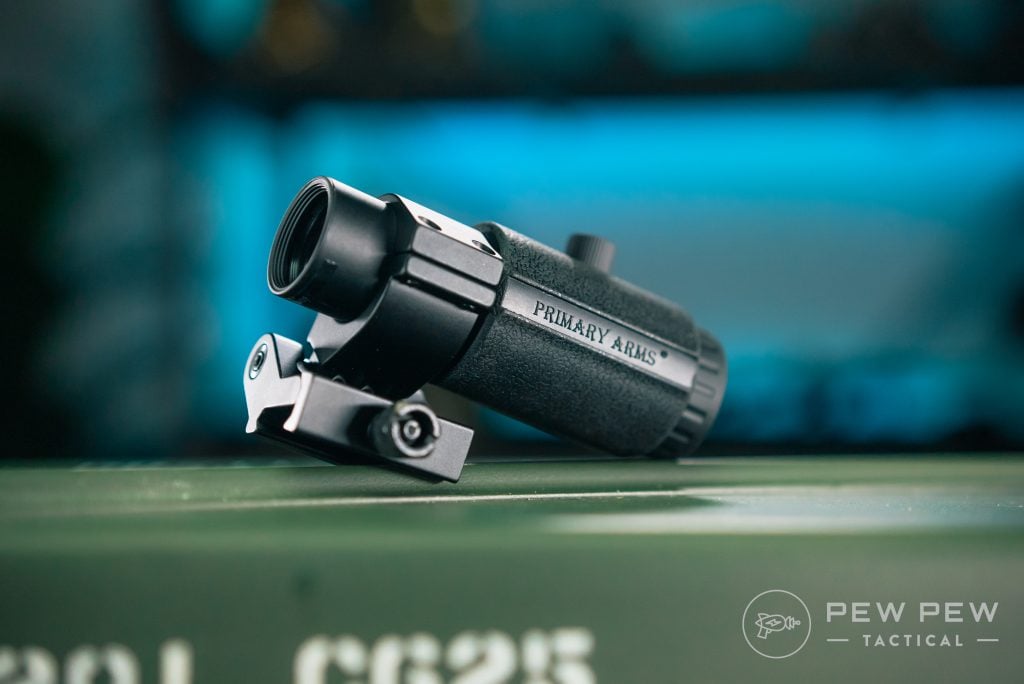 At only $100, Primary Arms comes in cheap. But it doesn't come with a mount, so I used the Primary Arms Flip to Side priced at $50. Total package is still cheap, but this mount is…okay.
Though it might not seem like it, the lack of a mount is a blessing in disguise. No mount means you save some money on something you don't want and can, instead, grab the one you do want.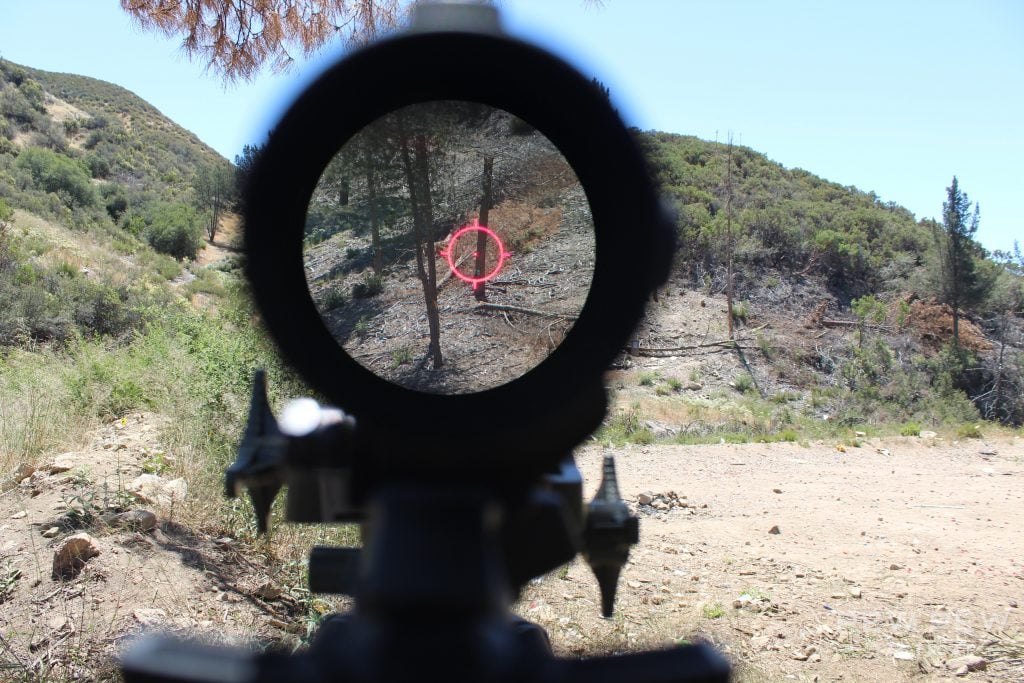 Many of the aftermarket options that fit the Aimpoint will also fit the Primary Arms options. So you get a lot of options depending on what you want to spend.
On top of it all, the PA 3x proves to be a good magnifier. It brings a great field of view and feels pretty light at 7.9-ounces. The only downside is no IP rating. That said, it's been durable in my use.
Overall, it's a fantastic budget option (pretty hard to upgrade out of). If you can, spend some money on the mount and get a good one.
4. Primary Arms 6x
Oh man, while I love the 3x from Primary Arms, the 6x from Primary Arms…not so much. I think this is, no, I know for sure; this was my least favorite magnifier tested.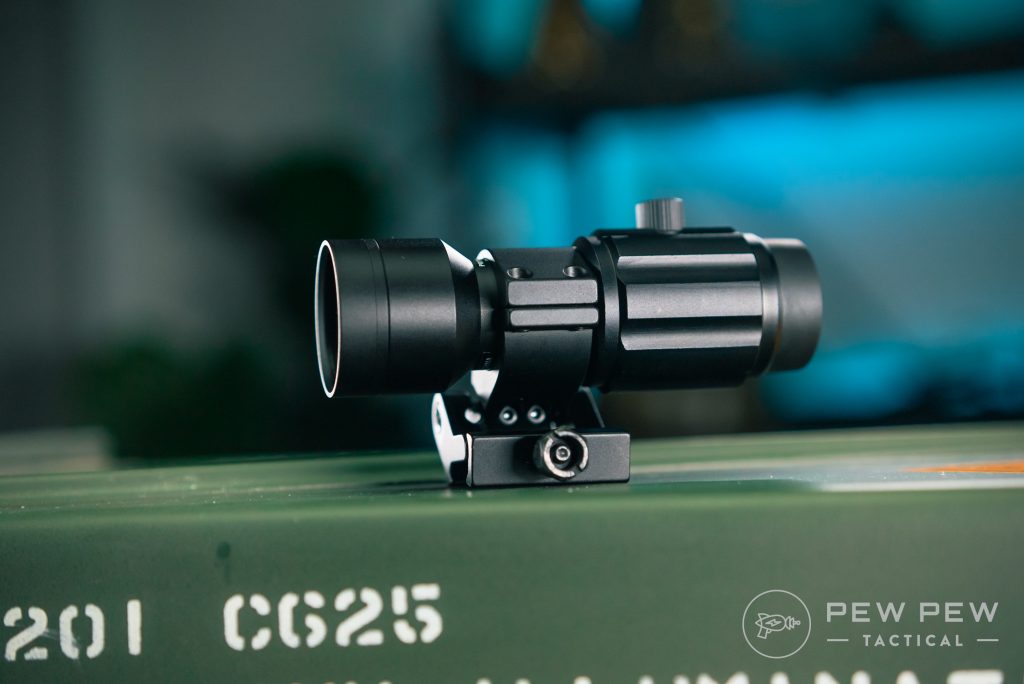 It sees all the gains as the 3x version, except that it's bigger and heavier. But the real downside to me was trying to look through it. Basically, it feels like looking through a straw.
While the field of view is a full 10 feet larger than the other tested 6x magnifier, the eye box appears much more constrictive and hard to find.
With training, you can do it quickly, but it's annoying at best. However, if you want 6x magnification and don't want to break the bank, this is basically the only option.
Is it the best? No. But it's 1/6th the price of the other option I've tried, and money talks.
5. Sig Sauer Juliet 3 Micro
One of the best options — and one I strongly recommend for a micro form factor — the Sig Juliet 3 Micro is nice.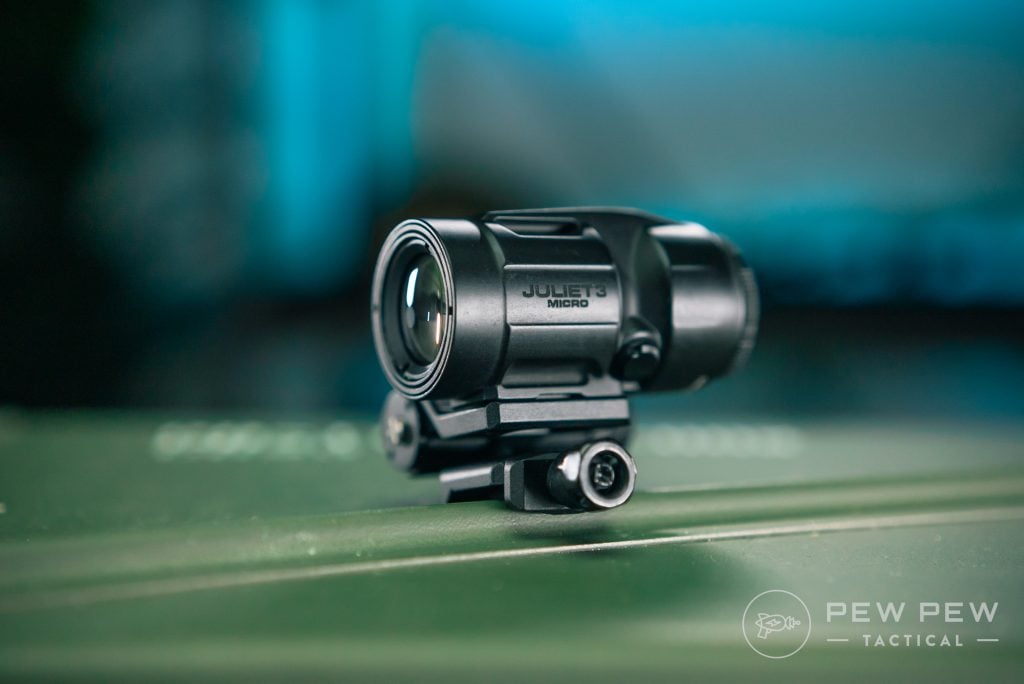 Though the field of view isn't amazing, it isn't bad either at 35 feet at 100-yards. I'm a huge fan of Sig IP testing their magnifiers, and the micro clocks a IPX7 rating.
What really set it apart for me, though, was how easy it was to pick up.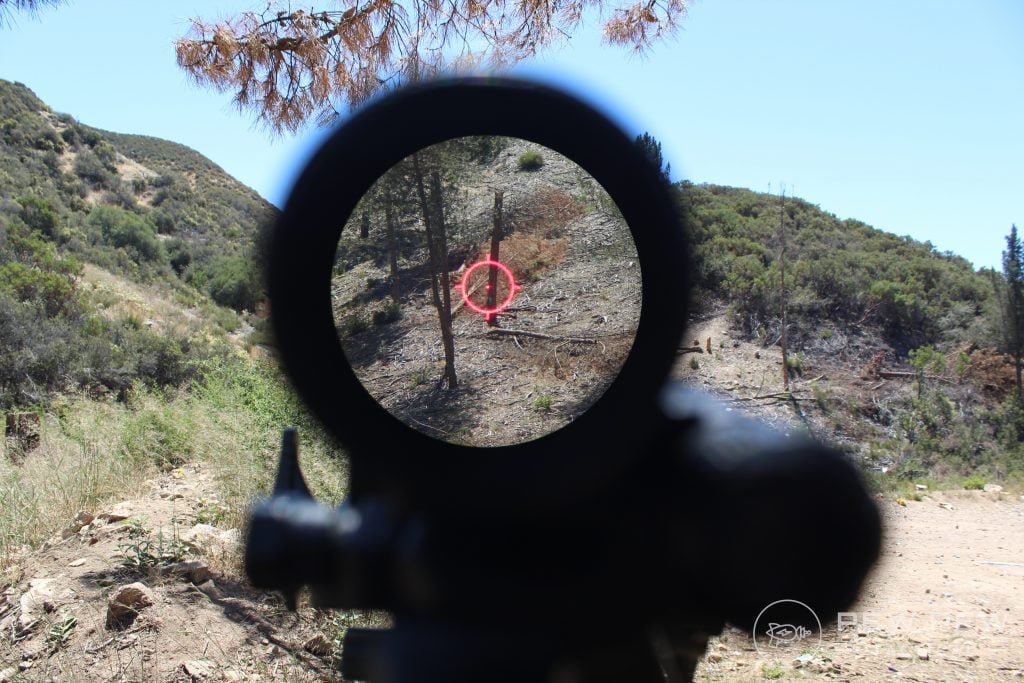 The eye relief is average, but the eye box is large. Even with a camera, the Micro was almost always just BAM — right there and easy to use.
The push button mount isn't something I love, but it's good enough.
Honorable Mention
Okay — this is WAY outside the price range, but it was included in all of the testings because Sig Sauer sent it along with the Juliet 3 Micro. And, well, I might as well test everything at once.
Sig Sauer Juliet 6
It's big and heavy at almost 15 ounces, but the Juliet 6 serves as the big sister of the Juliet 3 Micro.
Field of view is not that great, running only 21 feet at 100-yards.
But…it's IPX8 rated and offers a QD mount. The unit feels great and is easy to flip over; a really nice magnifier in general.
I would argue that if you're looking at spending this money on a 6x you might be better off with an LPVO, but you do you.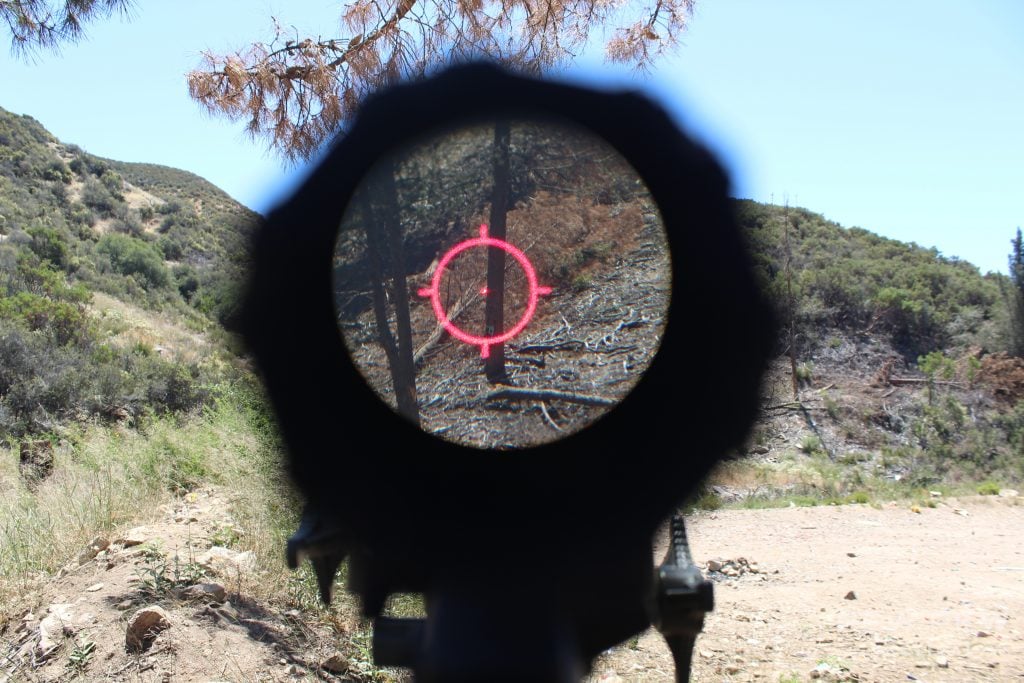 Worth mentioning that the eye box is also much more forgiving than the PA 6x.
If this is what you're looking at, it's a good pick. All in all, I like it.
Final Thoughts
When it comes down to it, though, there aren't a LOT of differences between the Primary Arms, Holosun, Vortex, and Sig magnifiers.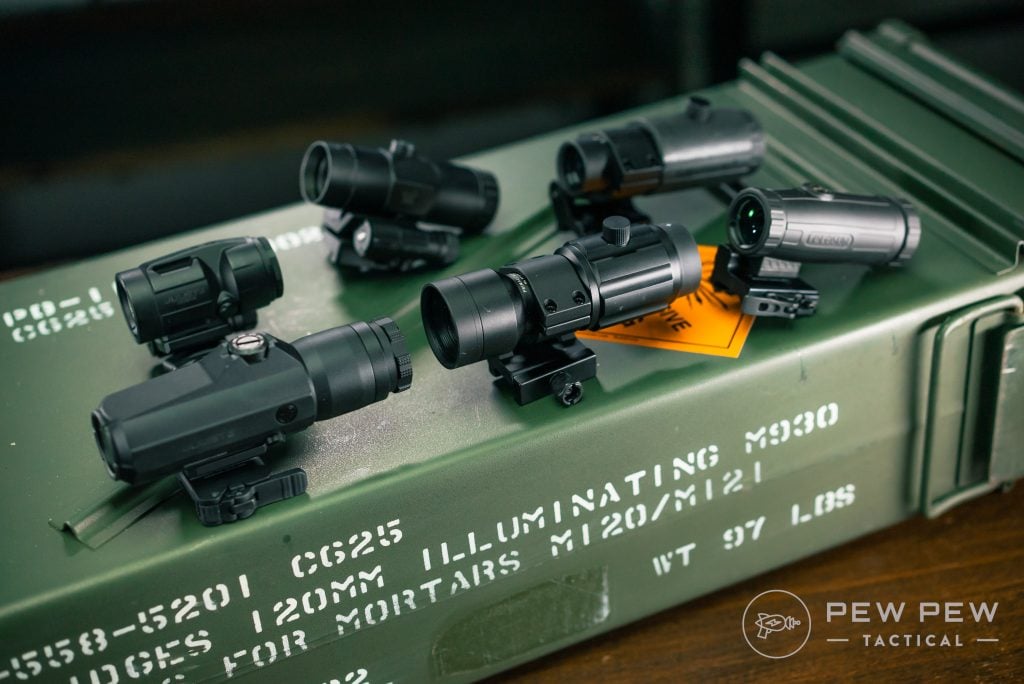 But, if you need a quick and dirty cheat sheet…
If you find one you like at a good price, get it. You won't shoot yourself in the foot by picking X over Y.
There is a lot to unpack in this review, but I hope we've given you the tools you'll need to pick the magnifier right for you.
Looking for tried and true combinations? Check out our Best Red Dot & Magnifier Combos…or our standalone Best Red Dots articles.
Credit: Source link