We select and review products independently. When you buy through links on our site, we may earn a commission, which help support our
testing. Learn more.
If you read any of my writing, you know I am always willing to talk and learn about shotguns.
Shotguns have been my favorite firearm since my first gun was a Remington 870 in .410. I got that shotgun for hunting, and we took a great many squirrels, rabbits, and even a bird or two together.
They were often our primary weapons in the swamps of Florida. While I lived by the pump gun in my youth, I've since branched out.
Shotguns can be the ultimate hunting weapon depending on your environment. They are very versatile tools that can take a wide variety of animals, from squirrels and birds up to deer and then, with the right ammo, even bear.
Affordability is another hallmark of shotguns. While you can buy a high-end upland bird gun from a company like Beretta, a $99 single-shot shotgun can get it done.
With that in mind, let's look at some of the best hunting shotguns on the market.
Table of Contents
Loading…
Why You Should Trust Us
Though I served as Marine machine gunner and now teach pistol and concealed carry classes as an NRA-certified instructor, there's just something about shotguns that speak to me.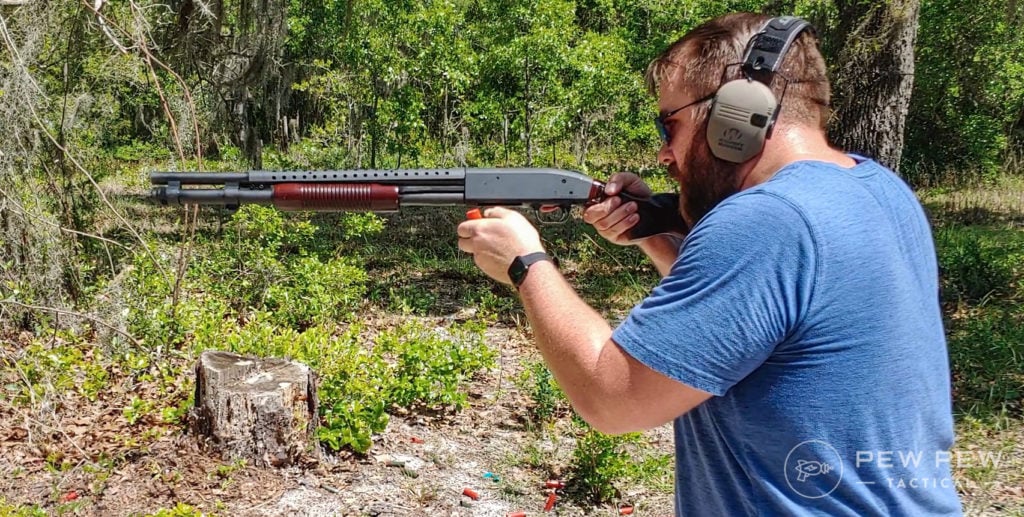 I have written many articles about shotguns and their accessories for Pew Pew Tactical and other publications. I spend countless hours researching and testing firearms and gear to ensure I bring the PPT audience the best of the best.
Best Pump-Action Hunting Shotguns
1. Mossberg 500
If you need a do-it-all shotgun, it's tough to beat the legendary Mossberg 500 series.

Mossberg's flagship pump action shotgun comes in several different variants with field and security models and is available in .410, 20 gauge, and 12 gauge.
This allows for a flexible, affordable shotgun that can be used for both home defense and hunting purposes.
It is a simple shotgun that uses a pump action design mixed with a standard tubular magazine. Various interchangeable chokes allow you to suit the gun to your needs.

On top of that, the guns are crazy modular, and swapping barrels is easy. Slug barrels exist, and for the longest time, they even produced a muzzle-loading conversion kit.
It's easy to add a red dot, a shorter or longer stock, different pumps, and more to customize the weapon and make it your own.
Barrels with beads attached directly to the barrel often throw off your point of aim and point of impact, so my sage advice would be to ensure you get a hunting model with the vent rib and raised bead.
Best All-Around Pick
392
at GrabAGun
Prices accurate at time of writing
Prices accurate at time of writing
Do that, and you'll have a fantastic shotgun.
2. Remington 870 Wingmaster
The Remington 870 is akin to the Mossberg 500 series. It has been around forever and is legendary in its own right.

They are exceptionally well-made, easy to shoot, and very modular. However, they do tend to be a little pricier than the Mossberg.
For hunting, I would suggest the 870 Wingmaster. This series of 870s are the Cadillacs of sporting Remington 870s.
With a Wingmaster, you get the best possible 870 with a beautiful blued finish with American walnut furniture. It's a beautiful shotgun that you could pass down from generation to generation.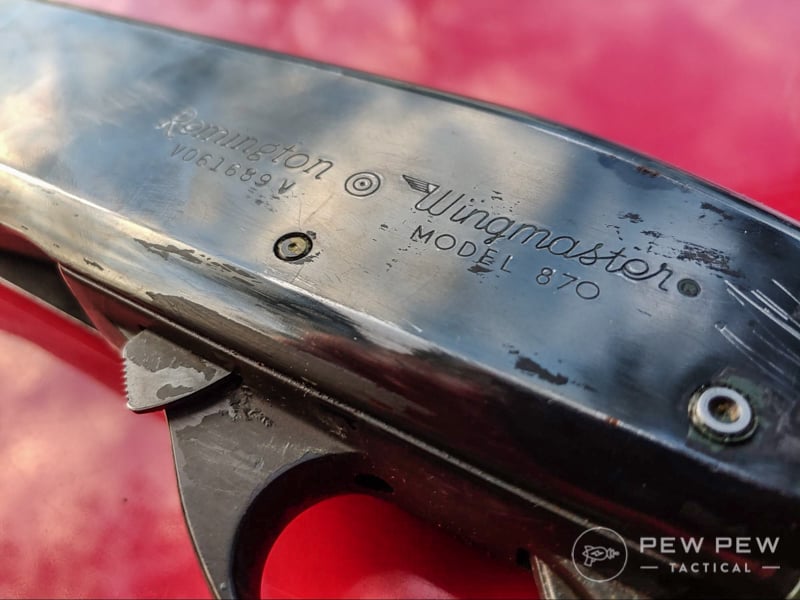 A blued finish not only looks nice but will hold up to resist rain and corrosion while maintaining its wonderful appearance. Sure, the wood furniture will get nicked and scratched, but each mark will be a story to tell.
I have a Wingmaster from 1971, and it still handles like an absolute dream. These guns come in 12 and 20 gauge as well as .410. They are available in sporting configurations only with long barrels and vent ribs.
770
at Kygunco
Prices accurate at time of writing
Prices accurate at time of writing
As the name implies, they are perfect for hunting fowl and bird species but can be adapted quickly for hunting deer, hogs, and more. With an action smoother than a baby's butt, the Wingmaster will always be a joy to shoot.
What do you think of the Remington? Rate it below!
Best Semi-Auto Hunting Shotguns
3. Beretta A400
Beretta makes some of the best shotguns on the planet, and the A400 is their latest semi-auto option for hunters of both big and small game.
The A400 series is a huge family of shotguns aimed at tackling almost shotgun sporting activity you could imagine.
My personal favorite is the A400 Xtreme Plus Max 7. However, you can find something for your needs easily enough.
These guns often have oversized controls for easy use in cold weather conditions when gloves are often a requirement. The Steelium Plus barrels allow for lighter recoil and better patterns, and the various textures make the gun easy to hold onto.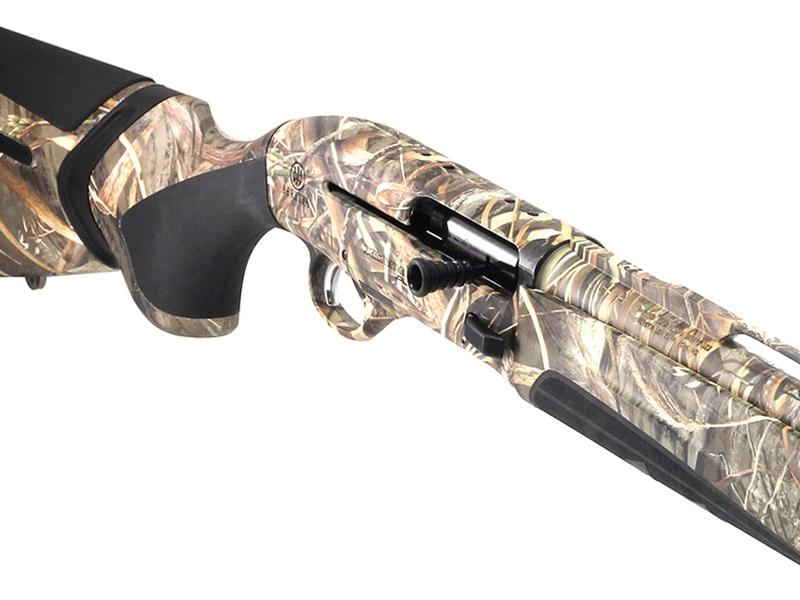 Semi-auto, gas-operated shotguns already reduce shotgun recoil by a hefty dose, but the A400 family takes it a step further with their spring-loaded kick-off stock function.
This hydraulic recoil-reducing stock system dampens recoil significantly and makes accurate repeating shots easy. When you are hunting birds, it's not uncommon to shoot dozens of times, and reducing some of that recoil makes the day much more enjoyable.
1949
at GrabAGun
Prices accurate at time of writing
Prices accurate at time of writing
Like all semi-auto Beretta shotguns, these guns are super reliable. They will eat through various rounds of 12 gauge without complaint, shrug off the weather, beat back cold weather, and go bang when you need them to most.
4. Browning Maxus II All Purpose Hunter
The Browning Maxus II is often overshadowed by the classic Auto 5, but it's a much more modern option.

These semi-auto guns use the Browning Power Drive Gas System that is designed for a multitude of ammo types and recoil reduction of those stout loads.
Browning claims their Lightning Trigger provides you with the fastest lock time money can buy. The stock comes with a long length of pull and a thick recoil-reducing pad, but it can be trimmed up to ¾ of an inch to help with fitting.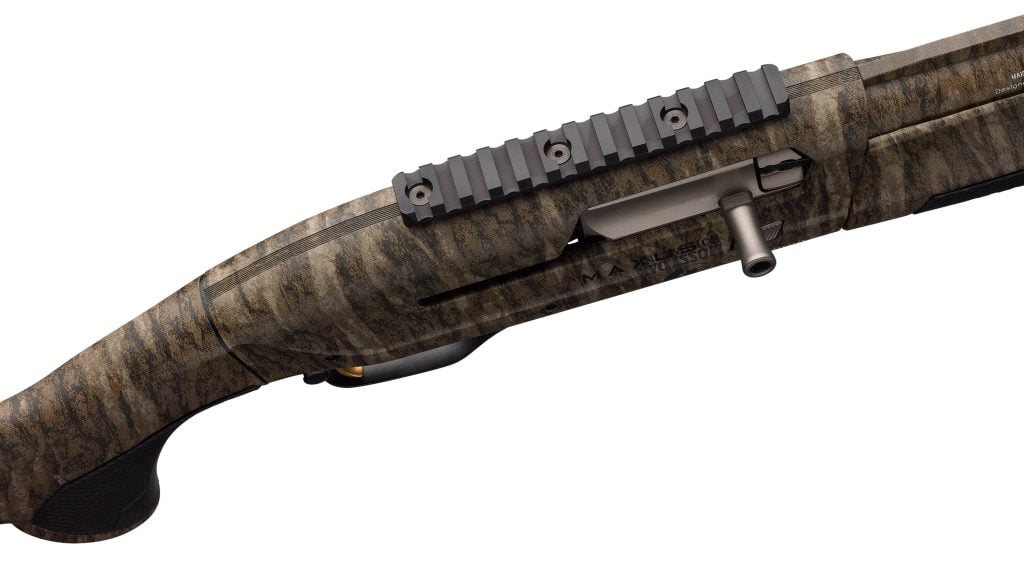 The Maxus II All Purpose Hunter Mossy Oak Bottomland makes for a perfect turkey gun. Shooters get a camo finish to help hide from a Turkey's keen eyesight.
I know turkey hunters love a red dot, and the Maxus comes optics-ready. On top of that, it eats those heavy-duty 3.5-inch loads to deliver maximum lead to those gobbling fools.
Best Hunting Shotgun
1746
at GrabAGun
Prices accurate at time of writing
Prices accurate at time of writing
The Maxus II series has oversized controls, and the suggested Mossy Oak Bottomland has dedicated turkey chokes. It's set up from the ground up to make Turkey season successful.
5. Mossberg 940 Pro Field
With the help of Jerry Miculek, the 940 series was built on the 930 while eliminating its weaknesses.

The Pro Field model is ready to be at your beck and call when fall comes and hunting season begins.
These shotguns are gas-operated semi-auto shotguns that only come in 12 gauge at the time of this writing. They represent some of the most modern guns that aren't afraid to embrace tradition.
This includes the traditional vent rib, a traditional stock, the Mossberg tang safety, and a tube-fed magazine.
From there, Mossberg ensured the stock could be used adjustable for LOP. The gun is optic-ready and uses a high-visibility front sight.
Controls are massive and reminiscent of competition guns, which gloved users will appreciate.
718
at GrabAGun
Prices accurate at time of writing
Prices accurate at time of writing
A big loading port is also a nice touch we don't see often enough. The entire gun represents what I see as the next generation of hunting shotguns — modern, modular, semi-auto guns with unbeatable reliability.
Best Alternative Hunting Shotguns
6. Savage 212 Slug
There are a number of states, counties, and localities that prohibit the use of rifles for hunting due to safety concerns. This means some hunters are restricted to shotguns.

If you need more range with a shotgun, what do you turn to?
Slugs! Slugs work fine out of a regular shotgun, but to get rifle-like performance, you'll need a dedicated slug gun with a rifled barrel.
The Savage 212 Slug delivers that. On top of that, the design is set up like a standard bolt-action rifle.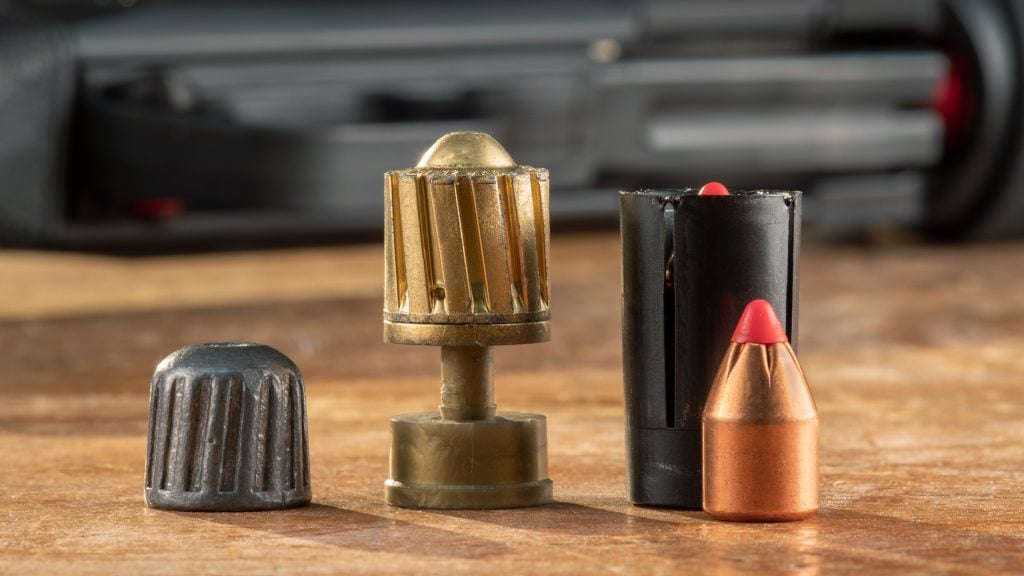 This bolt-action shotgun is fed from a removable box magazine that holds two rounds. Additionally, it comes optic-ready and features Savage's famous AccuTrigger. It's as close to a rifle as a shotgun can get.
The rifled barrel and excellent trigger help you achieve rifle-like accuracy with slugs. This ensures you can reach out to 200 yards with good accuracy for humane shots on your chosen prey.
Best Slug Shotgun
704
at Kygunco
Prices accurate at time of writing
Prices accurate at time of writing
Bolt action shotguns are a bit odd, but this configuration almost leaves the world of shotguns and slides into the world of rifles.
7. Rock Island Armory Traditional Single Shot
A single shot can be a great hunting tool.
If you are on a tight budget but want to get into hunting, I couldn't suggest a more versatile gun than a standard single shot.

The Rock Island Armory Standard Single Shot is as simple as it gets. With an MSRP of $149, you are getting a lot of gun.
This includes an adjustable rear sight, a vent rib barrel, polymer stock, and a forend with an adjustable length of pull.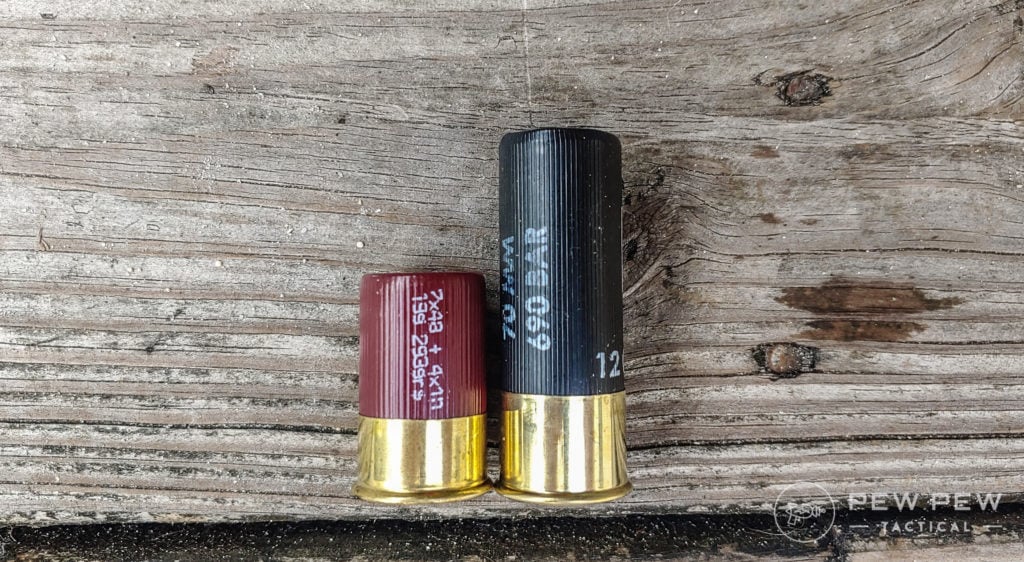 Shooters get the ability to fire anything up to 3-inch shells. A single-shot shotgun also allows you to shoot mini shells of various sizes without reliability issues as well. You can take squirrels all day and, with a swap to buckshot, make a whitetail into venison burgers.
While single shots seem limited, they do bring some advantages. They tend to be the most reliable shotguns since they have few moving parts and are typically short and light, making them easy to pack and carry.
Best Budget Option
92
at BattleHawk Armory
Prices accurate at time of writing
Prices accurate at time of writing
For such a low price point, you do get a great little gun from Rock Island Armory.
Final Thoughts
Have you ever felt the satisfaction of tagging that big buck you've been tracking since summer? What about the rush you feel when moving from bird to bird? Those are primal feelings appealing to that inner hunter we all have.
If you've never felt it, you owe yourself the experience, and a good shotgun can take you plenty far in the world of hunting.
What's your hunting shotgun of choice? Let us know below! Do you love shotguns? If so, then be sure to check out our article on the 5 Best Home-Defense Shotguns!
Credit: Source link