In a world where striker-fired pistols are as common as dirt, it can be tough to figure out if one is actually better than the others.
Most of the offerings on the market work well and perform similarly, so it really comes down to two things for me — the details and the value.
Canik has been putting out some absolutely fantastic pistols lately, but I decided to get my hands on their slightly older TP9 Elite SC to see if it still had the same value and attention to detail I've come to love in other Canik guns.
I also wanted to know if sub-compact guns are still relevant in a world full of micro-compacts. Is there really room for little chunkers like TP9 Elite SC?
So follow along as I walk you through the specs and notable features, and then head to the range.
Table of Contents
Loading…
Why You Should Trust Us
What can I say? I love guns so much I have over 200 firearms (I know, I have a problem).
But I am also a huge stickler for bargain buys, and I don't believe in overpaying.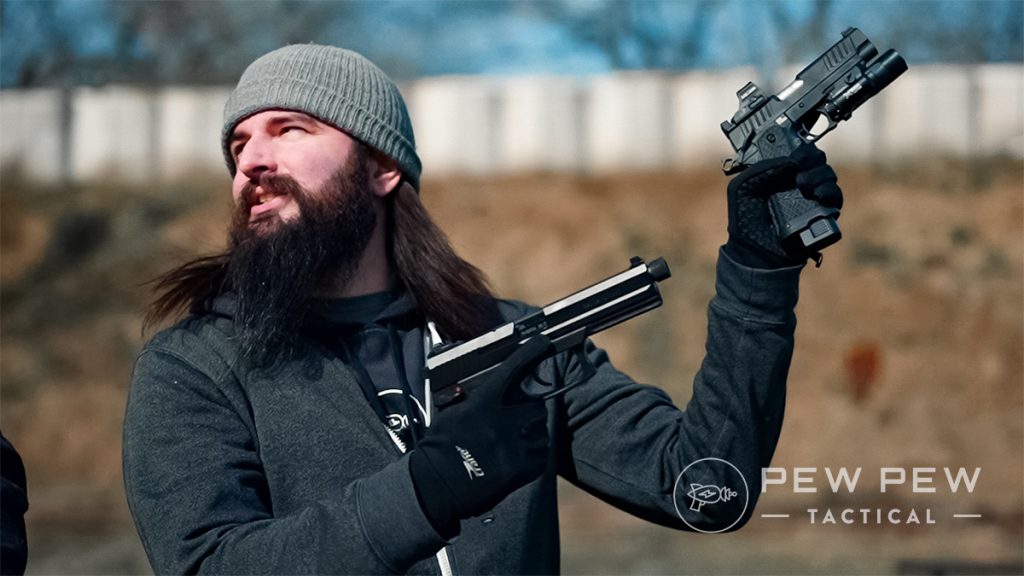 Being around guns most of my life has given me two decades of firearms experience, including hunting, competition, certified instructing, and plenty of time concealed carrying.
Canik TP9 Elite SC Pros & Cons
Pros



Excellent trigger




Accurate




Great value with included accessories
Cons



Wider than most micro-compacts




Taller bore axis
The Bottom Line
Throughout testing, the TP9 Elite SC proved to be accurate, relatively easy to shoot, and 100% reliable.
385
at Kygunco
Prices accurate at time of writing
Prices accurate at time of writing
Canik TP9 Elite SC Specs & Features
Specs
Comes with
Hard case, IWB/OWB holster, one 12-round, one 15-round magazine, two interchangeable backstraps, optics adapter plate and mounting hardware, cleaning rod and brush, flat magazine baseplate, gun lock
Features

Ambidextrous slide release

Swappable magazine release

Phosphorous dot front sight, serrated black rear sight

1913 Picatinny accesory rail

Co-witness optics-ready slide
Source: Canik
Canik TP9 Elite SC Background
Canik introduced their TP9 series of handguns in 2012 and, by doing so, showed the world that cheap didn't mean bad.
They wisely chose to closely replicate the Walther P99 and PPQ pistols. This meant they were starting with a proven design that also lent itself to having excellent triggers.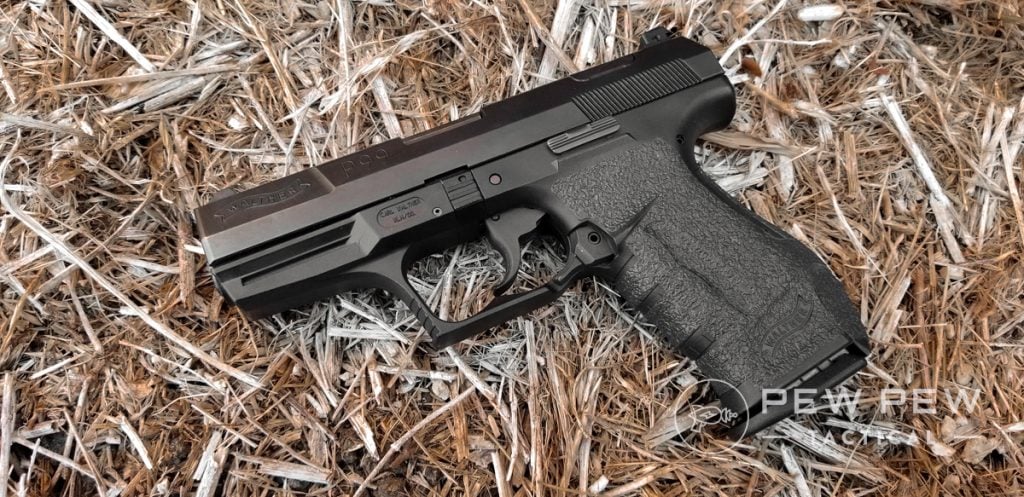 With the popularity and acceptance of the TP9 series growing, Canik made its first attempt to target the concealed carry market in 2019 by releasing the TP9 Elite SC.
Who Is It For?
These guns are built for those who want a relatively easy-to-conceal gun at a great price without having to sacrifice features or shell out for upgrades.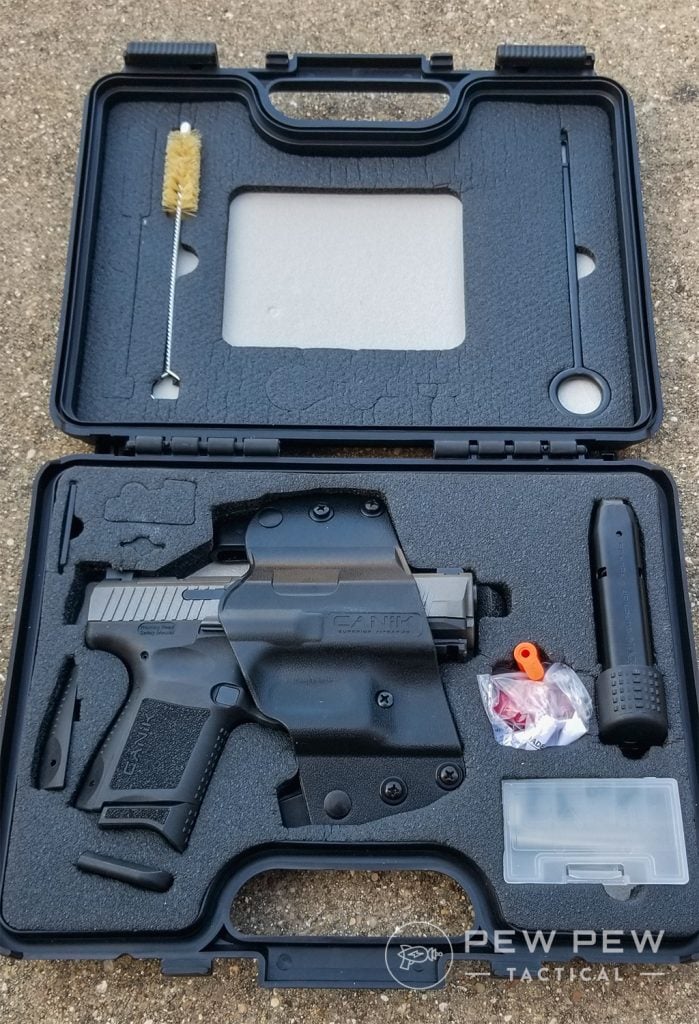 People looking for things like accuracy, reliability, a good trigger, and optics mounting capability while staying under the $500 mark will be well-served by this gun.
Fit & Feel
I am going to get it out of the way — yes, this gun is kind of thick. At 1.45 inches wide, it is noticeably wider than modern 1-inch micro-compacts, but this isn't necessarily a bad thing.
Seeing as the Elite SC is just a shortened version of the larger TP9, it retains much of the same feel.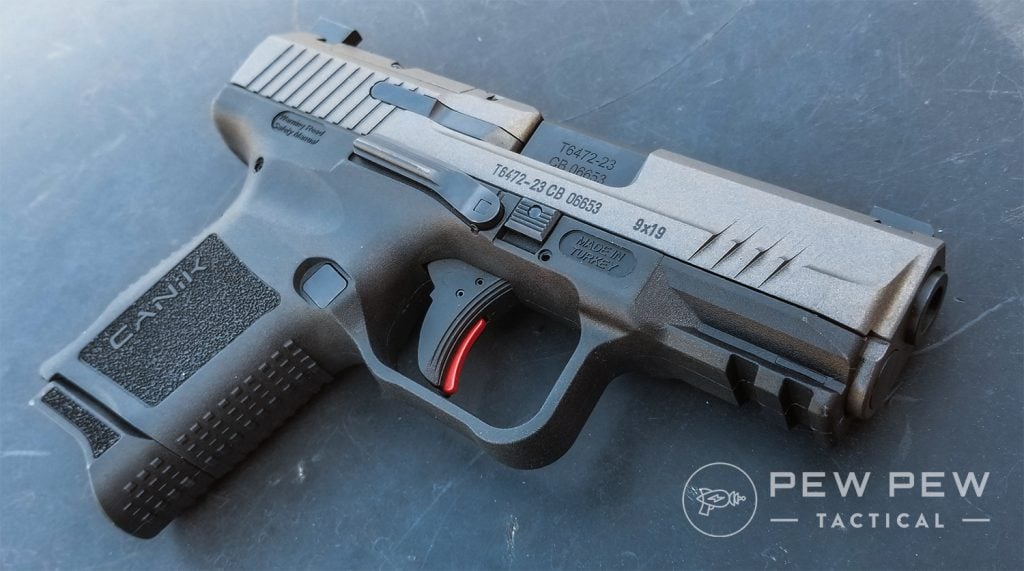 With a taller bore axis, it feels a bit "big," but the gun points naturally and wears it well during live fire. The upside is that while the slide is larger, it is easy to grab and rack.
I absolutely love how long the slide release is. With my medium hands, it is super easy to hit yet unintrusive. I only have slightly break my grip to reach the textured mag release, which is easy to actuate.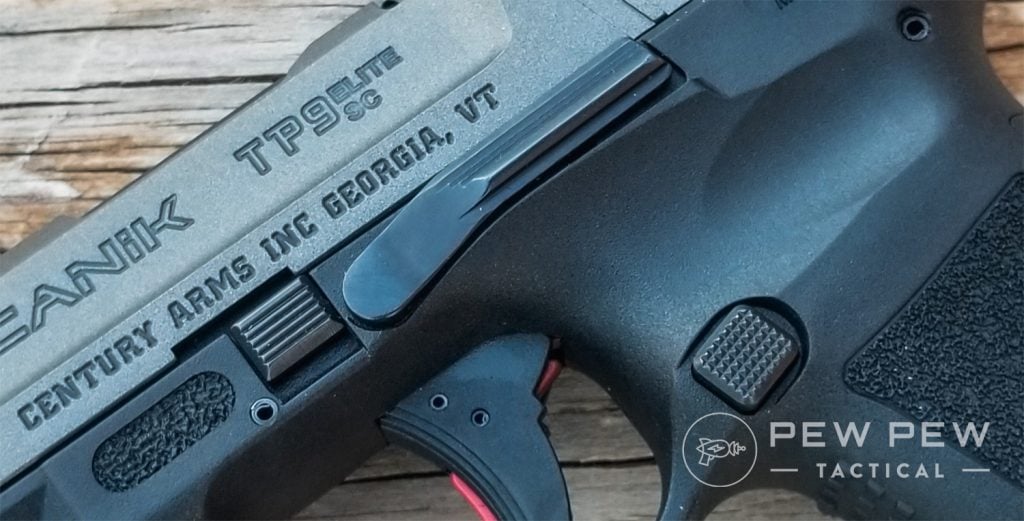 The slide release is ambidextrous, and the magazine release can be easily swapped for left-handed shooters.
Front and backstrap checkering are present; nothing too aggressive here, but not too smooth either.
9mm Ammo in Stock
115gr
$0.28
Free shipping
Even with medium hands, I can engulf some smaller micro compacts. The larger circumference of the Elite SC grip allows more purchase, which helps control the gun (more on that later).
With no mag in the gun, I get a two-finger grip. However, the included 12-round magazine already has a pinky extension to remedy this problem. A flush baseplate is also included.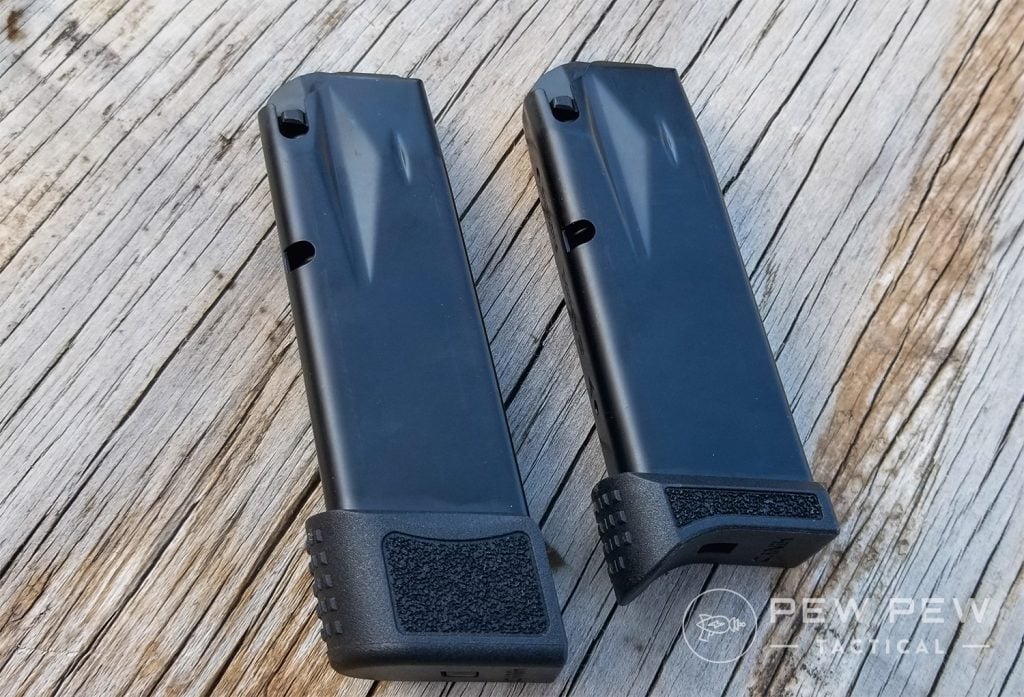 An included 15-round magazine gives it more of a full-sized grip feel, with a little chunk missing off the backside. Full-sized TP9 magazines are compatible with this gun.
The slide is optics-ready and utilizes the Trijicon RMRcc and Shield RMS/RMSc footprint.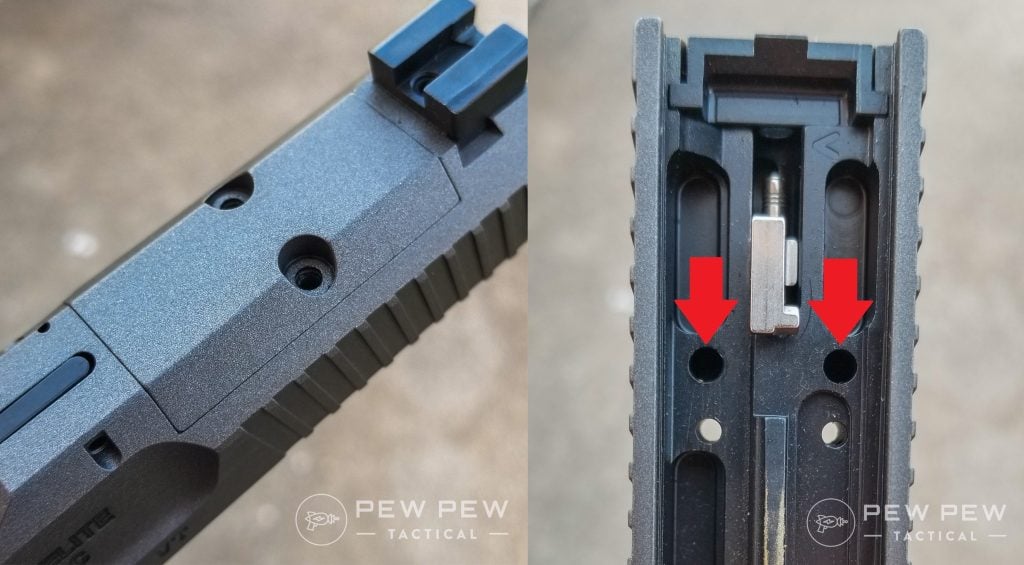 Most notably, users will find that the trigger is phenomenal. It has a medium amount of travel before breaking crisply at 3.5-4 pounds and boasts a stunningly short reset.
466
at Amazon
Prices accurate at time of writing
Prices accurate at time of writing
How Does It Shoot?
This gun exceeded my expectations here — she is a shooter.
I tested the gun on both the excellent stock iron sights and with a Holosun EPS Carry MRS.
With iron sights, I was able to consistently put up some solid groups at 7 yards. To see how the Elite SC fared against some similar guns, I pitted it against my Glock 26 Gen 5 and my Walther PPQ SC.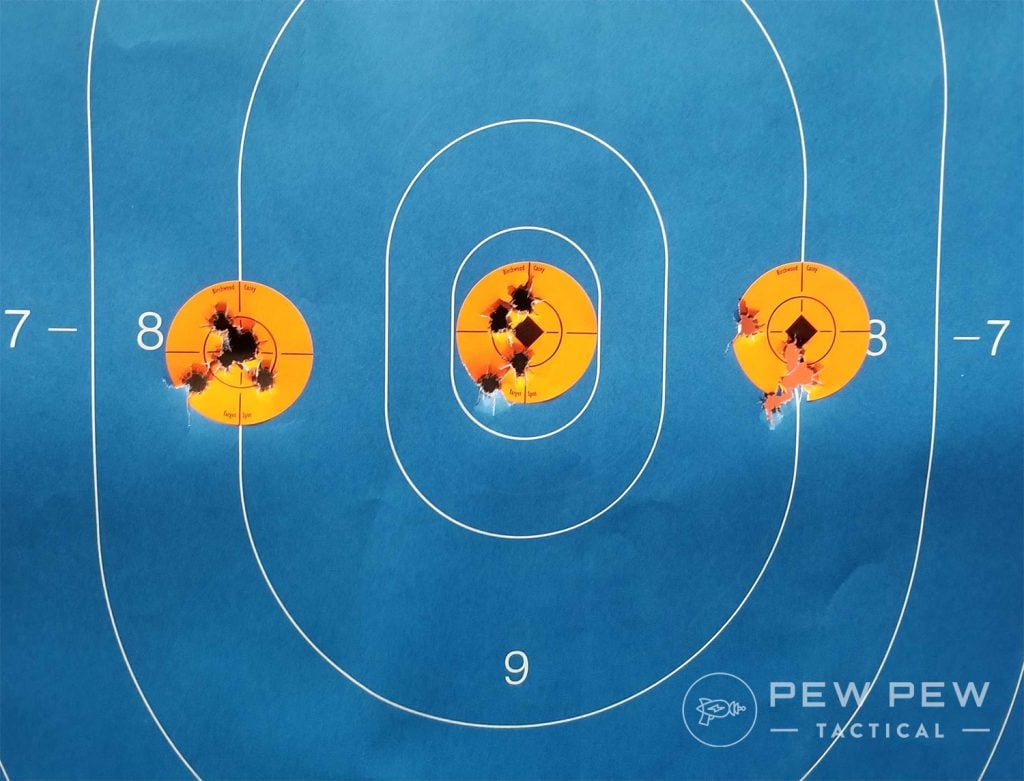 Once I mounted the Holosun, it really showcased the accuracy I could get out of a gun this size. I was able to hold an entire 12-round mag inside the X-ring at 18 yards. After that, I was sold.
Having an excellent trigger surely helped with accuracy, and the red dot eliminated the shorter sight radius issue.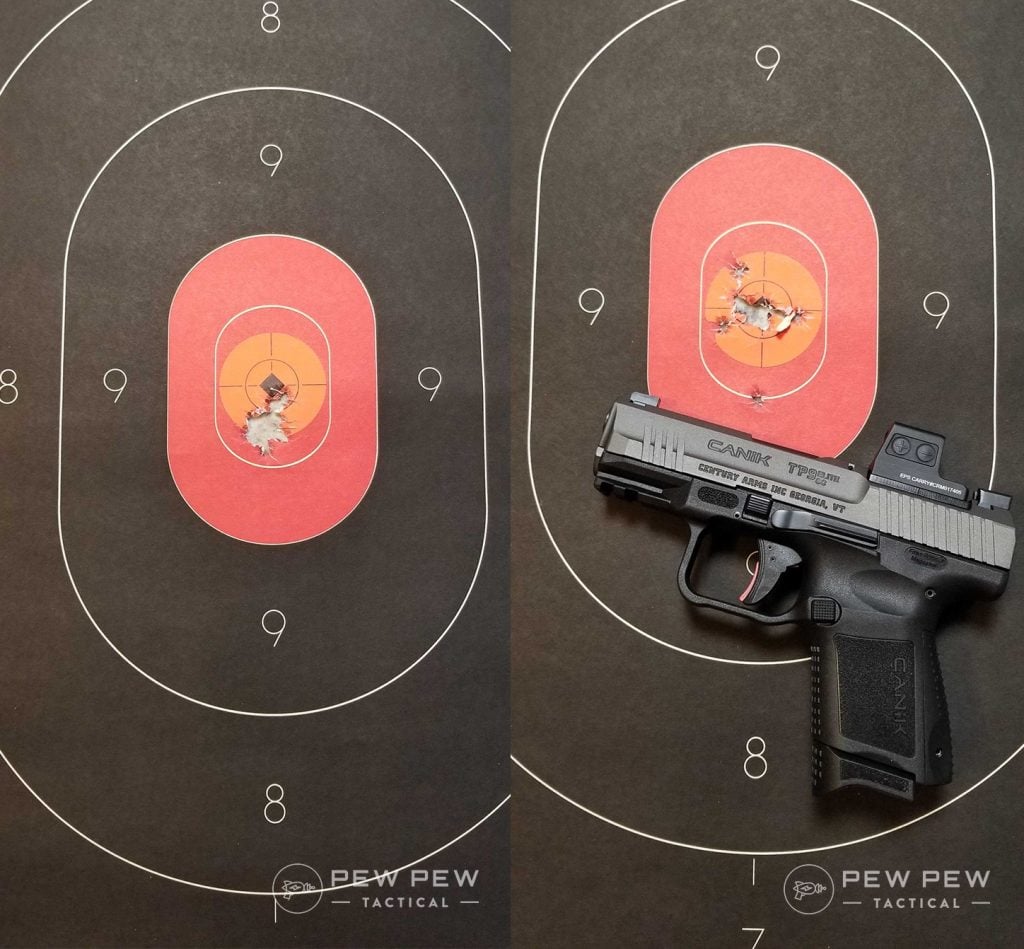 But another contributing factor was definitely the size of the gun. I genuinely believe the larger grip of the Elite SC allowed me to shoot this gun better than the Canik Mete MC9 I tried.
Having more grip surface helped me stabilize the firearm both during accuracy and speed shooting. Being a 3.6-inch barreled gun, it has some muzzle flip. Despite this, I found it relatively easy to control and not objectionable at all.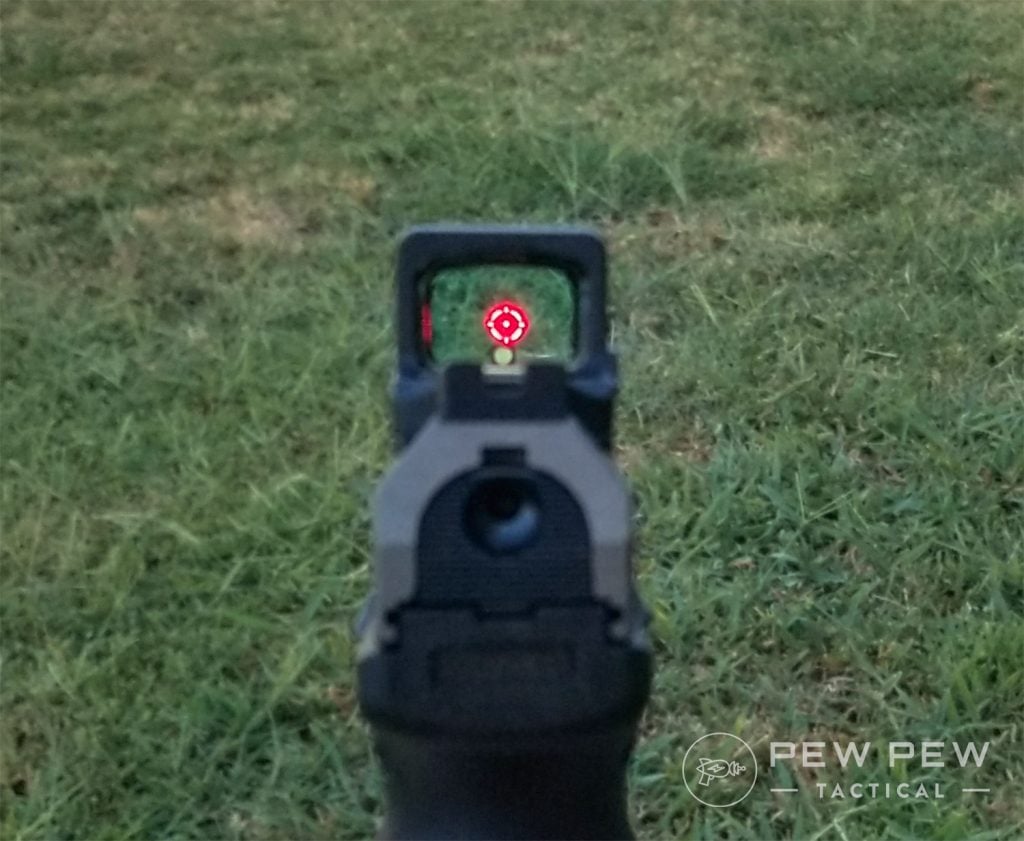 The quick trigger reset made follow-up shots easy to place. Overall, the controls and gun are easy to manipulate when doing fast reloads.
Reliability was excellent. I suffered zero malfunctions through 500 rounds. It ate various types of 115 and 124-grain FMJ ammo and also functioned perfectly with Speer Gold-Dot 124-grain +P hollow points.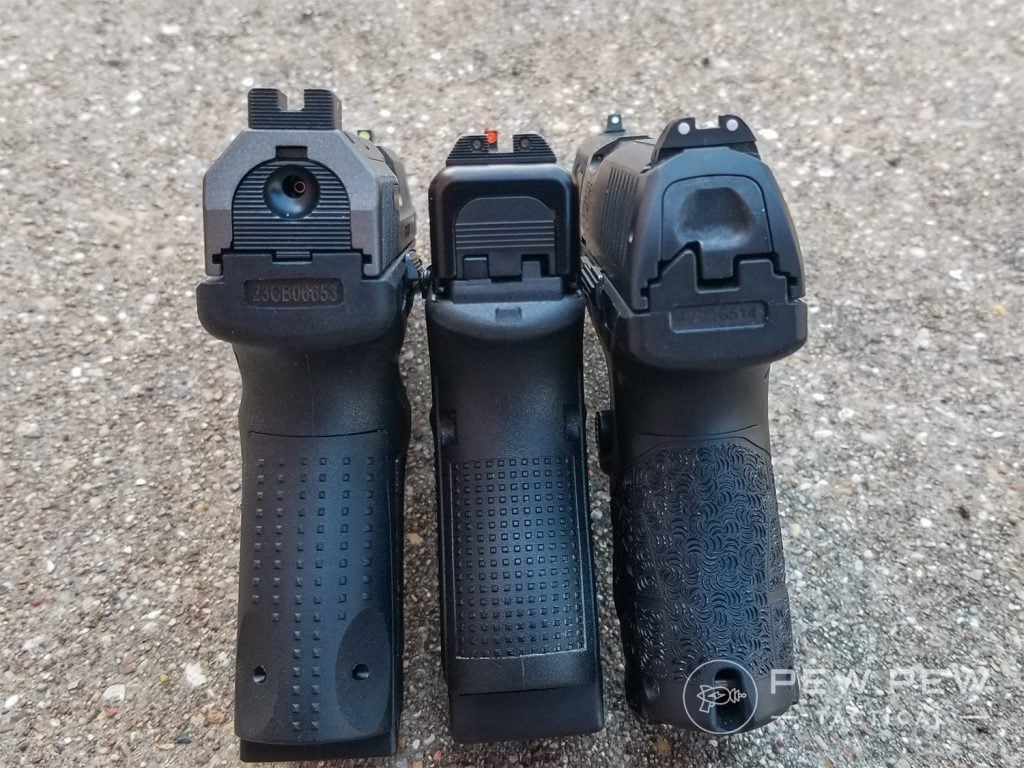 What Sets The Canik TP9 Elite SC Apart?
As I predicted before, the details and the value set this gun apart from its peers.
For $350-400, you are getting a very accurate firearm with a stellar trigger and some great features. There is a reason it made the list for our 5 Best Affordable Handguns.
No paying extra for an optics-ready version, no having to mail in forms to get your optics mounting plates, and hell, they even include an IWB/OWB holster with the gun!
Canik provides everything you need out of the gate to get going.
By the Numbers
For how small this gun is, I was able to squeeze some impressive accuracy out of it, even on days when I wasn't shooting well.
I had zero malfunctions across 500 rounds and various ammo types.
An optics cut and Picatinny rail allow for mounting of accessories. Threaded barrels and a few other select aftermarket parts are available. Holster selection is limited.
I would like a more aggressive grip texture and a lower bore axis, but controls are laid out very well and the gun feels good when you are shooting it.
Between the trigger, accuracy, and what you get in the box, the value is nearly unbeatable.
This is an excellent shooter that brings a ton of value to the table. As long as you are okay with a slightly wider/taller gun, and a less robust aftermarket, this is a tough gun to beat.
See how we rate guns & gear in our reviews. Learn more >
Canik TP9 Elite SC Upgrades & Accessories
Final Verdict
Yes, the Canik TP9 Elite SC is a wide-boy, and you do sacrifice some concealability.
However, you get a gun that is, in my opinion, a better shooter than its slimmer Mete MC9 brethren. If you shop around, you may be able to find it for less than the MC9 as well.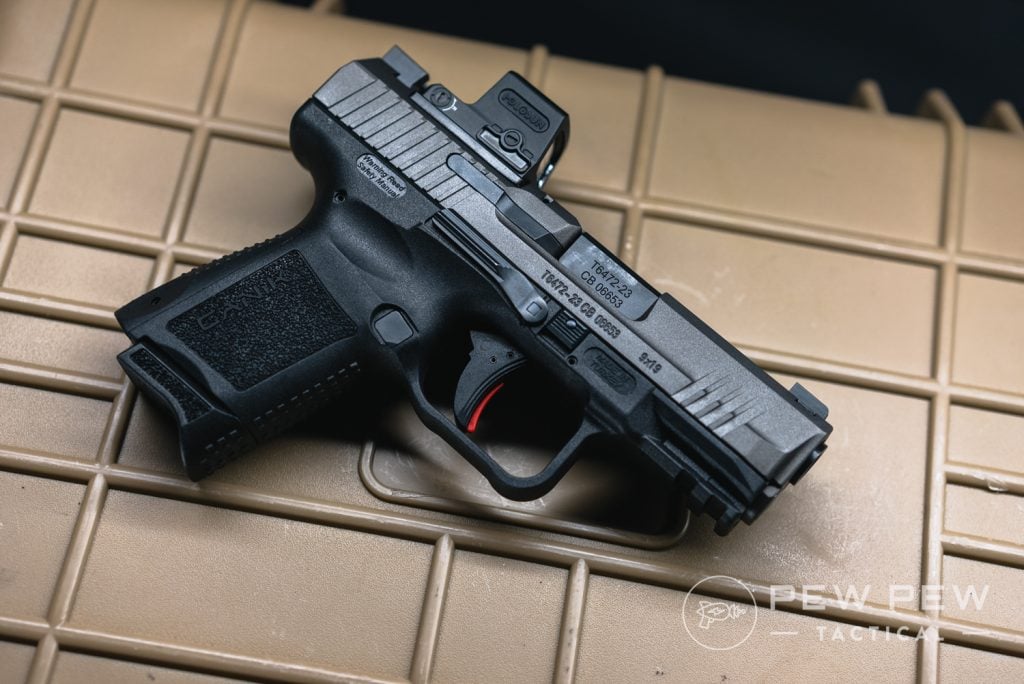 Not everyone has $500 to spend on a P365, Glock 26, or other more popular options. Sometimes that $50-100 difference can make or break a purchase.
Canik knows this, and with the TP9 Elite SC, they have ensured you get every last dollar's worth out of this excellent concealed carry piece.
385
at Kygunco
Prices accurate at time of writing
Prices accurate at time of writing
Do you have any experience with the TP9 Elite SC? Let us know your thoughts in the comments below! Interested in other bang-for-your-buck handguns? Check out our article on the Arex Delta Gen 2 M!
Credit: Source link