We select and review products independently. When you buy through links on our site, we may earn a commission, which help support our
testing. Learn more.
Let's say I wanted a rifle, chambered in 5.56, with a 16-inch barrel, and I wanted it to be about the same size as an SMG.
Some may say I'm crazy, others may have seen the title of this article, and are also be Die Hard aficionados.
If you were in the latter group, you'd know that this is possible with guns like the Steyr AUG.
The Steyr AUG is a bullpup rifle that manages to pack a lot in a little space. It does this by placing the action behind the trigger group. This includes the magazine, bolt, and ejection port.
1799
at Bereli
Prices accurate at time of writing
Prices accurate at time of writing
What the engineers at Steyr did was create a simple rifle, that incorporated a 16-inch barrel in a gun the same size as an SMG. Seriously, let's use Die Hard as a reference because…I love Die Hard.
The Steyr AUG is only 28.15 inches with a 16-inch barrel and its chambered in a rifle caliber. That's a pretty substantial rifle in a tiny package. That's the magic of a bullpup.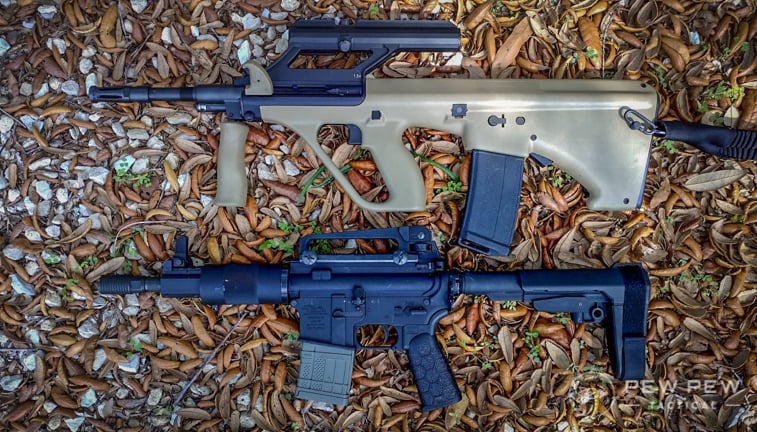 Smaller guns are easier to handle in close quarters, but in rifle calibers that usually means a shorter barrel.
A shorter barrel in a rifle caliber usually means less range and a drop in ballistic performance. The Steyr AUG is the best of both worlds in many ways.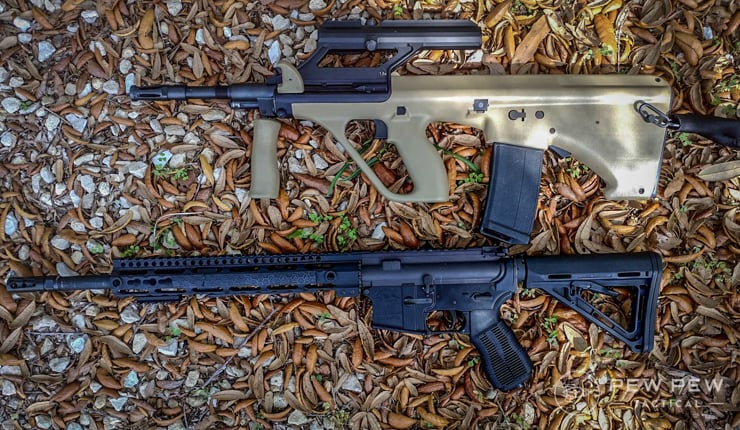 Table of Contents
Loading…
Steyr AUG A3 M1 Specs and Features
Specs
Caliber
5.56 NATO – 223 Rem
Barrel Length
16.4in / 16in
Features

Adjustable short-stroke gas piston

Quick detach barrel

10, 30, and 42-round magazines available

16″ cold hammer forged barrel
The Steyr AUG's current incarnation is the Steyr AUG A3 M1. This particular rifle sports a 1.5x optic, but is available with a 3x optic, or no optic and a scope rail. This is the NATO model, so it does accept AR 15 magazines.
The downside is that you lose the ability to swap the gun to a left-handed configuration. With the standard model you can do that, but has to use the less common AUG mags. Although, the 42 round semi-transparent AUG magazine has a place in my heart.
The gun weighs 8.8 pounds with an optic, and in the world of lightweight ARs, it's a little hefty. However, once you pick it up the balance is perfect. The slightly heavier than average weight isn't that significant.
The optic on the gun sports Pic rails for attaching a small red dot, or whatever else you may want. There is also a small section on the left-hand side for an accessory. It is perfect for a light attachment.
A Streamlight TLR-1 with a simple switch lever works well here. It's made for a pistol, but due to the rails placement near the support hand, it's easy to turn on and off.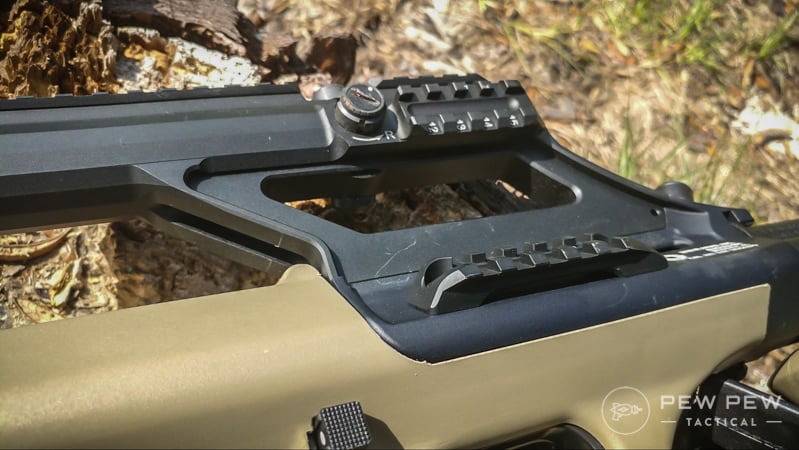 Other than that there isn't much room for accessories. You can't load this thing down like a traditional AR, but do you need to?
One of the cool features is how easy and quick you can remove the barrel. Right above the folding pistol grip is a small button, you move the button forward with one hand and pull the barrel with the other. Bam, it's off.
In the past Steyr produced the AUG para kit which allowed you to convert the gun to 9mm with just a few changes, the barrel is one of them. Those kits seem few and far between these days.
You can swap the barrels out though. You can add a 20 inch, or even a 24-inch barrel to your AUG. This allows to convert the AUG to a DMR style weapon or pretend it is the squad support model of the AUG.
Ergonomics
This is my first real experience with a bullpup. I've played and toyed with some in the past, but this was my first time running and gunning with one. I'm keeping that in mind as I judge ergos.
Base Ergonomics
Everything feels right about this gun. The stock is nice and full and fits comfortably into the shoulder. The 15-inch LOP is excellent with or without armor. (Disclaimer I'm also 6'4" and have gorilla arms.)
The grip angle is perfect, and it better be because it can't be changed. I've always like vertical foregrips, and this one works as intended. Without it, you wouldn't have much space to grip the rifle.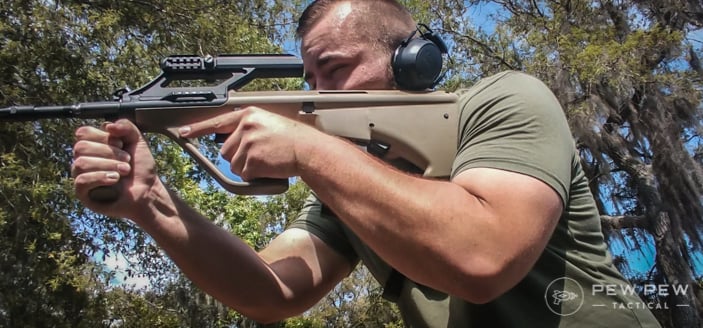 Since this gun doesn't have a proper forend trying to rest it on barriers is almost impossible. Also if you don't like the location of the VFG… Well too bad, because it can't be moved.
Lastly, the gun is equipped with two QD sling swivels for right-handed users only. Perfect for my favorite Blue Force Gear Vickers sling.
55
at Brownells
Prices accurate at time of writing
Prices accurate at time of writing
Reloading
As a Marine and AR owner, I'm used to a more standard layout, and my muscle memory was clinging to that style. It took a lot of practice both dry and live fire for me to master the ergos. Admittedly reloading is nowhere near as intuitive as an AR or standard layout rifle.
I did a lot of practice reloads and eventually found my way of reloading efficiently, but I don't feel I'd ever be as fast as I am with a standard rifle. The gun has two mag releases and both work depending on your style of reloading.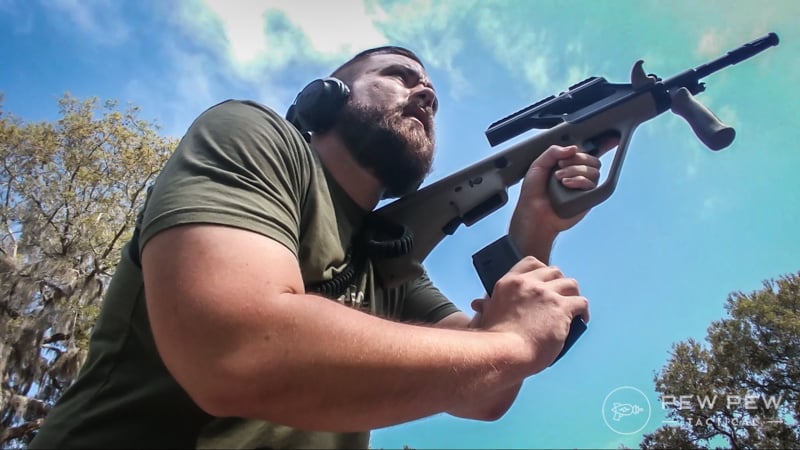 The first is a small button forward of the magazine well. The second is a rear lever placed right behind the magazine. I prefer the rear lever. If I keep my thumb pointing up on my fresh magazine my thumb presses the lever up and releases the magazine.
I grip it with the same hand, remove it, reload, and carry on.
Controls
The controls used outside of reloading are very simple and intuitive. The charging handle is placed on the left side and easy to reach and use. That being said it takes a little force to get that bolt back.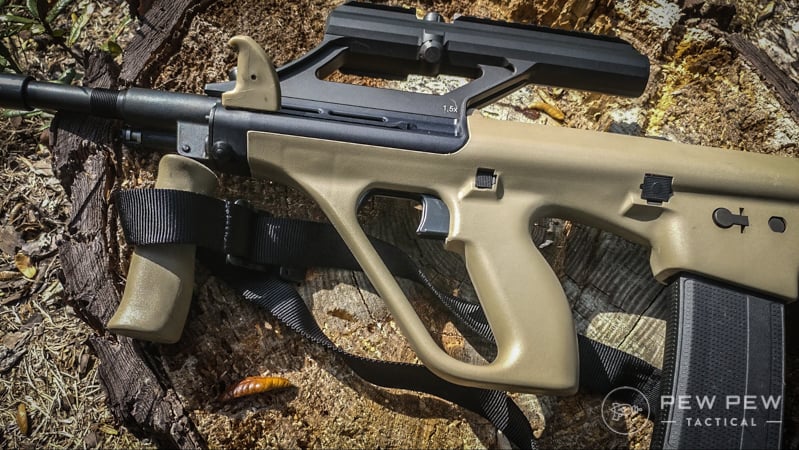 The safety is just a square push button, and it works as intended, is easy to use, and provides a tactile method of knowing what state your rifle is in.
Live Fire
The gun points exceptionally well. It feels so natural to take it from low ready to high ready and fire. It's short size, and excellent balance comes into effect here. It points so well it's honestly easy to fire with one hand.
I'm no physics buff, but the fact that most of the gun is to the rear and barely any barrel is forward of the shooter means the muzzle is much easier to control. Remember the exaggerated C-Clamp so many guys use with ARs?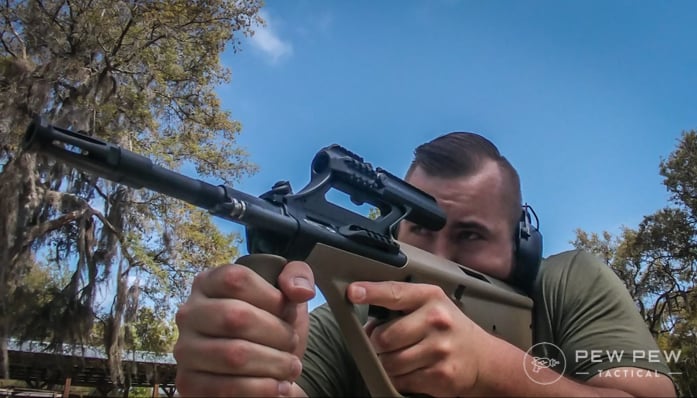 The same theory is in effect here. Recoil is typical of a 5.56 caliber weapon, so there isn't much to say other than its minimal and pleasant.
The most prominent downside to the AUG is its trigger. If you run Timneys in your AR, then you will be aghast at the AUG's trigger. It's functional, but far from the match grade performance many of us are accustom to.
It's squishy, the pull is long, and it's quite gritty. It's 9 pounds, and you feel every ounce of it. I wouldn't take it to an NRA High Power match, or a precision rifle contest. With that said it's not bad enough to make you miss, just bad enough to open up your groups a bit.
Uses
This rifle could be used for a wide variety of purposes. It's certainly an exciting gun to bring to 3-Gun, albeit reloading may be a little tricky for speedy purposes. It's certainly a great home defense weapon.
The compact size is perfect for inside the house and close quarters use. It's balanced well, in a competent caliber, and even equipped with a suppressor it's still roughly the same size as a standard AR 15.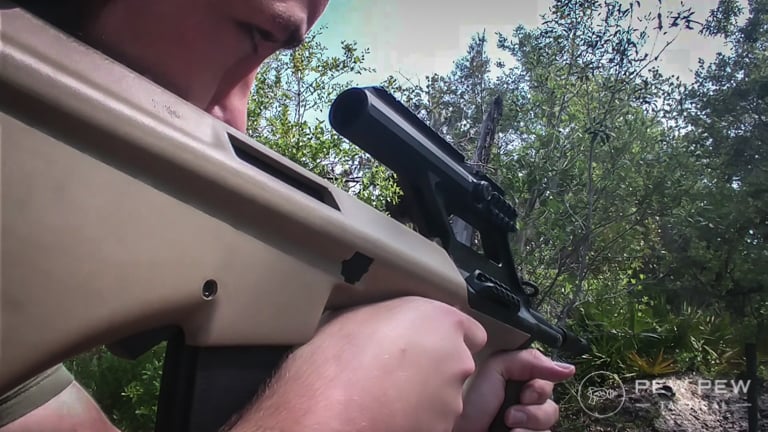 As a duty gun, it's served several countries exceptionally well. At one point it was even adopted by the Department of Homeland Security. The AUG is one of the longest-serving bullpup rifles out there and its proven in terms of reliability and usefulness.
It's an excellent gun for smaller shooters who want to exercise the most control over their weapon possible. It's got a great length of pull, gives the shooter an excellent degree of control over the gun, and with a little time and effort put into training, the controls are flawless.
The last use is, of course, the best one, it's fun. It's fun to shoot, it looks like a space gun, and its a dream to shoot. Plus, it's excellent for shooting glass. (last Die Hard reference I promise.)
Steyr Aug Upgrades
We all like accessorizing our guns, but unfortunately, the AUG doesn't have a massive aftermarket. There are a few companies producing some excellent, high-quality upgrades. Corvus Defensio comes to mind immediately.
The big problem is that the AUG itself doesn't leave a lot of room for customization. It's a simple weapon, and it was designed over thirty years ago.
Steyr AUG A3 M1 Gun Deals
Palmetto State Armory
Save $700
Steyr AUG A3 M1 Pros & Cons
Pros



Compact




Quick-change barrels




Rugged
Cons



High MSRP




Sub-optimal trigger
The Bottom Line
Overall, a well designed platform that's reliable and accurate.
By the Numbers
Reliability 5/5
The thing never went click when it should have gone bang. I went through everything from nice TAP ammo to cheap Tula and it worked. No issues ejecting, loading, or firing. The AUG has been around long enough that any such problems would be corrected by now.
Ergonomics 3/5
The gun gets really high marks in some areas and low marks in others. The trigger kinda sucks and I'm taking a point away solely for that. Reloading is an iffy proposition, and will never be AR fast, but with practice, it's intuitive enough. The other big flaw is that should the gun have a failure the placement of the ejection port makes squick access difficult.
Accuracy 4/5
The gun is quite accurate and capable of producing respective groups. It well beyond Minute of Bad Guy accuracy and out to several hundred yards I can hit the chest area of my targets. The trigger is kinda crap takes a point off.
Accessories and Upgrades 2/5
I'm going to give it one point for the barrel and bipod options and 1 point for potential. The Steyr AUG is so simple it seems like it would be easy to do caliber conversions, offer different forward grips, and really change things up. Unfortunately, the rifle isn't popular enough in the US to receive the AR treatment.
Looks 5/5
So this is obviously subjective and my 5 rating is clearly based on a lot of inherent bias about this gun. It looks cool to me. Sorry, but it always will. Objectively I can say the finish is nice and evenly applied, and looks smooth and classy. The stock's FDE mixed with the black metal gives a nice balanced look of colors.
Bang for Your Buck Value 2/5
This is not a cheap gun by any stretch. It's not even really a cheap bullpup these days. On average it's at least 500 bucks more than the base model of the Tavor. Compared to the AR market it's even higher than some nice Daniel Defense AR rifles. I'm giving it a 2 because if you want an AUG it's really your only option… and it's not FN SCAR money.
Overall 3.5/5
The Steyr AUG is a great gun. It does have some flaws, and if it was available for around 1,500 bucks it'd be a real winner. This particular model typically retails for over 2k and that's a hard sell. It's a straight-shooting, compact, and well-designed platform that shows us what a bullpup can really do.
1799
at Bereli
Prices accurate at time of writing
Prices accurate at time of writing
Do you have an AUG? How do you like it? What other bullpups do you love (Best Bullpup Rifles & Shotguns)? Most importantly, what is your favorite Die Hard movie? Let us know in the comments!
Credit: Source link