Taurus is known for affordable pistols, and its latest entry into the micro-compact 9mm market…the GX4XL, looks to continue that tradition.
Between the standard GX4 and the XL model, there are a dozen models to slide into any niche in the market…optics-ready or not. (Taurus optics-ready models are labeled "T.O.R.O." – Taurus Optic Ready Option. Get it?). 
I've reviewed all of the "G" pistols listed here before, including the GX4, but this is the first time I've gotten my hands on the GX4XL, the longer-slide version.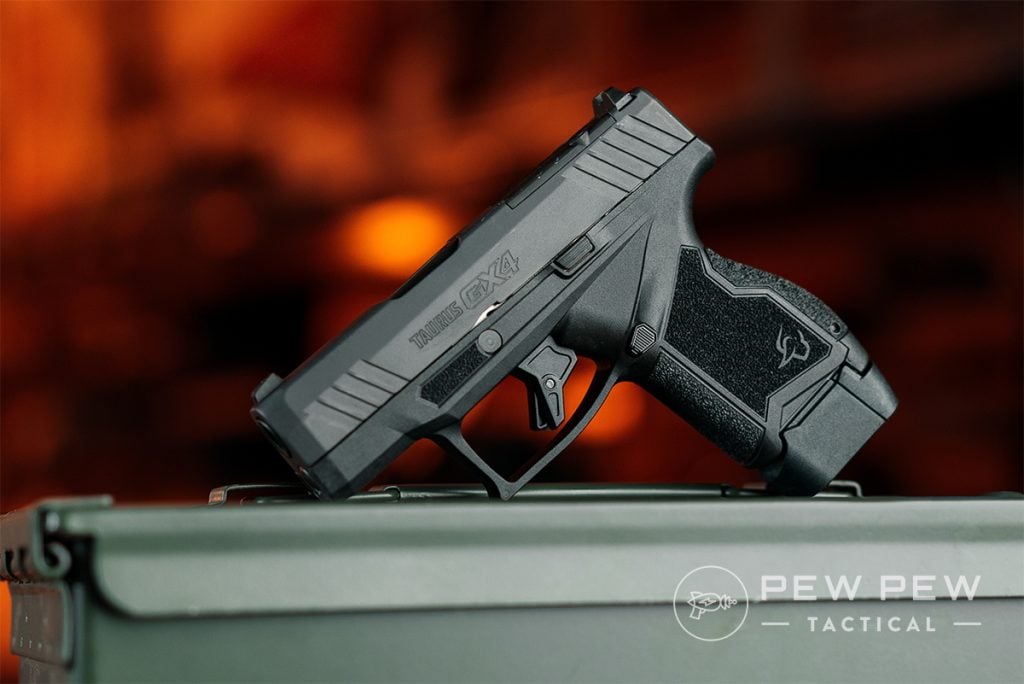 With its longer 3.7-inch barrel over the base model, the slide has been redesigned to add an inch to the overall length. This provides a longer sight radius and a bit more recoil control…but I'm getting ahead of myself.
If you're interested in a steel-sighted, thin 14-shooter that can fit in some pockets, read on!
Table of Contents
Loading…
Taurus GX4XL At a Glance
Pros 
Capacity
Price
Flat-faced trigger
Full-length slide rails
Cons
Trigger pull…it was a bit heavy for my taste.
The Bottom Line 
If you are looking for a 13+1 round 9mm that is reliable, slim, carries easily, and can mount a red dot that won't bust the bank, check this Taurus game-changer out. A street price of around $375 makes this 9mm very attractive.
Specs & Features
Specs 
Width: 1.08"
Length: 6.43"
Barrel Length: 3.71"
Height: 4.4"
Weight (empty): 20.0 oz.
Capacity: 11 and 13-round mag included
Features
Easy take-down  
Extended 13-round magazine
Flat face, serrated trigger
Magazine and grip cuts to aid in magazine stripping
Reversible magazine release
Signature indexing and recoil management finger placement pad. 
Taurus Optic Ready Option (T.O.R.O.)
DLC-coated stainless barrel
Background
Taurus started out several years ago with the PT 111 Millenium. This was a successful entry into the 12-round-mag 9mm market. It came with two mags (as do most Taurus pistols then and now, to the best of my knowledge).
9mm Ammo in Stock
115gr
$0.28
Free shipping & only FL tax
147gr
$0.48
Free shipping & only FL tax
The G2C came next: it featured an upgraded trigger and sights. It was pretty close in looks with the PT, except for the slide engraving.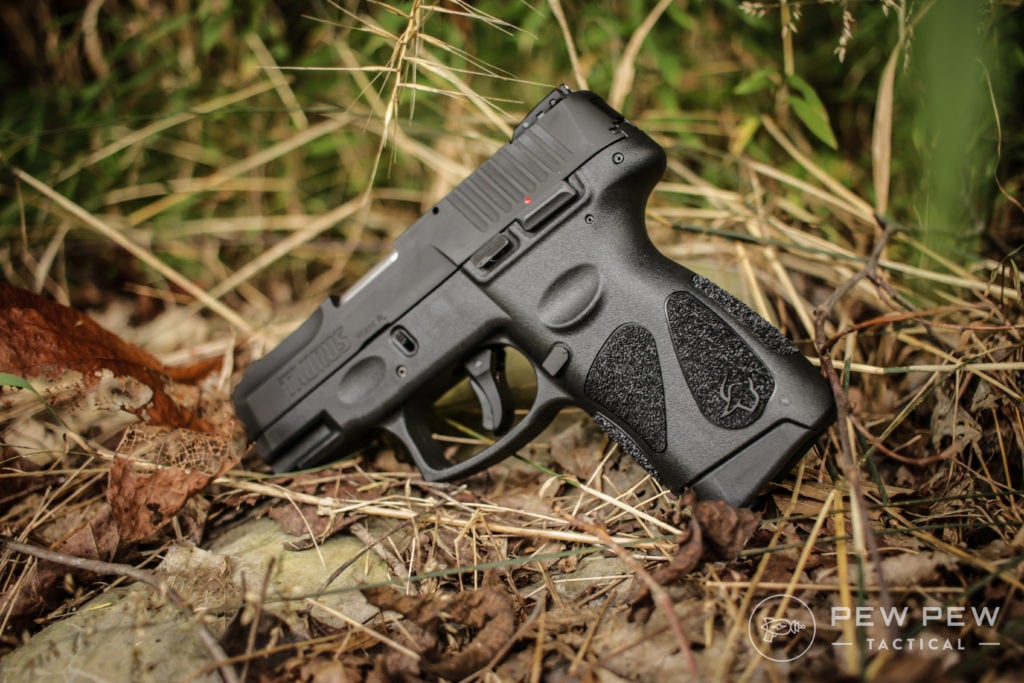 After the G2C, then came the G3C, which is available in full and compact sizes. All of these guns used 12-round magazines with the yellow follower, a Taurus signature.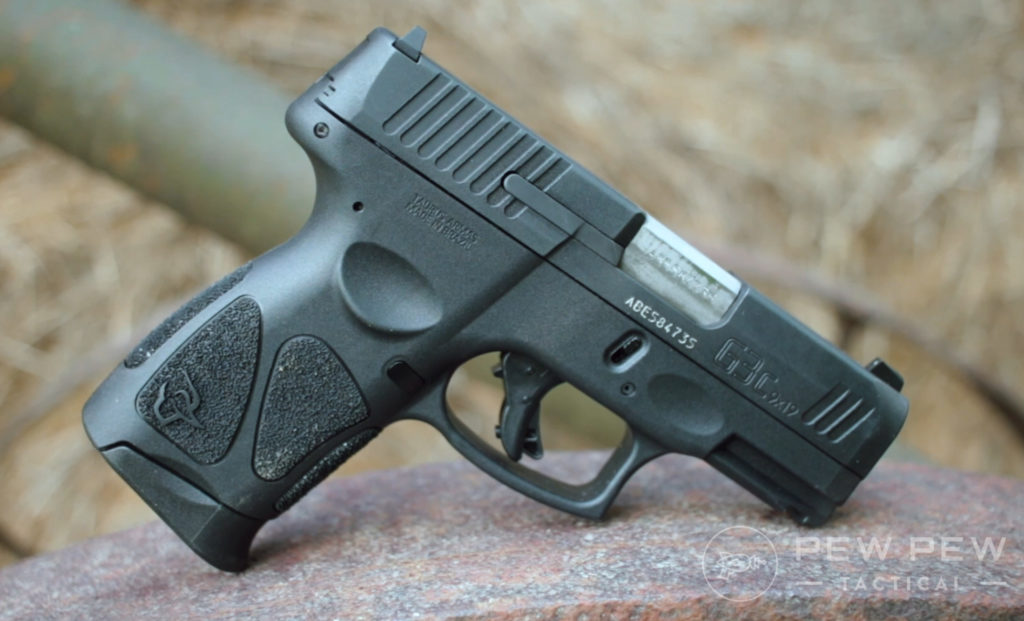 Each succeeding generation added refinements to the pistol: better, crisper trigger, steel sights, etc. Now, we land on the GX4 family, or more specifically, the XL version we have here.
This inch-wide gun has gone "micro", with its stack-and-a-half mags in 11- and 13-round capacity, steel sights that are Glock compatible, updated frame stippling, and other internal features.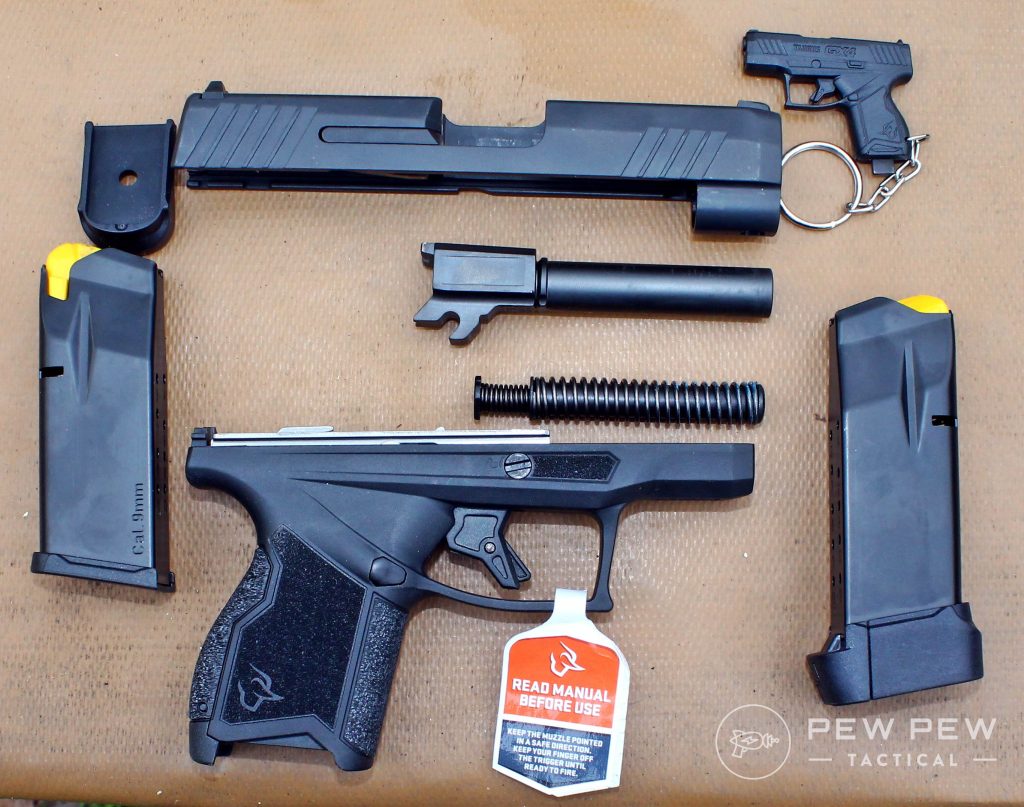 We now have the optic-cut slide model that accepts red dots from, among others:
Shield RMSc
Holosun HS507K X2
Sightmark Mini Shot A-Spec M3
Trijicon RMR cc Red Dot (with adapter plate P/N: 10028170)
They are selling these guns as fast as they can make them, with good reason: they work.
Who Is It For?
The GX4 and its variations are aimed at (pun intended) concealed carriers who don't want to sink major coin into a gun but still want a reliable shooter. I've seen this gun going for under $350. That's a deal, for sure.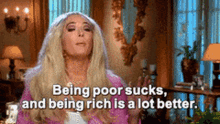 Others may buy it to protect their home or to plink with… it's pretty versatile. Get a couple of extra 13-round mags and a proper holster, and you're set.
Fit & Feel
Taurus has been upgrading its pistols in more-ergonomic ways. They have been trying to get the gun to fit most hands, and you can tell that when you pick a newer-model pistol up.
I remember some of the earlier Taurus pistols and how they felt in my hand —not good— but from the G2 onwards, they just kept getting better.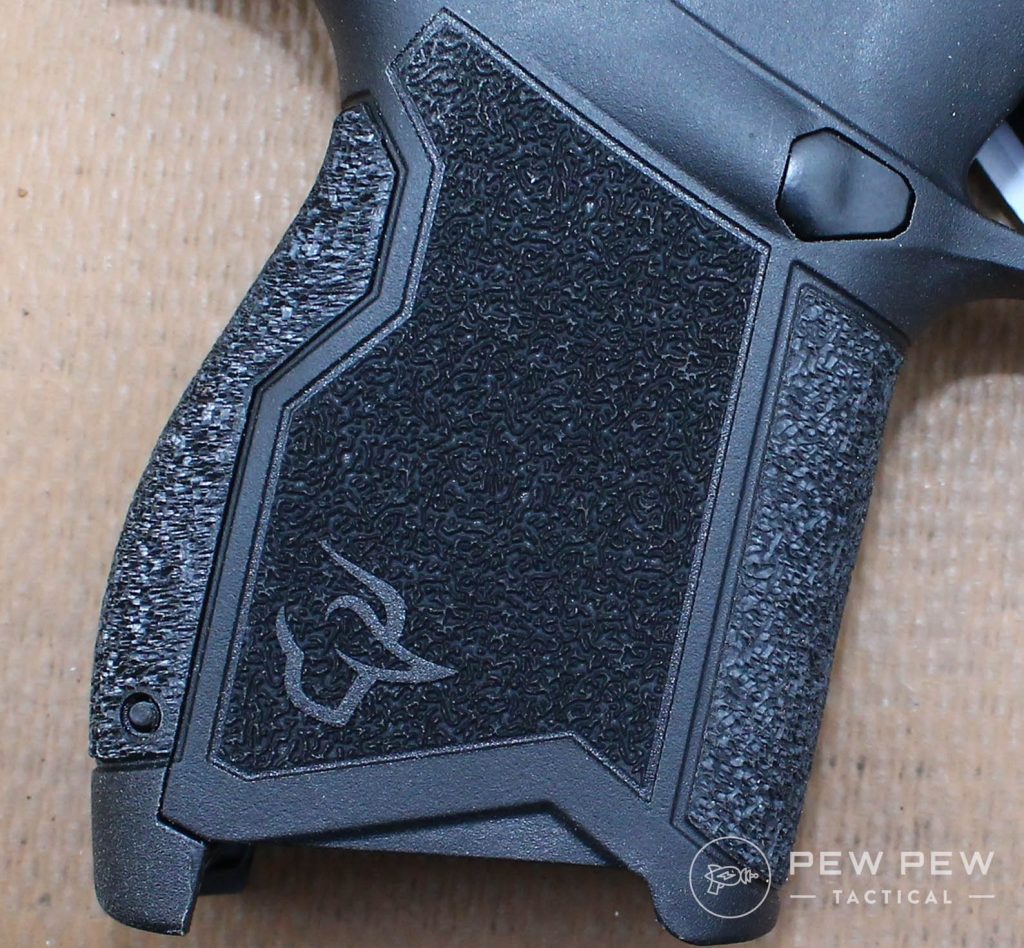 From the just-enough-without-overdoing-it stippling to the trigger's safety lever to the slight palm swell… they do feel better in the hand now than before.
Taurus has done its homework, and adding Glock-compatible sights doesn't hurt anything, either. I like these new Taurus pistols.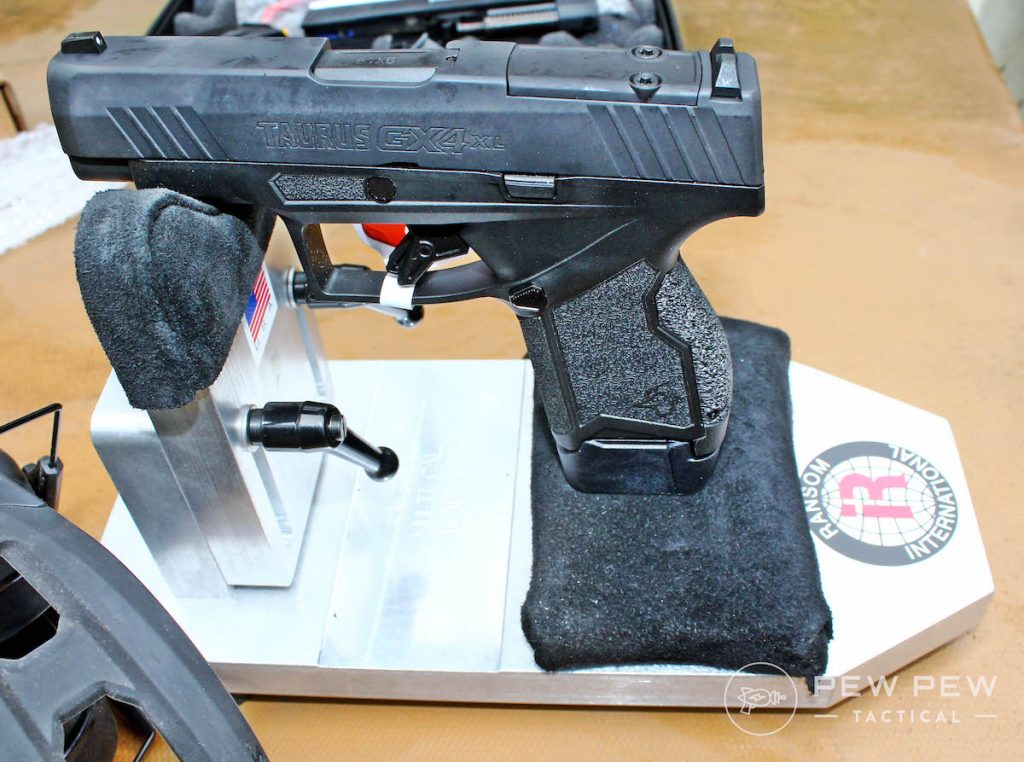 In addition, the company has turned a corner on its QC and customer support woes of past years and is now making guns that tend to work out of the box, from what I've seen.
The fit and feel of the GX4 are proof that Taurus is listening to their customer…this is a competent carry gun at a decent price.
How Does It Shoot?
I grabbed my Ransom Multi-Cal Steady rest, some Walker Game Ear hearing protectors, and the box of Federal 115-grain FMJ I bought specifically to try with the GX4XL.
As with all handguns, it shot to the right for me (that's on me, not the gun), but the 10-yard groups proved that the Federal load would make a good practice round.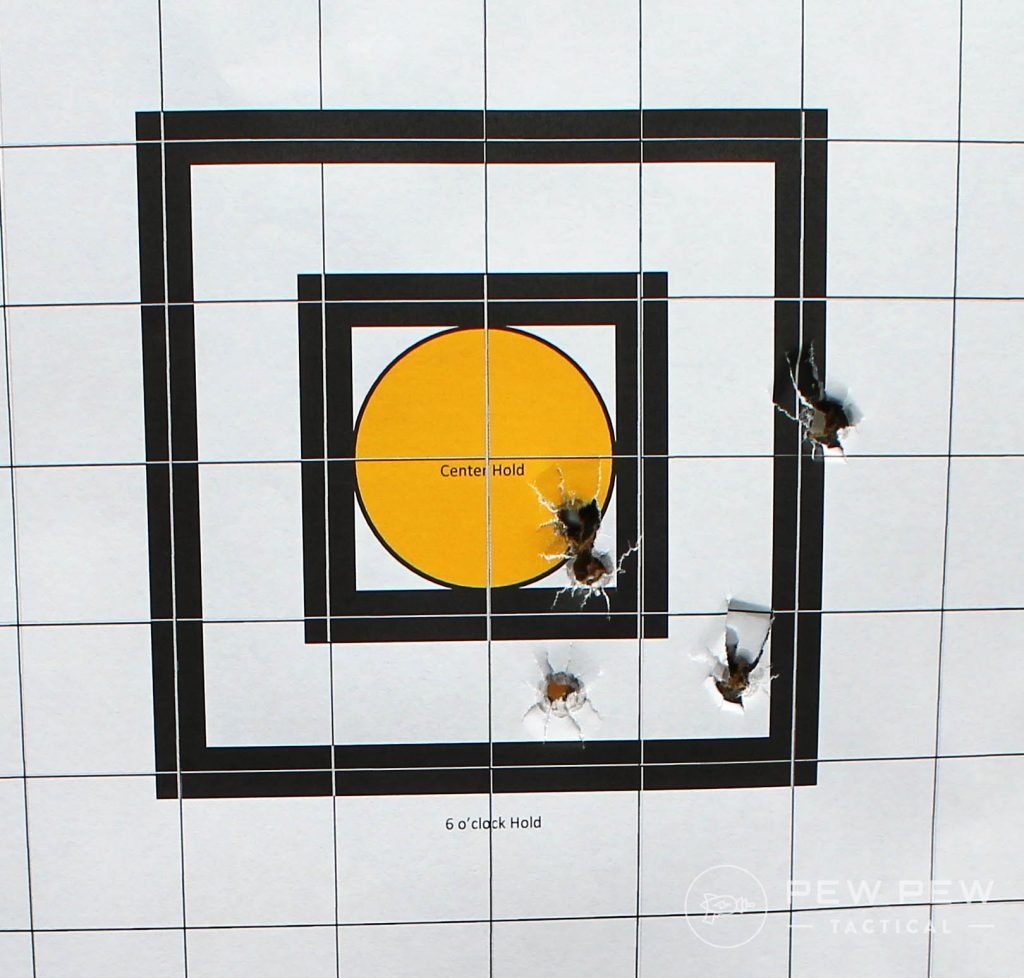 These were not powder-puff target loads but were pushing 1,200 fps out of the 3.7-inch barrel. The gun's recoil could be described as "snappy," but this is what to expect out of a 20-ounce gun firing full-bore training loads.
All in all, it shot very well. The grip texturing really helped keep the gun solidly seated in my hand.
What Sets it Apart?
The editors at Pew Pew Tactical think what really sets this gun apart is the price point. It's a decent, concealable long-slide pistol for under $400.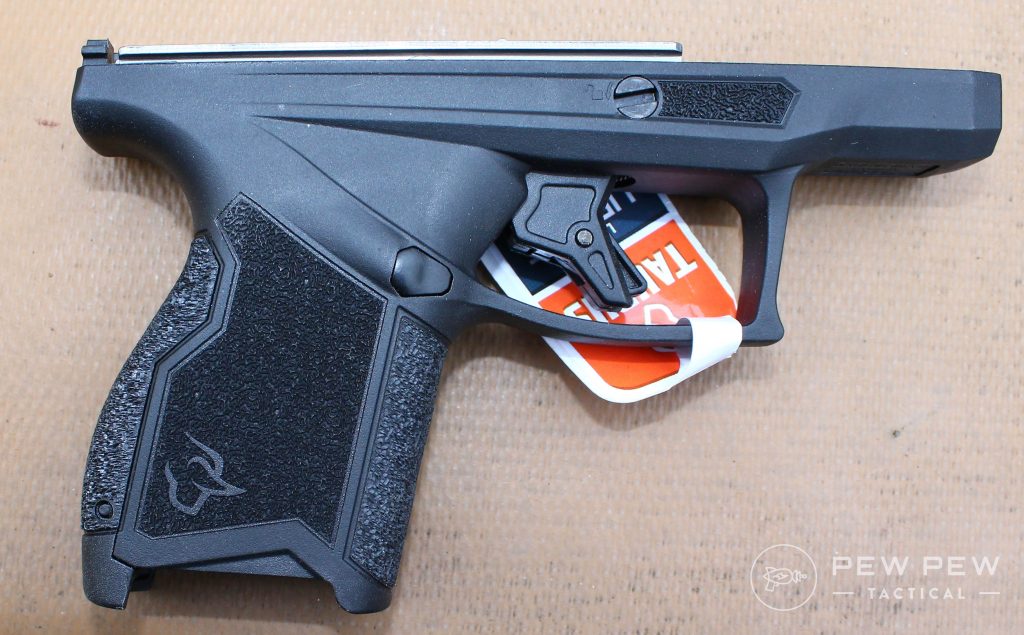 If you're in need of something that doesn't kill your wallet…this is the gun.
| | | | | |
| --- | --- | --- | --- | --- |
| Gun | Capacity | Barrel | Size | Weight |
| G3XL | 12+1 | 4″ | 7.28″x1.2″x5.1″ | 24.4oz |
| GX4 | 11+1 | 3.06″ | 6.05″x1.08″x4.4″ | 18.5oz |
| G4XL | 13+1 | 3.71″ | 6.42″x1.08″x4.4″ | 20oz |
By the Numbers 
Reliability: 5/5
The gun fired and functioned every time it was supposed to.
Ergonomics: 5/5
The re-design of the grip and inclusion of an extra backstrap helps fit the gun to your hand.
Accuracy: 5/5
The gun was more than accurate enough for its intended purpose, self-defense.
Customization: 4.5 /5
Most items for the plain GX4 will work with the larger XL, but you might want to check holsters: I only saw one for the XL.
Value: 5/5
This is a solid gun for anyone wanting a reliable, rugged carry 9mm. Taurus has upped its game with CS; that helps make this a good buy.
Overall: 4.5/5
Upgrades for the GX4XL
If you looking for a holster for an XL, there are a few out there floating around. Again, this is a decent carry gun, so why not carry it?
Swap out the sights if you want…we have a list of the best Glock sights out there here.
Also, don't forget about lights if that's your thing. And, you guessed it, we got recommendations on those as well.
Final Verdict
If you are in the market for a 10-round-plus capacity carry 9mm, give this Taurus a hard look.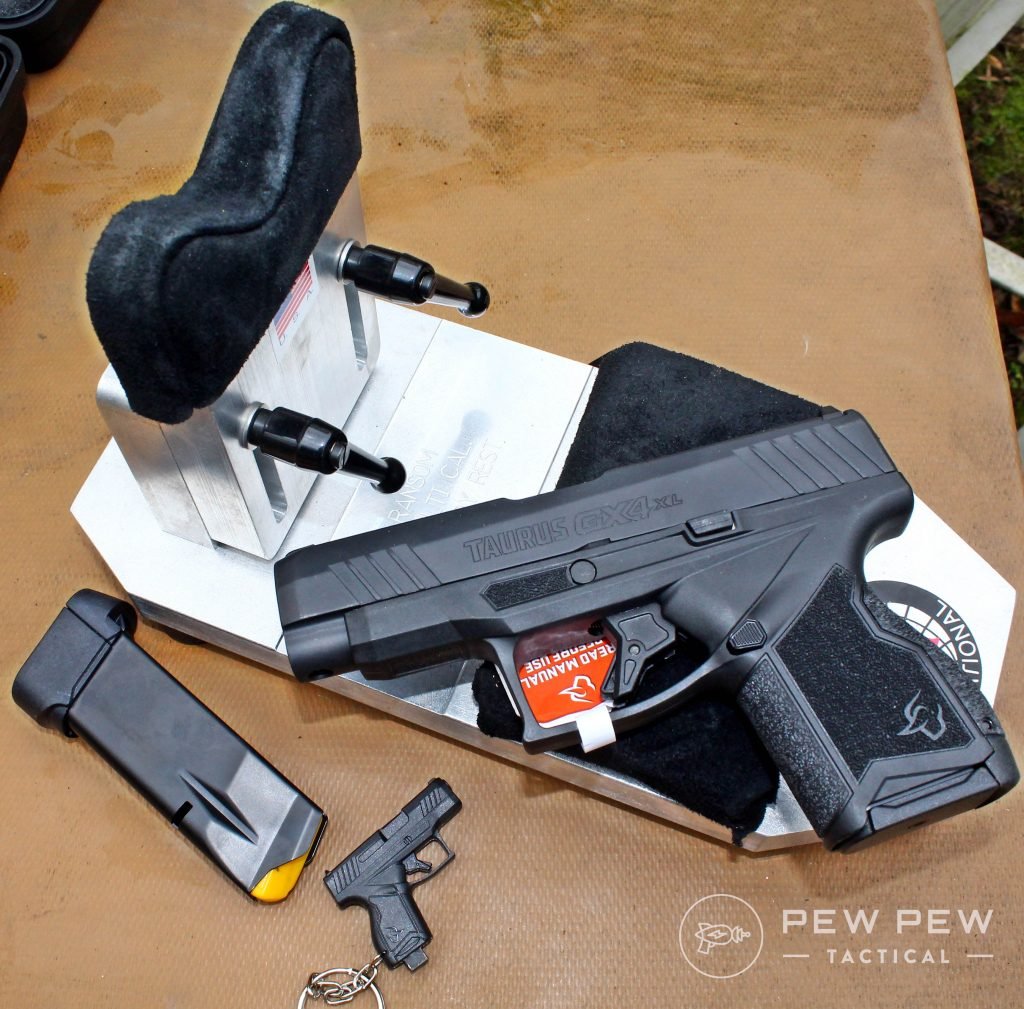 For under $400, you get a well-built pistol that uses full-length guide rails, an improved trigger, Glock-interchangeable sights, and a decent capacity of 11/13 rounds. That's not to mention the optics options you have in the red dot arena.
You might want to give one a try. Taurus is truly a different company now, and the GX4XL is proof of that. 
What do you think of the Taurus GX4XL? Give us your thoughts in the comments below. For more affordable options, check out our list of the Best Concealed Carry Pistols Under $400.
Credit: Source link