If you're looking to build a precision AR in 6.5 CM, here are the 10 best 6.5 Creedmoor uppers to do it with.
Swapping a .308 upper for a 6.5 Creedmoor upper can extend your effective range, make hits at distance a little easier and reduce the punishment inflicted on your shoulder. 
Pop the upper onto an existing .308 lower that you already have—or buy one to put the rifle together, whatever the case may be—and presto! You have a 6.5mm Creedmoor rifle. That's the beauty of the AR platform, whether it's a .308/AR-10 type or AR-15 in the smaller calibers. 
Which 6.5 Creedmoor upper should you get? What should you look for when shopping for one? Why should you bother? All great questions which we're going to go over in this guide. 
Why Build Your Own When You Can Buy A Whole 6.5mm Rifle? 
Why bother with building or assembling your own rifle? 
It's fun, it can be less expensive than buying a whole new rifle and you can get the exact feature set that you want or need. 
Lightweight and streamlined for hunting? A benchrest/precision rifle? Somewhere in between? It's all possible, and it's all up to you. 
Will A 6.5 Creedmoor Upper Fit On A .308 Lower? 
A 6.5mm Creedmoor upper can absolutely drop onto a .308 lower. The cartridges are almost identical in most dimensions, so you don't even need to change the bolt.  While .308 Winchester may not be the parent case of 6.5mm Creedmoor (.30 Thompson Center is), the rim diameter (0.473 inches) is the same on both cartridges. 
However…you do need to make sure that you have the right type of .308 lower receiver. This affects not only compatible uppers but also the magazine type that has to be used with the rifle. 
Generally speaking, there are two patterns. 
First is the Armalite pattern, the lower receiver design of the original AR-10. 
Today, only a few companies make Armalite-pattern receivers. Outside of Brownells reproductions, only the modern Armalite brand, Knight's Armament and Noveske (among brands anyone's heard of) do so.
Second is the DPMS .308 pattern lower receiver which was created by DPMS/Panther Arms and is far and away the most common today. 
The DPMS .308 pattern has been copied by dozens (if not hundreds) of companies, including Aero Precision, Palmetto State Armory, Fulton Armory, Remington, CMMG and more. If you have a .308 AR rifle, it's probably a DPMS pattern. 
DPMS-pattern lowers must use DPMS-pattern magazines, and Armalite-pattern lowers must use Armalite-pattern magazines. Additionally, Armalite-pattern lowers are only compatible with Armalite-pattern uppers, and DPMS-pattern lowers require a DPMS-pattern upper. 
Ergo, know what pattern your lower is before selecting a 6.5mm Creedmoor upper.
6.5mm Creedmoor Upper Features
Now that you know about lower compatibility, let's talk about what upper features you need to be aware of to fit the upper to your intended purpose, starting with the barrel. What length of barrel is best for shooting 6.5mm Creedmoor out to 1,000 yards? Generally, 24 to 26 inches is ideal. More barrel means more velocity upon exit, and since the ballistic coefficient is affected by velocity, more barrel is more better. 
For hunting, 24 inches would be preferred if you intend on taking game at serious distances, but the increased handiness of a 20- or 22-inch barrel would probably be the better move for most hunters.
That said, 16-inch and 18-inch barrels are available as well if you prefer to have as compact of a rifle as possible. 
The 6.5mm Creedmoor rifles adopted for military service (such as the SR-25/MK110A3, FN SCAR and others) have barrel lengths that range between 16 and 20 inches, so the round can clearly still perform effectively with these shorter barrel lengths.
An 18- or 20-inch barrel is a good choice for a general-purpose rifle, but those who want or need the benefits of higher velocity (whether for ballistic or terminal ballistic reasons), a 22- to 26-inch barrel length would be the better choice. 
As to barrel profiles, you won't hold a benchrest or precision rifle offhand much, so get the heaviest you can stand. More rigidity will produce less barrel whip and a slower rate of heating, minimizing barrel shift.
Hunting rifles have classically had sporter or pencil profiles, as thin as possible to save weight. While a pencil barrel is a good choice for that purpose, a varmint barrel with fluting can get you a bit of the best of both worlds. 
The twist rate is also an important factor to consider. If you're going to be shooting heavier bullets either for competition or hunting, the slower the twist rate the better. 
Most 6.5 Creedmoor upper assemblies/barrels have a twist rate of 1:8 (perfectly fine for most applications including match shooting and hunting), but you may want to consider 1:7 or 1:9 as well depending on your intended application and load. 
As to gas system length, rifle and extended rifle gas systems are most common for 20-inch and longer barrels while 16- and 18-inch barrels typically feature mid-length gas. 
As a general rule, the longer the barrel, the longer the gas system should be. For a 22- or 24-inch barrel, an extended rifle (sometimes called Rifle+ or Rifle XL) gas system would be the best choice.
The 10 Best 6.5mm Creedmoor Upper Assemblies
Knight's Armament 6.5mm SR-25 Precision Rifle Upper 
As genuine as the genuine article gets. A Knight's Armament SR-25 upper receiver with a Knight's URX 4 M-LOK handguard, 22-inch match barrel with 1:8 twist, rifle-length gas system and KAC three-prong (suppressor-capable) flash hider. 
An SR-25 (or Armalite pattern) lower is required. Knight's Armament is one of the finest rifle makers in the world, and this upper is made for serious use. However, you'll pay for the privilege with street prices close to $4,500, but it's also probably the single highest quality 6.5 Creedmoor upper you can get. Site: knightarmco.com
Bear Creek Arsenal BC-10 6.5 Creedmoor Forged Upper 
True, Bear Creek Arsenal is probably not duty grade…but what they ARE great for is getting a person started for an attainable price point.
BCA's BC-10 uppers are compatible with the DPMS Gen 1 low-profile lower. You have your choice of 18-, 20-, 22-, and 24-inch barrels with various profile and finish options. The upper comes with an M-LOK handguard, a flat-top receiver and a Bear Creek bolt carrier group. 
MSRP starts at about $300. Again, these are for the casual shooter who wants to do some plinking and see what 6.5 CM is all about. Site: bearcreekarsenal.com
Roam R-10 Great Plains URG
The Roam R-10 is arguably the best choice for a lightweight field rifle. Roam changes aluminum for magnesium wherever possible to save weight, resulting in an upper that weighs no more than 5 pounds and is compatible with both DPMS and SR-25 lower receivers. 
It features an 18-inch heavy-profile fluted barrel, a JP Enterprises BCG, a Radian charging handle and a 17-inch split-top handguard. You can also choose between a slick-side or forward assist upper receiver and a black, FDE or tungsten finish. 
Roam rifles are built with the backcountry hunter in mind but come at a premium due to the components used. MSRP is $1,749. Site: roamrifles.com
Aero Precision M5 6.5 Creedmoor Upper 
Aero Precision also offers a good 6.5 Creedmoor upper for a general-purpose rifle build at an attainable price point. The M5 upper receiver is compatible with DPMS-pattern lowers and is available with 16-, 18-, 20-, 22- and 24-inch stainless heavy-profile barrels with the choice of either an Aero ATLAS R-ONE (railed top) or S-ONE (split top) M-LOK handguard. 
MSRPs range from about $600 to $820 depending on features, but some models can be found for $600 or less online with some hunting. However, no bolt carrier group or charging handle is included. Site: aeroprecisionusa.com
Daniel Defense DD5 V4 URG 6.5mm Creedmoor 
The DD5 V4 6.5 Creedmoor upper is another great choice for a general-purpose rifle and features the build quality that Daniel Defense is known for. 
The upper sports an 18-inch cold hammer-forged nitride barrel with a rifle-length gas system, a 1:8 twist, an adjustable gas block and a suppressor-ready flash hider. It also includes a Daniel Defense M-LOK handguard with a four-bolt mounting system and a Daniel Defense bolt carrier group. 
The hitch is that you'll have to drop it onto either a Daniel Defense DD5 lower (hard to come by) or an Armalite-pattern lower, as the upper is not compatible with the DPMS pattern. Street prices are around $1,900. Site: danieldefense.com
CMMG Endeavor Mk3 6.5mm Creedmoor URG 
The CMMG Endeavor Mk3 upper receiver group comes with a slick-side upper receiver and a split-top railed M-LOK handguard. The 416 stainless steel barrel features a medium contour, a nitride finish and a 1:8 twist. The package is offered with either a 20- or 24-inch barrel length, but both styles come with a rifle-length gas system and a CMMG Zeroed muzzle brake.
Both versions are also compatible with DPMS Gen 1 lowers. A CMMG bolt carrier group is included, along with an ambidextrous charging handle and your choice of Cerakote finish. MSRP is $1,250 for the 20-inch model and $1,300 for the 24-inch model. Site: cmmg.com
Palmetto State Armory Gen3 PA65 20-Inch Rifle-Length Upper 
Another excellent entry-level 6.5 Creedmoor upper is PSA's Gen3 PA65 20-inch upper assembly, which features a 20-inch 416R stainless steel heavy-profile barrel with a 1:8 twist, a rifle-length gas system and a birdcage flash hider. 
A charging handle and a Toolcraft bolt carrier group are included too, as well as a 15-inch M-LOK handguard. It's recommended to pair the upper with a PSA Gen2 PA-10 lower, but Palmetto is known to use the DPMS pattern. MSRP is listed as $940, but it's frequently on sale for less than $600. Site: palmettostatearmory.com
Primary Weapons System MK218 MOD 1-M 6.5mm Creedmoor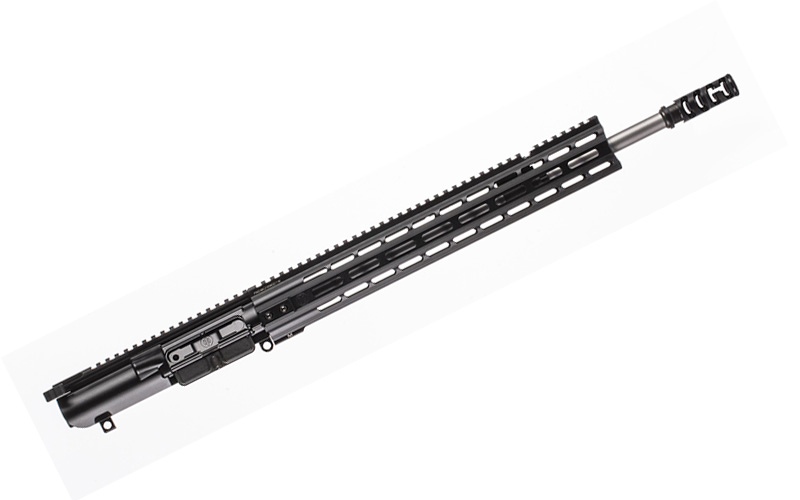 The PWS MK218 MOD 1-M is a piston-driven 6.5 Creedmoor upper that uses a long-stroke gas piston with a 3-position adjustable gas block. Going with this gas system will make shooting your build a lot nicer if you ever plan on suppressing it.
The PWS MK218 MOD 1-M comes with an 18-inch match barrel with a 1:8 twist, a PWS muzzle brake, a fully railed M-LOK handguard and a Radian charging handle. It's compatible with DPMS-pattern lowers and magazines. MSRP is $1,599.95, but street prices are usually a little lower. Site: primaryweapons.com
Ballistic Advantage Hanson Midlength 6.5 Creedmoor Upper 
Some prefer a carbine to a rifle, and Ballistic Advantage offers their BA-10 upper with either a 16- or 18-inch Hanson-profile (mid-weight profile, slightly heavier than pencil-profile) barrel with a mid-length gas system. 
Additional features include an Aero Precision Atlas R-One 15-inch railed M-LOK handguard and a low-profile gas block. The upper fits high profile DPMS-pattern lowers. MSRP starts at $729 with no bolt control group, charging handle or muzzle device, but you can add those if desired for an additional charge. Site: ballisticadvantage.com
ODIN Works 6.5 Creedmoor Upper Receiver 
ODIN Works' 6.5 Creedmoor upper features a threaded 22-inch stainless steel barrel with a Rifle XL gas system for a more pleasant shooting experience. It also sports a 17.5-inch fully railed M-LOK handguard and a thread protector cap. A nitrided bolt carrier group is included, and the rifle is compatible with DPMS-pattern lowers. 
Designed as a match upper, it also comes with ODIN Works' 1-MOA guarantee. This would be the upper for the precision shooter looking to build a long-range rifle setup. MSRP is $1,200. Site: odinworks.com
---
More On Precision Shooting:
---
NEXT STEP: Download Your Free Storm Tactical Printable Target Pack
62 Printable MOA Targets with DOT Drills – Rifle Range in YARDS This impressive target pack from our friends at Storm Tactical contains 62 printable targets for rifle and handgun range use. Target grids and bullseye sizes are in MOA. Ideal for long-range shooting!
Subscribe to the Gun Digest email newsletter and we'll send your print-at-home target pack right away. Just enter your email address below.
---
Credit: Source link