The Walther PPK/s.
The gun James Bond made famous…well, sort of.
OK, let's face it: the PPK was famous long before the wise-cracking 007 adopted it.
It began life in 1929, but how many times have you read a review (or watched one) and not heard a reference to 007?
It seems that the two are permanently joined at the proverbial hip. I did a bit of research and found that Bond's most-carried gun was a PPK.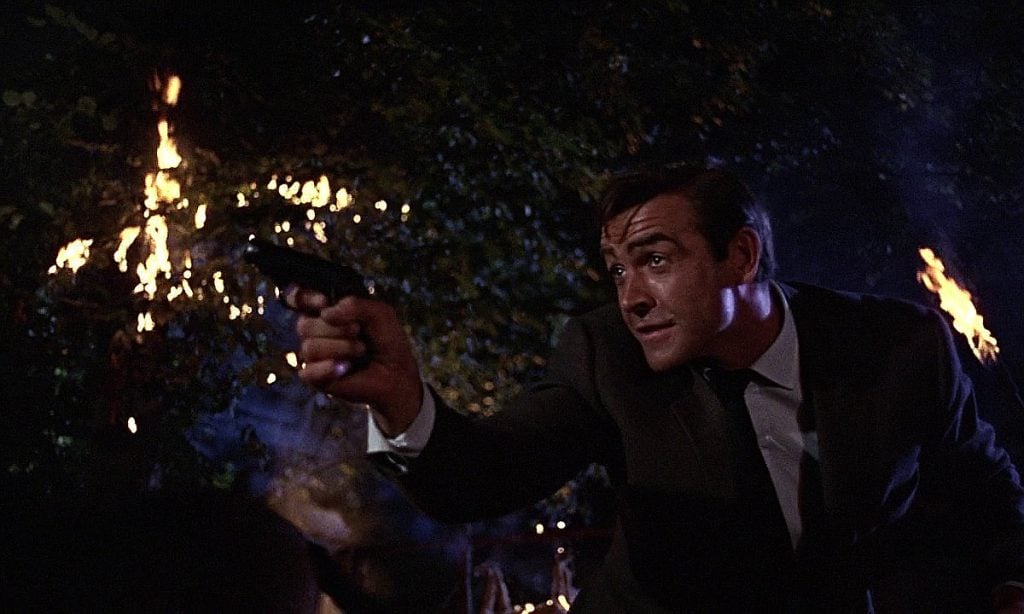 I counted 10 different handguns (plus a speargun and submachine gun, but those are hardly concealable) that our favorite spy used in different novels and movies, but he always came back to the PPK.
Why? Let's see what makes it special…
We'll talk about the pros/cons, specs/features, and take it to the range!
So, keep reading…
Table of Contents
Loading…
Pros & Cons 
Pros 
Well-built — Design and execution have been honed and improved on for almost a century.
Good ergonomics
Reliable: the gun shoots everything well
There's an internal lock that holds the slide open, even though there is no slide release lever
It's one of the coolest-looking pistols ever made!
Cons
Sharp frame edges around the trigger guard were a bit painful when shooting
Takedown is not easy
Sights aren't great
$849 is pretty salty for a 7-round .380, no matter whose name is engraved on the slide.
The Bottom Line 
The PPK/s is an iconic pistol that has grown in popularity since its introduction in 1929. The Bond novels and films have certainly helped that, but all the positive publicity in the world wouldn't matter if the gun itself wasn't a well-built shooter.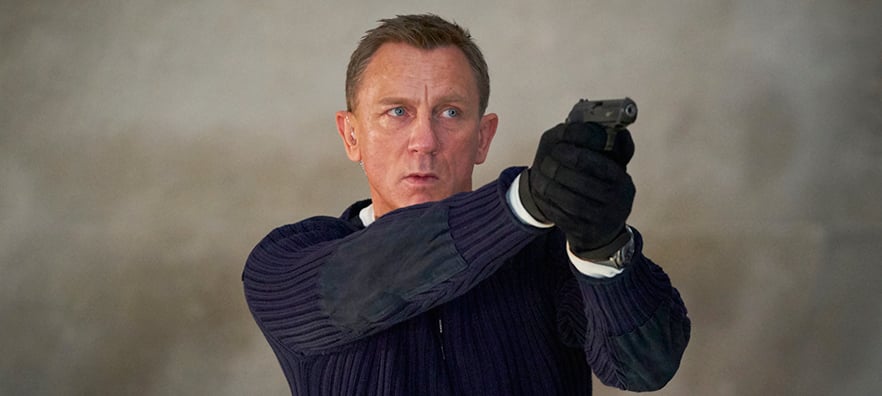 It might be a good addition to your collection if you can afford one, but it isn't cheap. 
Specs & Features 
Specs 
Width: 1"
Length: 6.1"
Barrel Length: 3.3"
Height: 4.3"
Weight: 21 oz.
Capacity: 7+1.
What's in the box: Two mags — flush-fit and a finger extension.
Features
My test gun featured a SA trigger pull of 3 lbs., 10 oz. The DA pull measured 11 lbs., 8 oz.  
Variations. .380 ACP black or stainless with walnut grip panels and a .22 LR in nickel plate and black.
DA/SA with a decocker/thumb safety.
Two magazines — each holds 7 rounds (1 more than the PPK)
Hammer block safety and a loaded chamber indicator
Background
Walther brought out the PP and later the PPK in 1929, in .32 ACP and .380. This was the year of the Crash Heard 'Round The World, as the U.S. stock market did its infamous nose dive on October 29th.
The ramifications were felt around the globe (and were exacerbated by other countries' economies having troubles of their own). Germany was particularly hard-hit.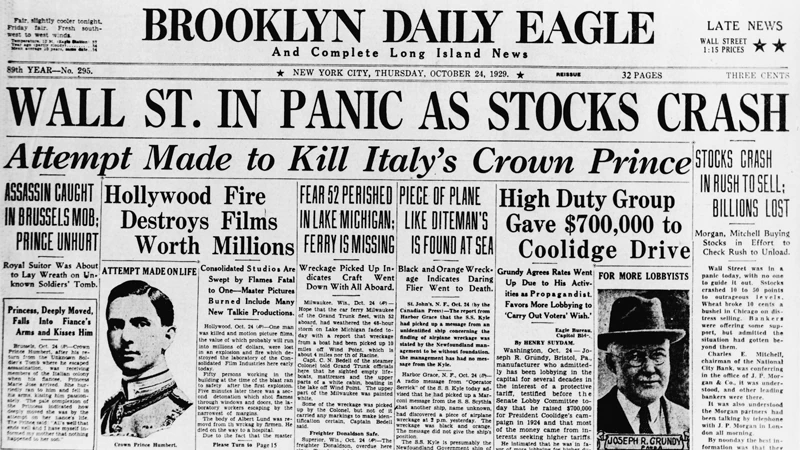 At its peak, German inflation and economics would require a wheelbarrow full of Deutschmarks to buy a loaf of bread. 
It was in this scenario that the PPK was introduced. The initials stand for Polizeipistole Kriminal, or "police pistol criminal" model.
This is a reference to a branch of German law enforcement (the Kriminalamt, criminal investigation office) that was detective-based and that needed a smaller pistol. 
The original police pistol (PP) was a larger gun and was carried by LEOs of that era, with the PPK following shortly thereafter.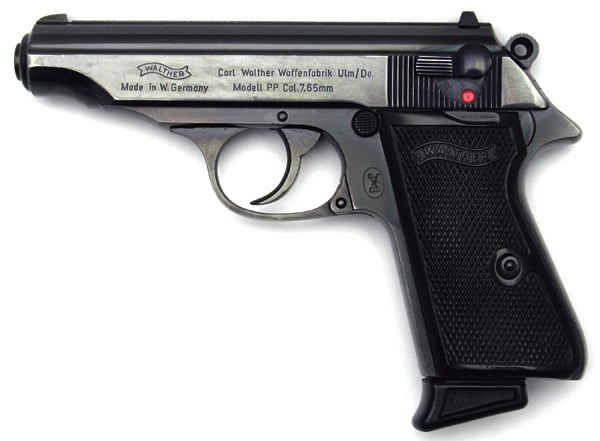 That was a pretty progressive thing to do, in my opinion, considering that (on this side of the Atlantic), our cops were toting six-guns around well into the 1960s and beyond.
Europe has always had a fascination with semi-autos, even though many were produced in what we modern shooters might consider underpowered (or at least borderline) calibers. 
Fast-forward to 1968, U.S. of A. The passage of the Gun Control Act of 1968 caused another new model of the Walther line to be produced: the PPK/s.
The portability of firearms was determined by a points system, adding up the points earned from size, weight, and features. The PPK was too small, falling one point short of the minimum required.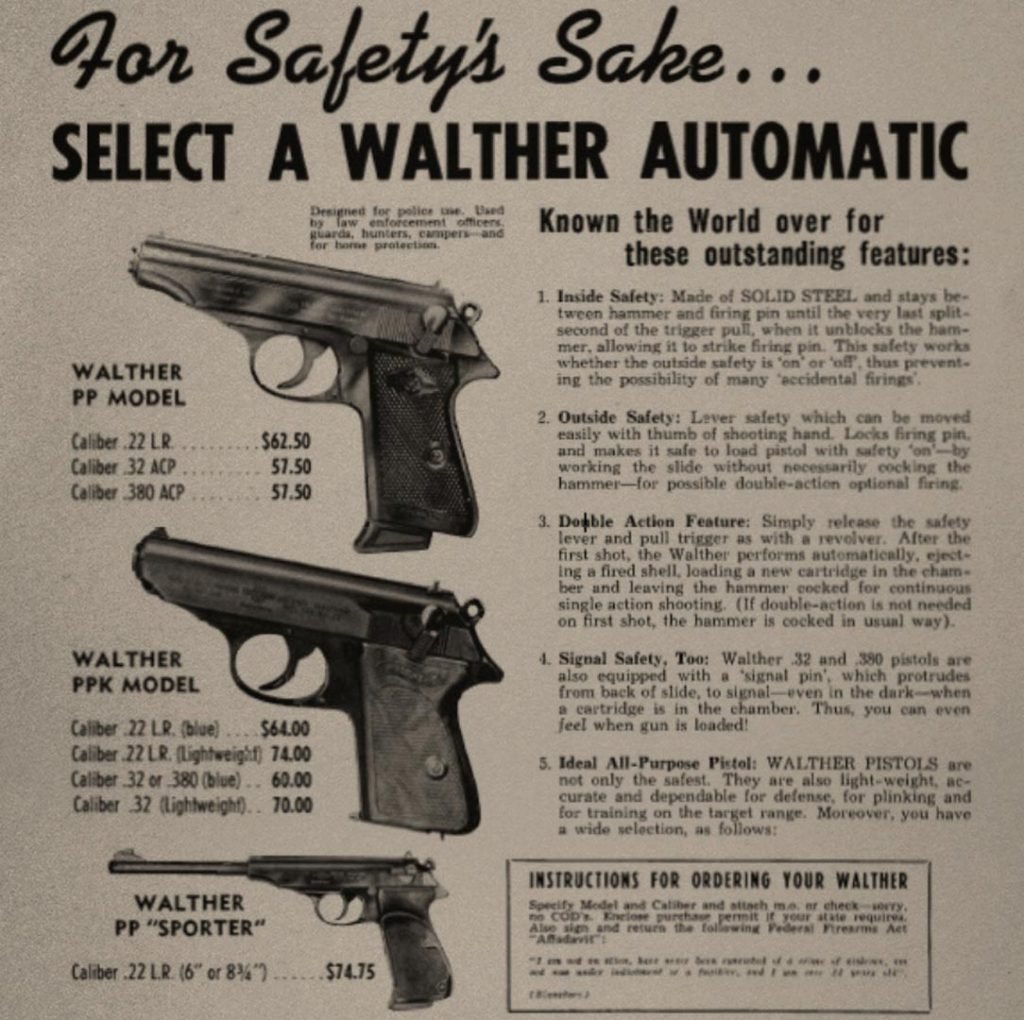 To overcome this, Walther went way out of the box. They anticipated the current trend of putting a shorter frame/barrel on a larger frame 54 years ago.
They assembled the slide and barrel of the PPK onto the frame of the PP, and called it the PPK/s ("spezial"), making it importable.
The rest, as they say, is history.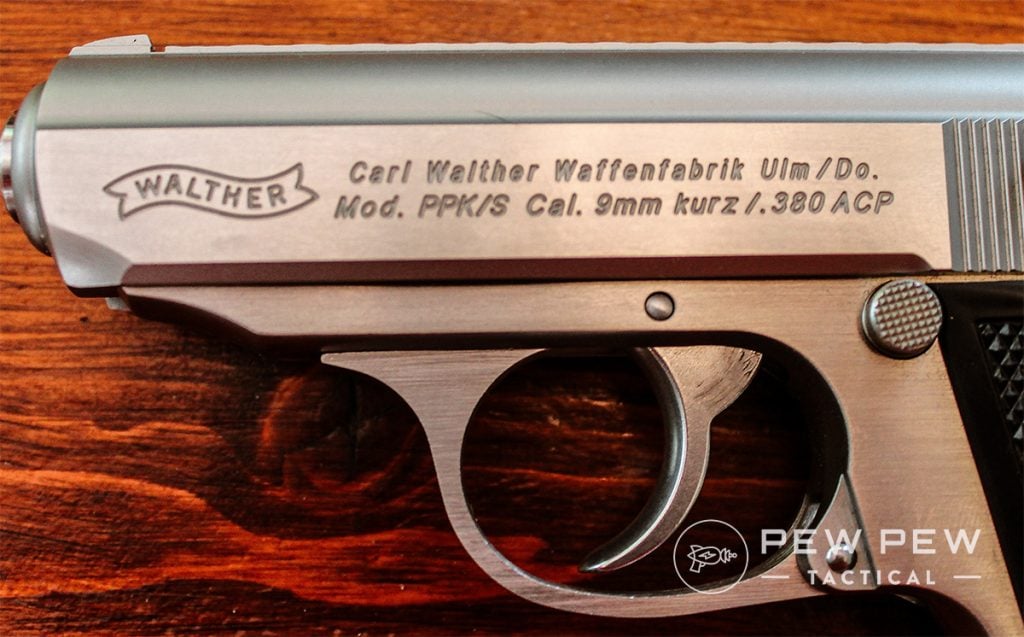 Who Is It For?
Who would want one of these, and just as importantly, why would you want one? Anyone who appreciates exemplary materials, workmanship, and history.
You are holding gun history in your hand when you pick up a PPK(/s). From its inception in 1929 throughout WWII, into the Cold War, and on into our current troubled times, a PPK/s is to be carried with confidence and respected as the gun it is.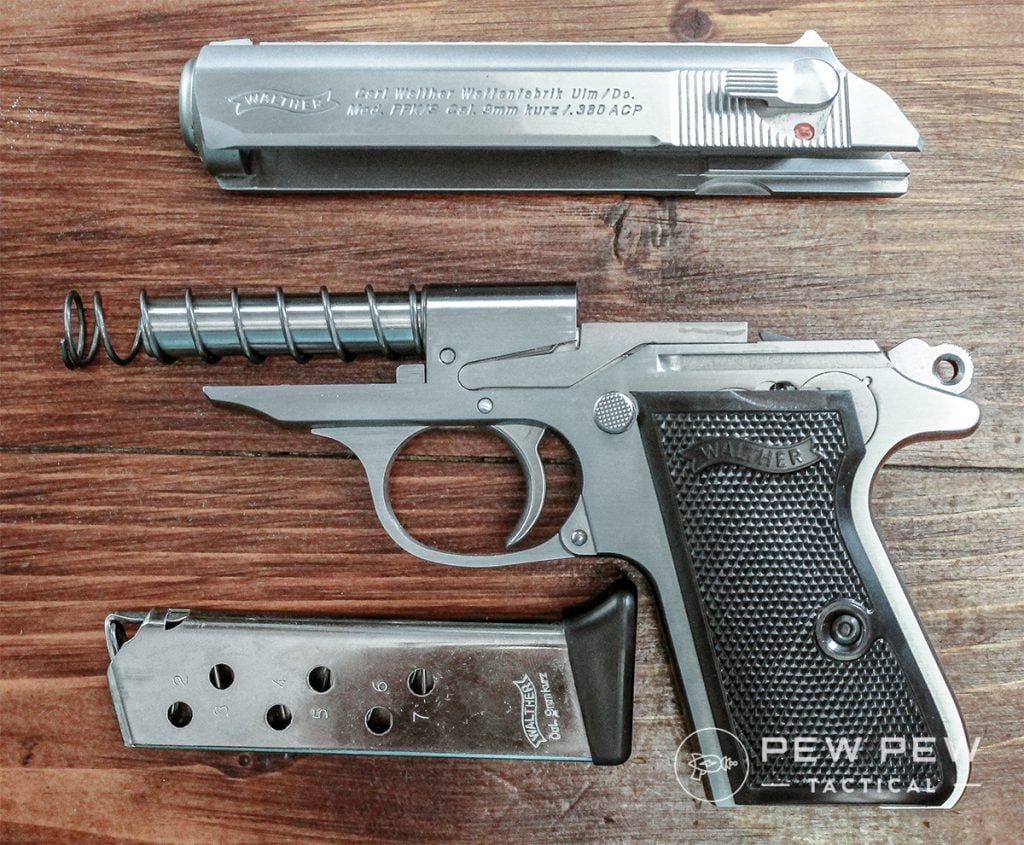 Some folks disparage the .380 as a carry round but tend to forget that the "lowly" .380 started WWI with the assassination of Archduke Ferdinand.
The Walther is just about the classiest platform I've ever seen that shoots that lowly caliber.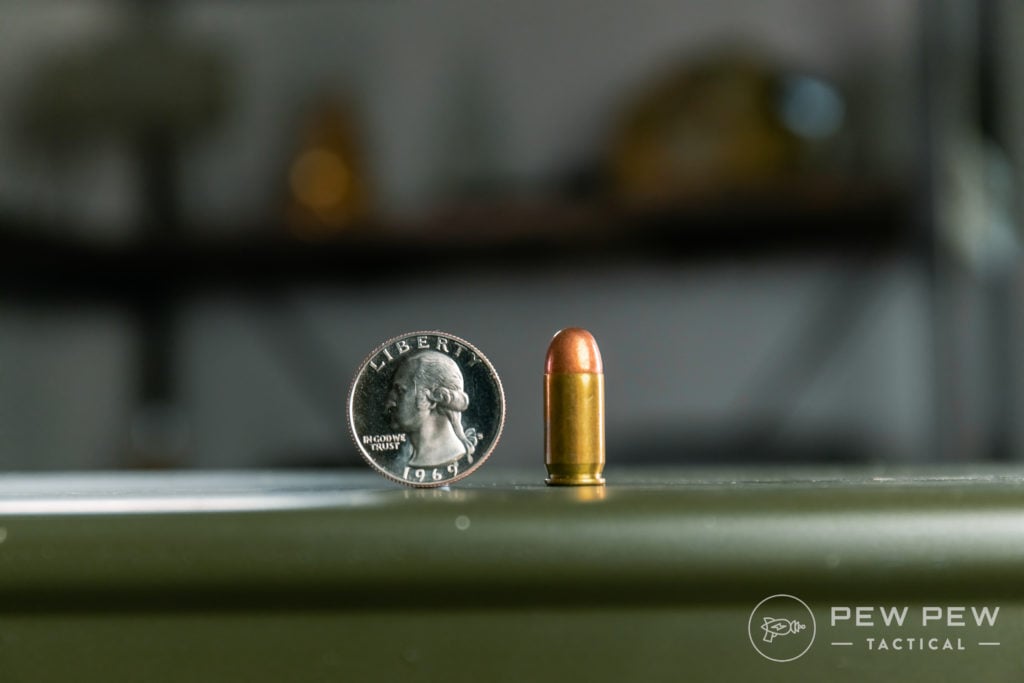 That was the long answer. The short answer: the PPK/s is for anyone who likes a classy, historic gun that works every time you pull the trigger and looks good doing it. 
Fit & Feel
The PPK/s is just about the most ergonomically-friendly pistol I've ever held, and I've held a bunch in my 70 years.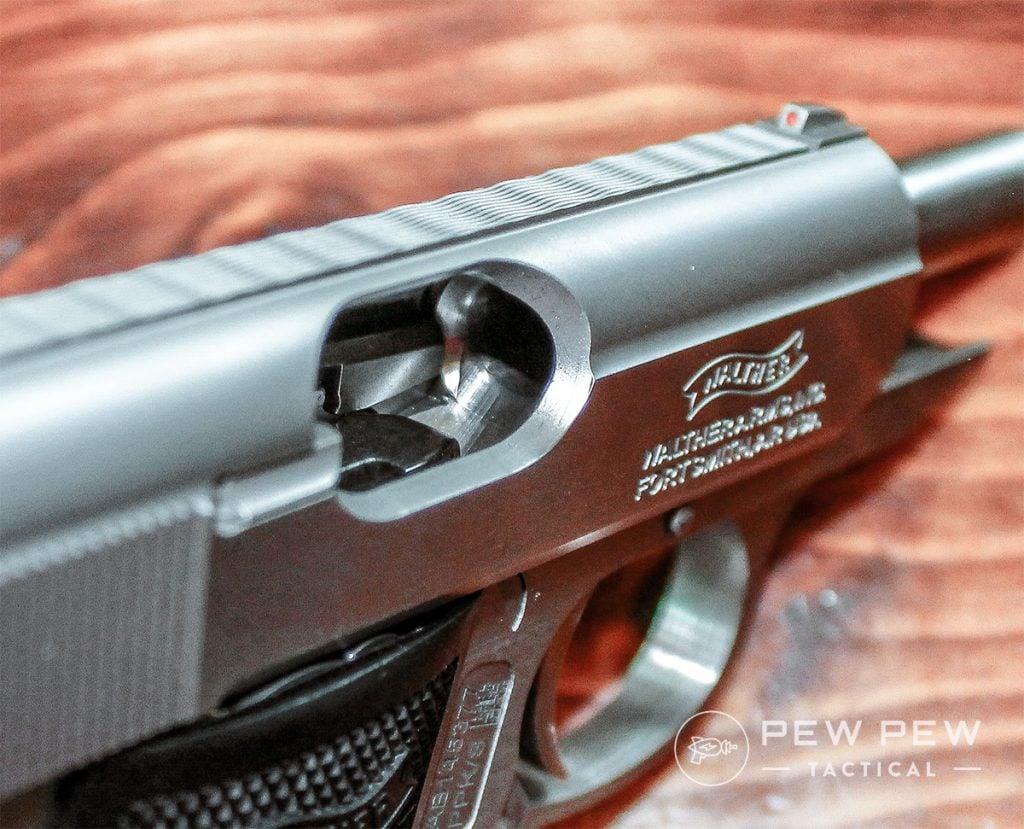 We make a lot of noise about our modern polymer-framed, striker-fired boomers when a manufacturer gets it right in terms of fitting their gun to our hands… 
or gets the grip right so the gun doesn't slip… 
or fires every time it's supposed to… 
or is accurate… 
or has had a gun that is still selling well after 8 or 10 years… 
Well, I got news for ya: this Walther has been doing all of these things for the last 93 years. Without waxing on too eloquently, the gun fits well and just works. 'Nuff said.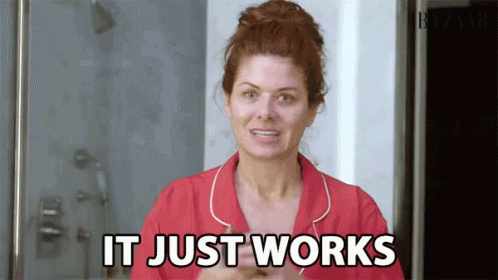 The rear sight is fixed, as is the front sight. The sights haven't changed in 93 years, except for the dab of red paint added to both sights.
Another thing that hasn't changed is the "wavy" lines machined into the slide top to help with glare issues — they were even there on wartime guns.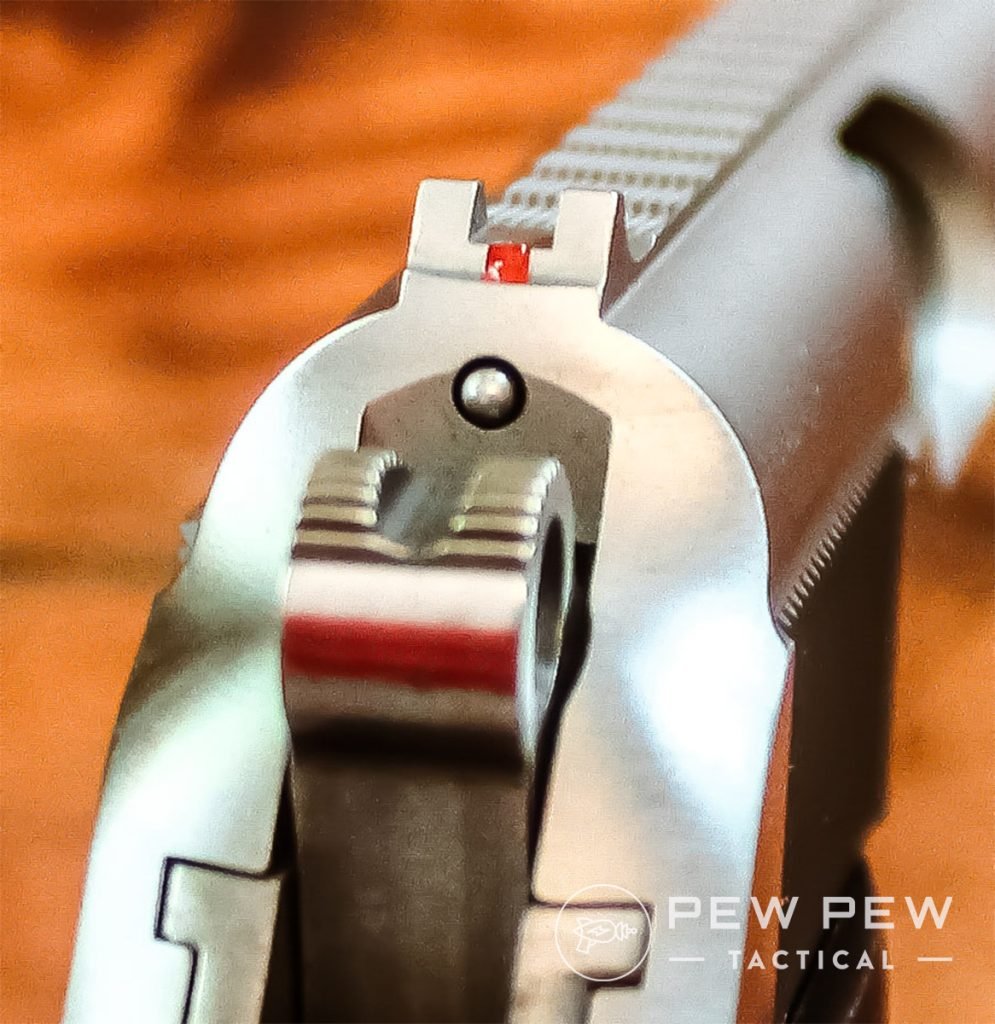 I had read of earlier PP/PPK/PPK/s guns biting your shooting hand with their slide. You know, railroad tracks cut into the web of your gun hand because the tang (beavertail?) was too short.
Walther has since lengthened the tang so that is not an issue anymore. I had zero problems with slide bite (or any other kind of bite) when I shot this gun.
How Does It Shoot?
First, dropping the magazine on the PPK/s might make your thumb wander around a bit as it seeks the mag release.
Walther couldn't put the release where we might expect it since that part of the frame was needed for the takedown mechanism.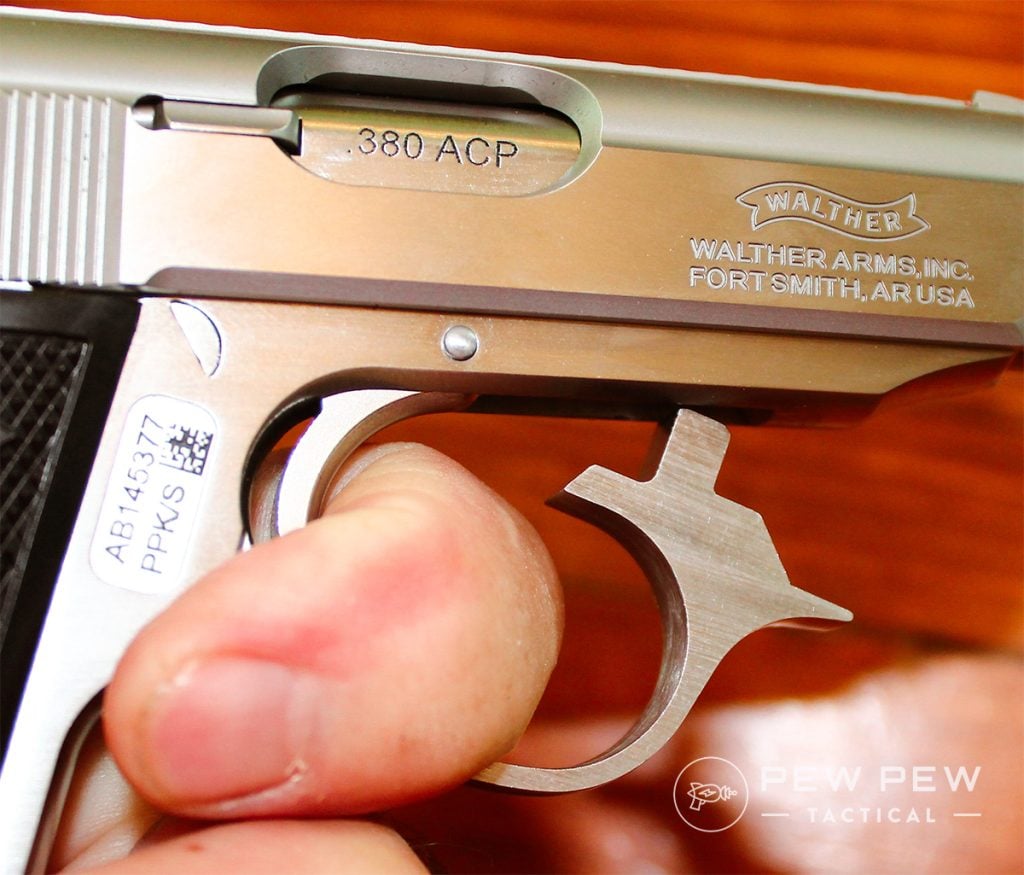 So, it got moved higher, behind the trigger guard. This is not a big deal, but some shooters seem to be unable to adapt to it. 
I shot the gun with the two types of .380 ammo I had in my gun cabinet: Geco 95-grain FMJ and Fiocchi 95-grain FMJ.
Finally, I set up a target or two at 10 yards and let fly. Each square is an inch on my homemade targets, so you can guesstimate the group sizes. Here's what happened…
Geco. Not bad. This gun seemed to like this inexpensive (well, comparatively) FMJ load.
Fiocchi. Not quite as good as the Geco, but it would work as a practice load.
I didn't have boxes of ammo to put through the gun, so I'll add my usual comment about specific guns and ammo…you will need to experiment with several types of ammo to find what shoots best in your gun.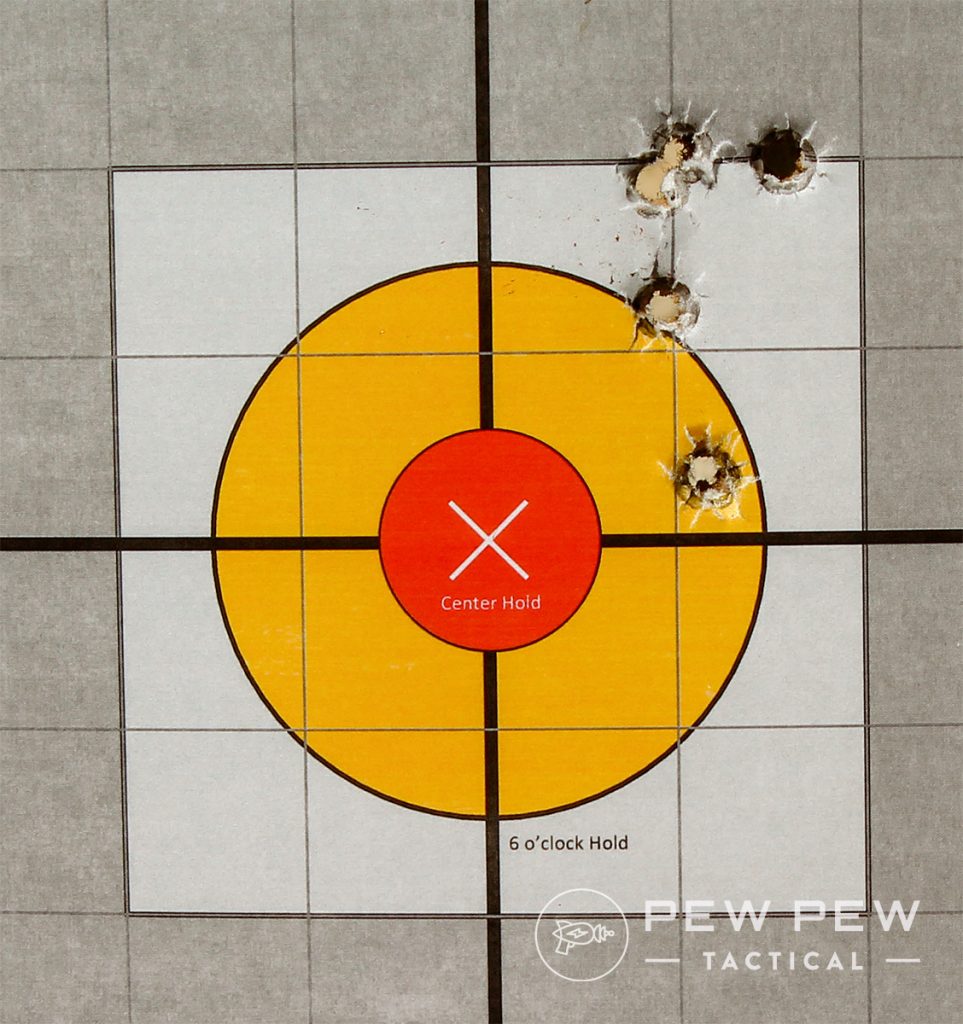 I could shoot 147 different loads in my test gun and see what it likes, but it wouldn't matter. You'd still need to experiment with your personal gat to find its perfect load for practice and carry. 
What Sets it Apart?
Why would you buy an expensive, half-German-made (the barrel and slide are made in Germany and the frame is made in Arkansas) PPK/s when other .380s are out there that will do the job?
I think the word "class" has something to do with it…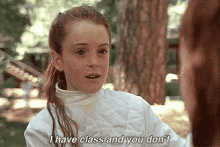 Other .380s function properly and sling their bullets downrange with alacrity, but the PPK/s does that with elegance.
| | | |
| --- | --- | --- |
| | Walther PPK/s | Walther PPK |
| Overall Length | 6.1″ | 6.1″ |
| Barrel Length | 3.3″ | 3.3″ |
| Width | 1″ | 1″ |
| Height | 4.3″ | 3.8″ |
| Weight (empty) | 19oz | 19oz |
| Capacity | 7 rounds | 6 rounds |
Walther PPK vs. PPK/s
By The Numbers 
Reliability: 5/5
It did what it was supposed to at the range.
Ergonomics: 5/5
While it isn't built like more modern guns, it is still a force to be reckoned with in terms of a small .380 pistol. And maybe it's not a bad thing that it's not built like modern guns…
Customization: 3/5
Not a lot out there for this one.
Value: 4/5
The overall value of the PPK/s takes into account its back story and build quality.
Overall: 4.5/5
Upgrades for the PPK/s
This will probably be the shortest section in this review. To put it bluntly, there just ain't too many doo-dads out there for your PPK/s.
The gun's older design, coupled with the way it's built, just doesn't make customization or upgrading easy.
Of course, our first suggestion is always magazines. You can never have too many of those.
In terms of holsters, it's a different story…there are many to choose from. A good place to start your holster search for your PPK or PPK/s is Amazon.
Since the gun uses a steel frame, you can swap out the grip panels. Consequently, one item that you CAN buy for your Walther that will dress it up is a set or two of fancy grip panels. I've seen very few panels as nice as those from Altamont Grips.
In terms of lasers, lights, night sights, etc.… well, those are for guns of more recent manufacture. Even if you could add some of these things to your pristine PPK/s, I'm not sure you'd want to.
Final Verdict
If you are looking for either a .380 to carry or a time-tested gun built along more classical lines, the PPK/s will serve you well.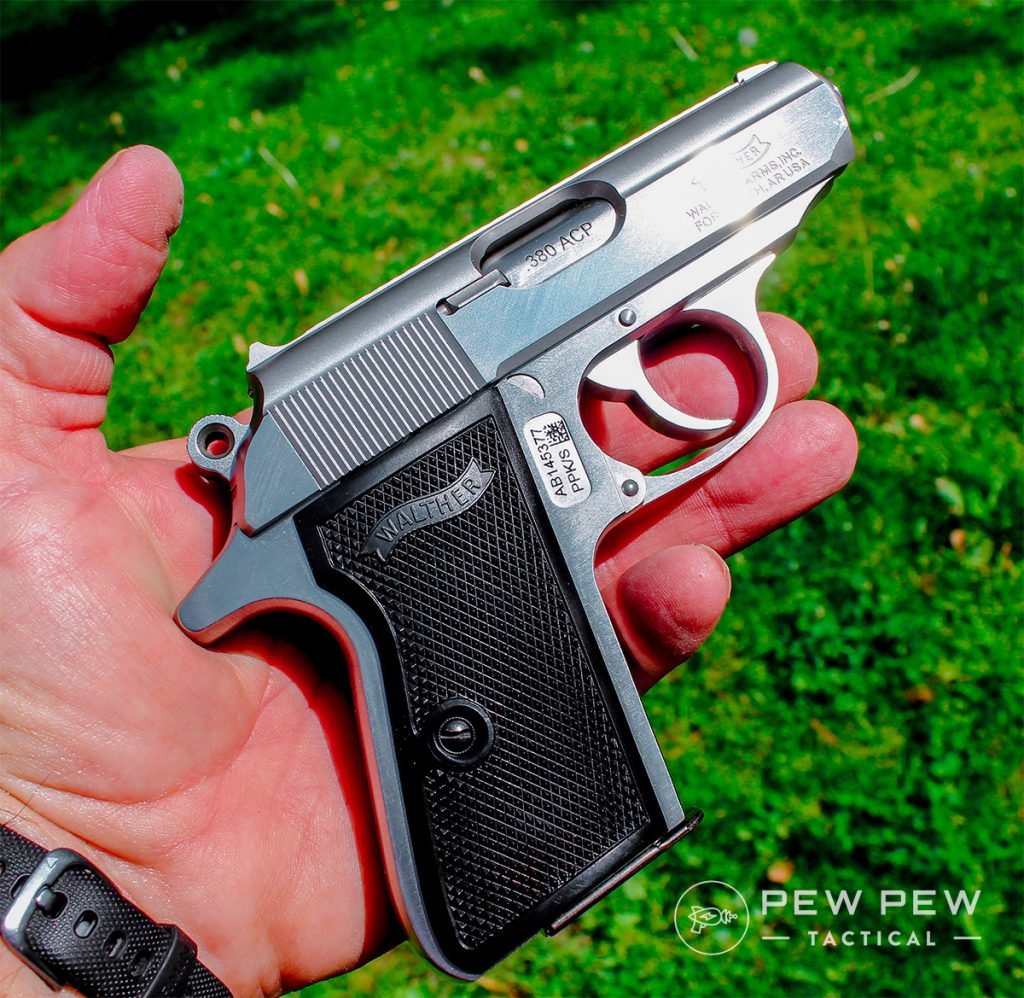 From its start in 1929 to today, there have been (and still are) many shooters who rely on it as an everyday concealed-carry gun. It's been tried in times of war and has passed with flying colors.
You don't have to be a British Secret Agent to appreciate this great piece of engineering!
What do you think of the Walther PPK? Let us know in the comments below. Looking for other concealed carry options, check out our list of the Best Concealed Carry Handguns!
Credit: Source link